Signaling-mediated control of ubiquitin ligases in endocytosis
Received: 30 November 2011
Accepted: 15 March 2012
Published: 15 March 2012
Ubiquitination modifies proteins in a variety of ways, the significance of which we only partially comprehend. Ubiquitin can be attached: as an individual moiety to a single or multiple lysine residues of substrate (mono- or multiple monoubiquitination); as chains of ubiquitin moieties that are interlinked through any one of the seven lysine residues of ubiquitin (for example K48- or K63-linked chains); or as branched chains, to name but a few [1]. The cell interprets each of these modifications as a distinct signal. The first described role of ubiquitination as mediating protein degradation through targeting to the proteasome has now been complemented with numerous other functions [2]. For example, the signal encoded by K63-linked chains can mediate functions as diverse as receptor endocytosis [3, 4], activation of protein kinases in the NF-κB pathway and the initiation of error-free DNA repair [2].
Signal transduction from transmembrane cell surface receptors to nuclear transcription factors is regulated at multiple levels by protein ubiquitination. The covalent attachment of one, or often more, ubiquitin moieties has emerged as the principal mechanism for termination of signaling, by targeting the receptor for endocytosis and, ultimately, degradation in the lysosome [3]. This device controls a vast array of mammalian signaling receptors, such as receptor tyrosine kinases, G-protein coupled receptors (GPCRs), growth hormone receptors, the major histocompatibility complex I, NOTCH, various channels and transporters, and cytokine and interferon receptors [3]. Receptors that are internalized after activation are directed first into the endosomes of the endocytic pathway, and then into multivesicular bodies (MVBs), which undergo a process of maturation that ends with fusion with the lysosome and delivery of the contents for degradation. Ubiquitination of the receptor provides the crucial signal for entering this pathway [3, 5–7].
Subsequent delivery of membrane receptors to the lysosome requires accurate recognition of the ubiquitinated cargo by endosomal adaptors and sorting proteins. For the EGF receptor, for example, these are EPS15, epsin and ESCRTs (endosomal sorting complexes required for transport), which contain one or more ubiquitin-binding domains (UBDs) [
8
]. EPS15 and epsins act at the initial steps of internalization, serving to recruit the enzymes required for ubiquitination of downstream components of the endocytic pathway. ESCRTs act sequentially at various points of the degradative route, sorting the ubiquitinated cargo at the endosomal membrane for inclusion into the intraluminal vesicle of the MVB. ESCRT-0, composed of the two interacting proteins HRS and STAM, is the first in this process. Three additional complexes, ESCRT-I, ESCRTII and ESCRT-III, are then involved in the generation of inward vesicle budding, which is required for MVB maturation (for reviews see [
5
,
9
]). The ubiquitin-binding 'route controllers' that operate in this way to ferry the internalized receptor inexorably towards a degradative fate in lysosomes are also inducibly ubiquitinated [
10
,
11
] (Figure
1
).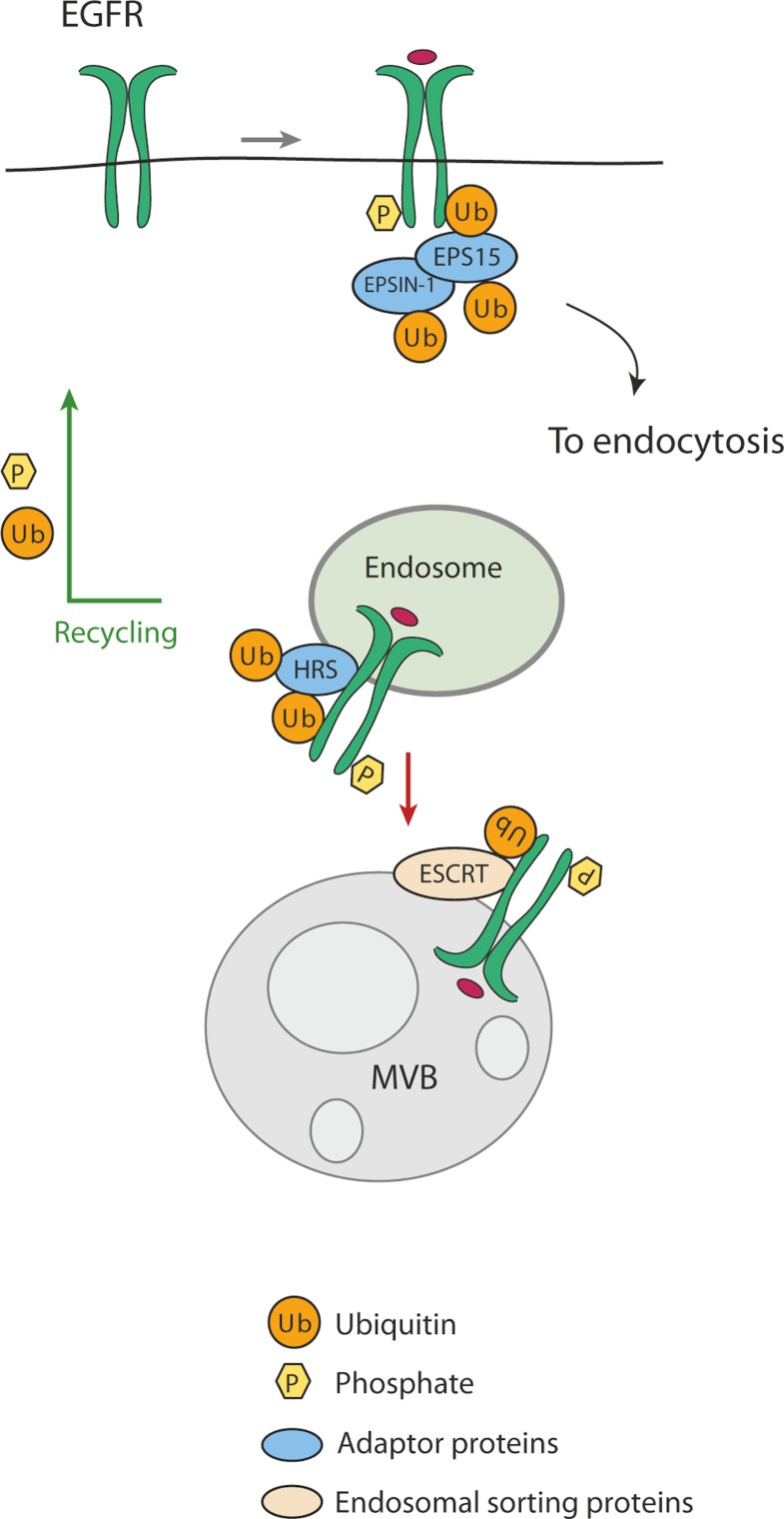 The inducibility of the system illustrates the dynamic nature of ubiquitin-based endocytic regulation. Indeed, over the past 15 years, studies from different laboratories have revealed a critical role for ubiquitination in receptor down-regulation, a process that is essential for the spatial and temporal resolution of receptor signaling [3].
The central component of this regulatory pathway is the E3 ligase that attaches the ubiquitin molecules to the receptor, or to the ubiquitin-binding endocytic adaptors (Figure 1). A hierarchical set of three types of enzyme is required for substrate ubiquitination: ubiquitin-activating (E1), ubiquitin-conjugating (E2) and ubiquitin-protein ligase (E3) enzymes. In mammals two E1-activating enzyme transfer ubiquitin to roughly three dozen E2s, which function together with several hundred different E3 ubiquitin ligases to ubiquitinate thousands of substrates. In the endocytic pathway distinct E3 enzymes generally catalyze the ubiquitination of the cell-surface receptors and the endosomal sorting proteins [3]. Therefore the endocytic sorting of a given target generally involves more than one E3 ubiquitin protein ligase.
Here we focus on how signaling controls the activity of the E3 ligases that ubiquitinate receptors and endocytic adaptors. Although E3 ligases have largely been considered to be constitutively active and regulated only at the level of target binding, it has recently become evident that they are subject to regulation by either E3 or substrate phosphorylation, or by exploitation of adaptor proteins that facilitate E3 activity. We discuss here the various ways of regulating E3 ligases in the context of endocytosis.
(1)
IFOM, Fondazione Istituto FIRC di Oncologia Molecolare, Via Adamello 16, 20139 Milan, Italy
(2)
Dipartimento di Medicina, Chirurgia ed Odontoiatria, Università degli Studi di Milano, Via di Rudinì 8, 20122 Milan, Italy
© Polo; licensee BioMed Central Ltd. 2012
This article is published under license to BioMed Central Ltd. This is an open access article distributed under the terms of the Creative Commons Attribution License (http://creativecommons.org/licenses/by/2.0), which permits unrestricted use, distribution, and reproduction in any medium, provided the original work is properly cited.