Opening a can of centipedes: new insights into mechanisms of body segmentation
Received: 12 November 2013
Published: 29 November 2013
The evolution of body axis segmentation is the subject of an historical debate in which the search for homologies has recently focused on the developmental mechanisms underlying segment formation in three taxa: annelids, arthropods and chordates. Originally, in his classical Articulata hypothesis based on morphological traits, Cuvier (1817) proposed that annelids and arthropods shared a common segmented ancestor, whereas the chordates had independently evolved segmentation. With the elucidation of the new animal phylogeny based on ribosomal RNA gene sequences in which Bilateria are divided into three ancient clades - Lophotrochozoa, Ecdysozoa, and Deuterostomia (containing annelids, arthropods, and chordates, respectively) - came the argument from parsimony that because segmented bodies are a minority in each clade, they are most likely independently evolved. Two more arguments further defend this hypothesis. First, there is variety of developmental processes underlying segmentation among the three clades; second, the germ layers that are initially segmented are different: with some exceptions, most chordates and arthropods primarily segment mesoderm and ectoderm, respectively - annelids segment both layers at the same time.
Modern evo-developmental biology has now entered this discussion with findings of homology between segmentally expressed genes giving rise to the hypothesis that the last common ancestor of all three clades, Urbilateria, was segmented [1]. A corollary is that segmentation of the body axis must have been lost at several points during evolution [2]. In this issue, Brena and Akam have extended the analysis of segmentation expression dynamics in the centipede Strigamia maritime[3]. Their new work raises several fundamental questions about the mechanisms and evolution of segmentation in arthropods, and its similarities to that in chordates.
Before examining the candidate molecular systems that have come to light, it is important to highlight the similarities and differences in how various embryos grow and elongate their body axis (germband), and how morphological segmentation is integrated into this growth mode (Figure
1
). One extreme is provided by the long germband insects, with the most famous example being the beloved fruitfly
Drosophila
. In these embryos, segmentation occurs simultaneously along the body axis in the absence of elongation. Others, such as the short germband flour beetle
Tribolium
, exhibit simultaneous segmentation of the head parts, but sequentially segment their bodies in concert with posterior growth at a terminal growth zone [
4
]. The bee
Apis
shows a remarkable intermediate mode: segments form sequentially in a body that, much like
Drosophila
, does not elongate during the process [
5
]. Overall, the sequential mode, where elongation and segmentation are tightly coordinated, appears to be the most prevalent across the invertebrates, and is shared with the vertebrates.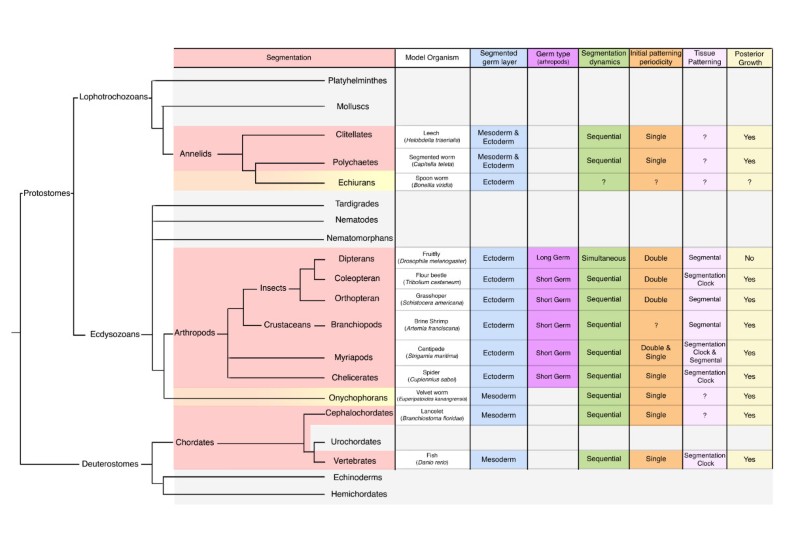 What molecular mechanisms underlie these various segmentation systems? In Drosophila, the best understood case, maternally supplied signal gradients along the anterior-posterior axis trigger a genetic cascade of transcription factors that subdivide the embryo. This process results in expression of the so-called Pair-rule genes, which initially demarcate a two-segment periodicity [4]: two morphological segments form in the interval along the axis defined by one repeat of pair-rule gene expression. Two-segment periodicity is common in insects, but apart from Strigamia, a single segment periodicity is the rule in other arthropods and in vertebrates.
In contrast, evidence from Tribolium, cockroach Periplaneta americana, and spider Cupiennius salei, which all have short germband growth and sequential segmentation, has suggested that a clock-based mechanism is at work across the arthropods [6–8]. Homologs of the Drosophila pair-rule gene Hairy were among the genes observed with wave-like, cyclic expression patterns in most of these arthropods.
An oscillating molecular mechanism underlying segmentation was first discovered in vertebrates, where a periodic gene expression signal involving Hairy gene homologs is converted into regularly sized mesodermal segments, called somites [9]. In this case, each segment along the body axis is formed by the same mechanism, repeating over and over. Therefore, the growth zone in some arthropods and the pre-somitic mesoderm (PSM) in vertebrates can be thought of as a population of genetic oscillators that act as a rhythmic patterning system, or, in other words, a segmentation clock [10]. Strikingly, however, the homology of the oscillating genetic circuits appears weak. The only genes observed with cyclic expression stripes (implying a candidate oscillator component) in any members of both Chordata and Arthropoda are Hairy and Delta homologs. And yet cyclic expression of these genes is not seen in all arthropods; it is notably absent from the growth zone of Tribolium.
Investigating oscillatory or other dynamic genetic processes in species with well-developed sets of molecular and transgenic tools is a formidable challenge. In a species without these tools, or where samples must be collected in the wild, as is the case for
Strigamia
, it is more difficult still. Previous observations of wave-like gene expression patterns, including a
Hairy
homolog, suggested that segmentation in
Strigamia
might be under the control of a segmentation clock. However, without knowledge of the relative movement of cells and dynamics of gene expression, a lineage-based pair-rule mechanism could not be ruled out. In the current paper, Brena and Akam looked in carefully age-matched embryos at the expression of a pair-rule gene,
even-skipped
, and the Notch ligand
Delta
, comparing their wave-like patterns to morphological changes during trunk segmentation (Figure
2
). They were able to exclude a prominent contribution of cell movement to the patterns of
eve
or
Delta
gene expression. Furthermore, to demonstrate that these dynamic expression patterns reflect intracellular changes in gene expression they used an intron probe to detect the onset of cyclic gene transcription. Even in the absence of live embryo imaging of cyclic gene expression or explant culture these results converge towards demonstrating the existence of a segmentation clock operating in centipede. Although this conclusion may have been anticipated, three new questions arise from the precise description of segmentation provided in the paper.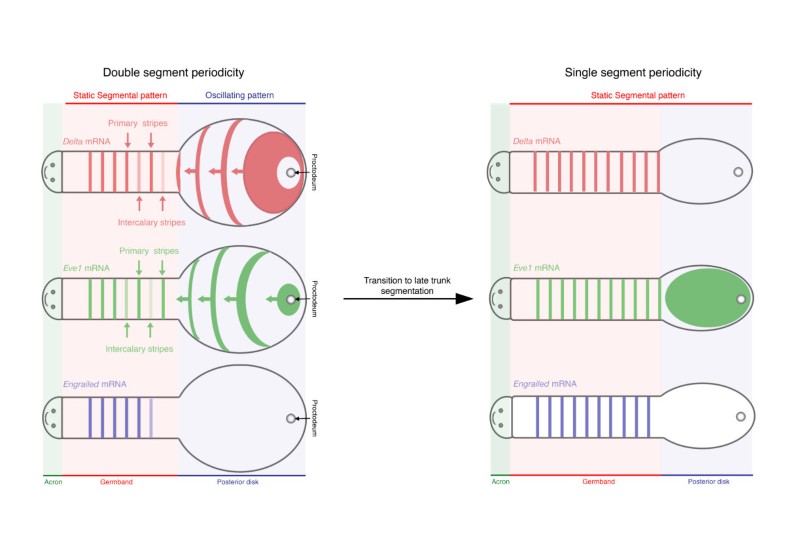 (1)
MRC National Institute for Medical Research, The Ridgeway, Mill Hill, London, NW7 1AA, UK
© Valentin and Oates; licensee BioMed Central Ltd. 2013
This article is published under license to BioMed Central Ltd. This is an Open Access article distributed under the terms of the Creative Commons Attribution License (http://creativecommons.org/licenses/by/2.0), which permits unrestricted use, distribution, and reproduction in any medium, provided the original work is properly cited. The Creative Commons Public Domain Dedication waiver (http://creativecommons.org/publicdomain/zero/1.0/) applies to the data made available in this article, unless otherwise stated.