Biological functions of natural antisense transcripts
Received: 21 March 2013
Accepted: 8 April 2013
Published: 12 April 2013
By the mid-1980s antisense transcription in mammalian genomes had already been described by a few isolated reports. Despite the recognized regulatory potential of complementary RNA, antisense transcription in mammals was long perceived as a biological oddity. This perception started to change at the beginning of the genomic era when pioneering data mining efforts and the sequencing of large cDNA datasets revealed significant numbers of antisense transcripts. It is now accepted that a significant proportion of genomic loci in mammalian genomes - for example, 40% in human and 72% in mouse - are transcribed in both directions [1]. The discrepancy between human and mouse is more a reflection of the fact that antisense transcription has been studied in much greater detail in mouse than in human rather than a 'real' biological difference.
Sense and antisense transcript pairs come in various forms depending on the exact location of the complementary overlap and the processing of the transcripts. The most common meaning of the term 'antisense transcript' refers to a protein coding sense transcript and a fully processed (capped, polyadenylated) antisense RNA with complementarity in exonic regions (Figure 
1
). The key issue of whether the antisense transcripts act as exquisitely specific gene regulators or are simply transcriptional waste that a cell has learned to live with is still a matter of controversy [
2
]. However, a study published in
BMC Genomics
reports conservation of natural antisense transcripts at a large scale between human, rat and mouse, which strongly suggests that there is biological sense to having antisense transcripts [
3
].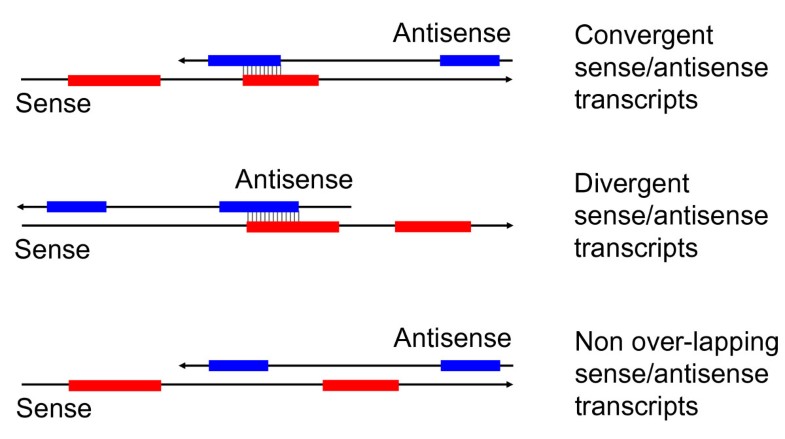 (1)
RNA Interest Group, Institute for Cell and Molecular Biosciences, Newcastle University, Framlington Place, Newcastle upon Tyne, NE2 4HH, UK
© Werner; licensee BioMed Central Ltd. 2013
This article is published under license to BioMed Central Ltd. This is an Open Access article distributed under the terms of the Creative Commons Attribution License (http://creativecommons.org/licenses/by/2.0), which permits unrestricted use, distribution, and reproduction in any medium, provided the original work is properly cited.