Macromolecular juggling by ubiquitylation enzymes
Received: 1 November 2012
Accepted: 18 June 2013
Published: 25 June 2013
To catalyze multistep reactions some metabolic enzymes undergo major structural rearrangements. By disassembling the interfaces between domains and then reassembling them differently, these enzymes create distinct active sites and recognize multiple substrates sequentially. Having one enzyme that can restructure itself to carry out two or more steps in sequence is presumably more efficient than parsing out the tasks to separate enzymes and also reduces the risk of losing intermediate products, particularly those that are chemically labile. Catherine Drennan and colleagues recently introduced the term 'molecular juggling' [1] to describe the large structural rearrangements of enzymes involved with B12-dependent methyl transfer reactions [1–3]. One of us (JK) encountered a similar phenomenon in the early 1990s when studying the bacterial thioredoxin reductase enzyme [4–6]. Other examples of molecular juggling are provided by the ANL (acyl-CoA synthetases, non-ribosomal peptide synthetase adenylation domains, and luciferase) superfamily of adenylating enzymes (for review, see [7]). The last decade has seen a dramatic expansion in structural information for a set of enzymes that control the addition of ubiquitin, a small protein, to target proteins. This new structural window into ubiquitylation enzymes has revealed them to be molecular jugglers of a most sophisticated kind, as noted for one class of these enzymes by Christopher Lima and coworkers [8]. In this review we survey what we have learned from crystallographic studies about the large conformational changes in ubiquitylation enzymes.
Ubiquitylation controls protein trafficking and degradation as well as complex signaling pathways, such as DNA repair and immune responses (for reviews, see [9, 10]). The diverse physiological roles of ubiquitin originate, at least in part, from the many ways by which it can be attached to target proteins. Target proteins may be tagged with one or several individual ubiquitin molecules or with polymeric ubiquitin chains. These chains are linked through isopeptide bonds between the carboxyl terminus of one ubiquitin molecule and a primary amino group on another. Ubiquitin contains seven lysine residues and a free amino terminus, so the chains can have many different topologies, depending on the enzymes involved in assembling them. The various types of ubiquitin modifications are recognized by different downstream effectors in the cell and trigger distinct functional outcomes (for reviews, see [11, 12]). Further diversity arises from the existence of several ubiquitin-like protein modifiers, such as SUMO (small ubiquitin-like modifier) and NEDD8 (neural precursor cell expressed, developmentally down-regulated 8) that utilize their own enzymatic machineries and are associated with distinct physiological responses (for review, see [13]). We shall draw on structural information from studies on all three of these modifiers, and will, where appropriate, refer to ubiquitin and ubiquitin-like proteins collectively as 'Ubl'.
Ubiquitylation is accomplished through a catalytic cascade involving ubiquitin-activating enzymes (E1), ubiquitin-conjugating enzymes (E2), and ubiquitin ligases (E3) (for review, see [14]). The human proteome contains two E1 enzymes [15–18], approximately 40 E2 enzymes [19], and over 600 E3 enzymes [20], the combination of which accounts for the large variety of ubiquitin modifications. To transfer ubiquitin from one carrier to the next one, ubiquitylation enzymes sequentially form and reorganize protein-protein interfaces. We thus use the term 'macromolecular juggling' to describe these actions.
E1 enzymes catalyze the formation of a thioester-linked complex between ubiquitin and E2 enzymes (for review, see [
14
]) (Figure
1
a). This process begins by activation of the carboxyl terminus of ubiquitin by adenylation, followed by a thioesterification reaction in which ubiquitin is conjugated to a cysteine residue at the active site of the E1 enzyme. Ubiquitin is then transferred to the active site cysteine of an E2 enzyme in a trans-thioesterification reaction.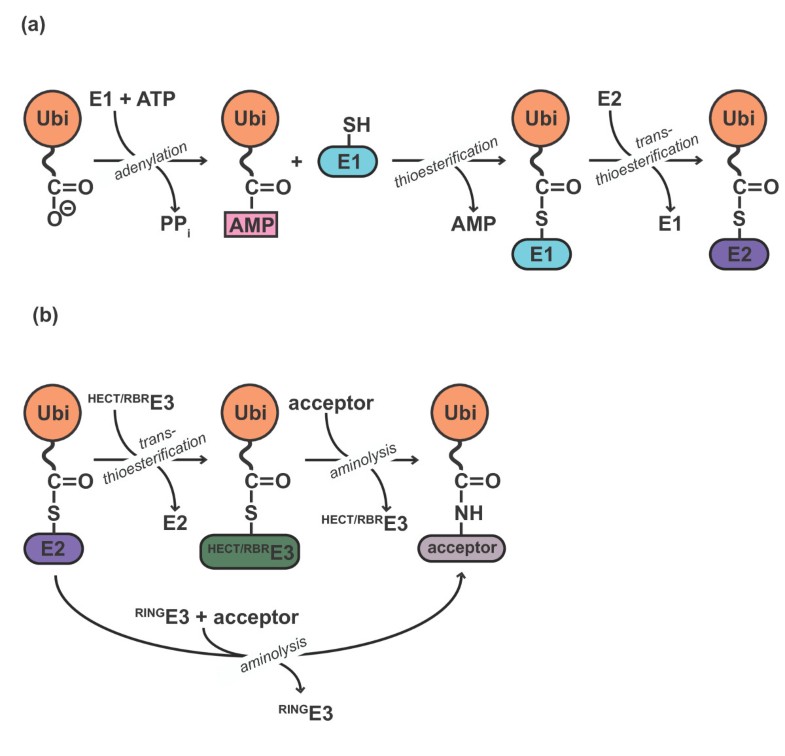 The transfer of ubiquitin from 'charged' E2 enzymes onto target proteins is mediated by enzymes of the E3 family. The common outcome of E3-catalyzed reactions is an isopeptide linkage between the carboxyl terminus of ubiquitin and a primary amino group on a target protein. However, E3 enzymes vary significantly in size and subunit composition and follow different mechanisms (for reviews, see [21, 22]): RING (really interesting new gene) domain-containing E3 enzymes and the related U-box E3s interact with charged E2 enzymes and target proteins simultaneously and facilitate direct ubiquitin transfer from the E2 onto the target protein (Figure 1b). In contrast, the mechanism of HECT (homologous to the E6-AP C-terminus) domain-containing E3 enzymes includes an additional trans-thioesterification step, in which ubiquitin is linked to a catalytic cysteine on the E3. The resulting charged E3 then transfers ubiquitin to the target protein (Figure 1b). A combination of both mechanisms is used by the RING-in-between-RING (RBR) family of E3s. Like HECT E3s, RBRs contain a catalytic cysteine and form a thioester-linked intermediate with ubiquitin before passing it on to the target protein [23] (Figure 1b). However, they also utilize a canonical RING domain to recruit the charged E2 enzyme (for review, see [22]).
As revealed by a growing body of structural data, E1 and E3 enzymes undergo striking remodeling of domains during their catalytic cycle. In contrast, most E2 enzymes are relatively small, single-domain proteins and do not utilize large-scale structural changes for Ubl transfer [24–26].
We describe the conformational changes of E1 and HECT-type E3 enzymes in the first part of this review. Unlike E2 or RING-type E3 enzymes, these two classes of ubiquitylation enzymes catalyze multistep reactions. Structural rearrangements allow these enzymes to bind multiple sequential substrates and process them in distinct active sites. As reviewed elsewhere [27, 28], structural flexibility has also been observed in cullin-RING ligases, a group of multisubunit RING-type E3 enzymes, which catalyze one-step ubiquitin transfer reactions.
In the second part, we describe conformational changes that are involved in modulating the activity of ubiquitylation enzymes. Such regulatory rearrangements are perhaps best understood for E3 enzymes. We have chosen to focus on the way structural flexibility is exploited in the regulation of the single-subunit RING E3 Cbl [29, 30].
(1)
Department of Molecular and Cell Biology, University of California, Berkeley, CA 94720, USA
(2)
California Institute for Quantitative Biosciences, University of California, Berkeley, CA 94720, USA
(3)
Department of Chemistry, University of California, Berkeley, CA 94720, USA
(4)
Howard Hughes Medical Institute, University of California, Berkeley, CA 94720, USA
(5)
Physical Biosciences Division, Lawrence Berkeley National Laboratory, Berkeley, CA 94720, USA
© Lorenz et al; licensee BioMed Central Ltd. 2013
This article is published under license to BioMed Central Ltd. This is an Open Access article distributed under the terms of the Creative Commons Attribution License (http://creativecommons.org/licenses/by/2.0), which permits unrestricted use, distribution, and reproduction in any medium, provided the original work is properly cited.