Mitochondrial network morphology: building an integrative, geometrical view
Received: 3 January 2013
Accepted: 18 June 2013
Published: 24 June 2013
It remains an intriguing mystery how a cell generates and regulates the morphology of its organelles. Consider the mitochondria. They are the powerhouse of the cell, centers of respiratory ATP production and key organelles in essential lipid metabolism pathways. Within a cell, mitochondria appear in a range of forms from numerous small individual organelles, as most often depicted in textbook illustrations, to a single large interconnected membrane-bound tubular network, depending on environmental conditions, cell type, and organism (Figure
1
) [
1
–
4
]. What are the underlying principals and rules that shape an organelle as geometrically complex as the mitochondrion? What aspects of mitochondrial morphology arise from dynamic self-organizing principles, as seen for other intracellular structures [
5
], and what aspects must be actively controlled to respond to the functional needs of the cell.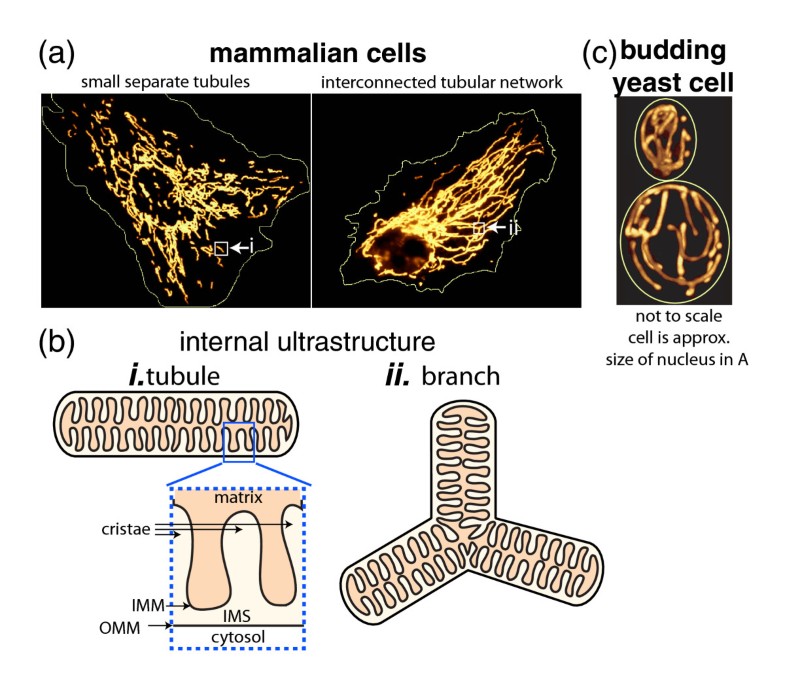 To answer these questions, we need a multi-scale view of how the morphology of a mitochondrial network in the cell is achieved. We must consider both a) how molecular interactions at the nanometer scale generate the tubular structure of mitochondria and b) how these tubules are then organized into the functional, dynamic mitochondrial networks observed in cells at the intermediate micron scale. Traditional approaches have successfully identified molecular alterations that generate observable aberrant mitochondrial morphology (see 'Shape' and 'Dynamics' sections below). However, in most cases, descriptions of these phenotypes are qualitative. Measurements of the severity and penetrance of the phenotype are generally limited to classifications into arbitrary categories. These categories do successfully distinguish the specific morphological classes in a given study, but then require re-classification when additional subtle features of morphology are identified that were not accounted for in previous work. Instead, we need to develop new methods to obtain systematic quantitative descriptors of morphology so that we can rigorously and universally measure normal and aberrant mitochondrial morphology. This is especially important because building an integrative view of mitochondrial networks will require multi-scale computational modeling, which necessitates quantitative experimental data for comparing model to experiment and testing model predictions.
There are several geometric features that together define the overall morphology of mitochondrial networks. These include the size, shape, and position of mitochondria as well as the dynamics of how these features change with time (Figure
2
). These geometrical features can be considered both at the nanometer scale, referring to the morphology of the individual mitochondrial tubules, as well as at the micron scale, referring to the overall organization of the entire mitochondrial network within a cell. While these features can be defined distinctly, they do not exist independently; rather, they all inform and affect each other. In this article I will use mitochondrial networks in the budding yeast
Saccharomyces cerevisiae
(Figure
1
c) to define and illustrate distinct aspects of each of these geometrical features of mitochondrial morphology at the scale both of mitochondrial tubules and of the mitochondrial network as a whole. I will also discuss the interdependence between these features and their relation to mitochondrial function. Finally, I will discuss some important future directions needed for an integrative understanding of mitochondrial morphology.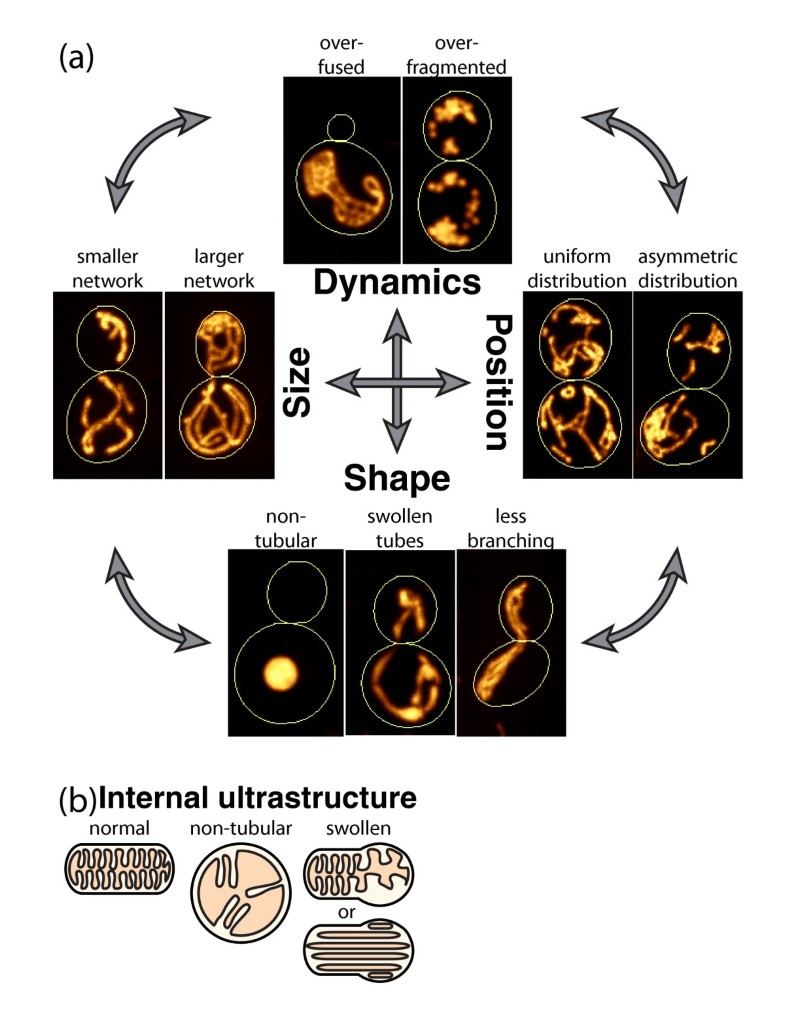 (1)
Department of Developmental and Cell Biology and Center for Complex Biological Systems, University of California, Irvine, CA 92697, USA
© Rafelski; licensee BioMed Central Ltd. 2013
This article is published under license to BioMed Central Ltd. This is an Open Access article distributed under the terms of the Creative Commons Attribution License (http://creativecommons.org/licenses/by/2.0), which permits unrestricted use, distribution, and reproduction in any medium, provided the original work is properly cited.