Brain H2A.Z: the long and the short
Received: 1 July 2013
Accepted: 12 July 2013
Published: 17 July 2013
Core histones (H2A, H2B, H3 and H4) interact through their characteristic histone fold domains, resulting in a heterotypic octamer consisting of two H2A-H2B dimers and a histone H3-H4 tetramer. As their name indicates, such octamers constitute the protein core, wrapped by 146 bp of DNA in a left hand coiling fashion to form the nucleosome core particle, which is the fundamental structural and functional elementary subunit of eukaryotic chromatin. As well as their fundamental role in packaging chromatin, histones also have specialized functions, and in addition to the canonical histones, whose expression is replication dependent and whose genes are present in multiple copies in the genome, there are replication-independent histone variants that are also important components of chromatin [1]. These variants (such as H2A.Z, H2A.Bbd, H2A.X, H3.3) are encoded by single copy genes and replace the canonical histone counterparts throughout the cell cycle in response to different specialized needs. Hence, they are also known as replacement variants [1]. The epigenetic functions of these replacement variants are determined by their distinct compositional and structural properties and by different post-translational modifications.
In a study published in
Epigenetics and Chromatin
, Simonet
et al
. [
2
] report the characterization of carp (
Cyprinus carpio
) histone H2A.Z variants and their involvement in the epigenetic regulation of the ribosomal cistron expression in response to seasonal environmental changes. Three different histone variants, H2A.Z.3.1, H2A.Z.3.2 and H2A.Z.7, were identified (Figure
1
a), one of which, H2A.Z.7, was exclusively found in brain and pituitary tissues, raising new questions about its possible functions in these tissues.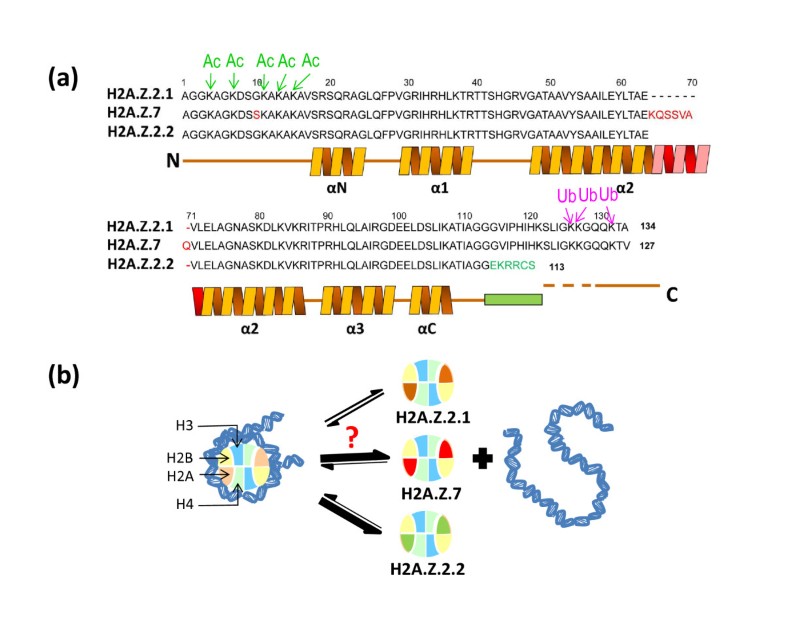 (1)
Department of Biochemistry and Microbiology, University of Victoria, Victoria, BC V8W 3P6, Canada
© Ausió; licensee BioMed Central Ltd. 2013
This article is published under license to BioMed Central Ltd. This is an Open Access article distributed under the terms of the Creative Commons Attribution License (http://creativecommons.org/licenses/by/2.0), which permits unrestricted use, distribution, and reproduction in any medium, provided the original work is properly cited.