Shaping the dynamic mitochondrial network
Received: 22 April 2014
Published: 27 May 2014
Mitochondria are not discrete or autonomous but form highly dynamic, interconnected networks whose biogenesis and structure are highly influenced by the needs of the cell (Figure
1
a,b). Mitochondria have a myriad of functions in addition to cellular energy production and play critical roles in cell cycle progression, differentiation, development, immune responses, lipid and calcium homeostasis, and apoptotic cell death (Figure
1
c; reviewed in [
1
]). These diverse roles of mitochondria are intimately connected to the structure and cellular context of the essential organelle. Thus, it is not surprising that aberrant mitochondrial architecture has been associated with an ever-increasing number of diseases.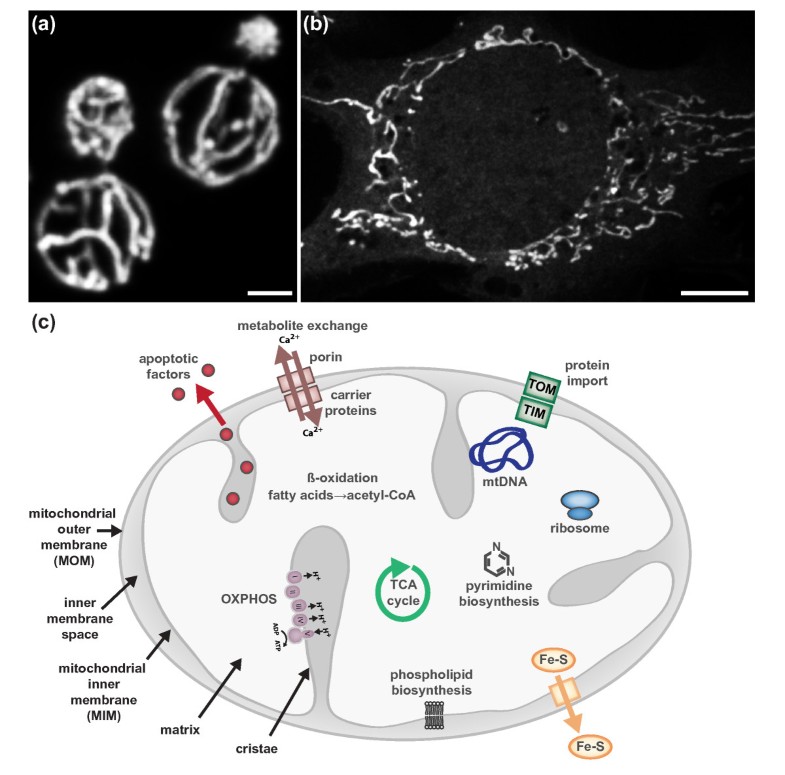 The shape and cellular distribution of the mitochondrial network is maintained in large part by the conserved activities of mitochondrial division, fusion, motility and tethering (Figure
2
). These conserved activities are coordinately regulated and fully integrated with cellular physiology to respond to the rapidly changing needs of the cell. For example, mitochondria elongate during the G1/S transition, fragment at the onset of mitosis and apoptosis, hyperfuse in response to nutrient starvation and oxidative stress, and are recruited to and maintained at active synapses [
2
–
8
]. This regulated restructuring of mitochondria is functionally significant as disruption of these processes has negative effects on overall cellular function.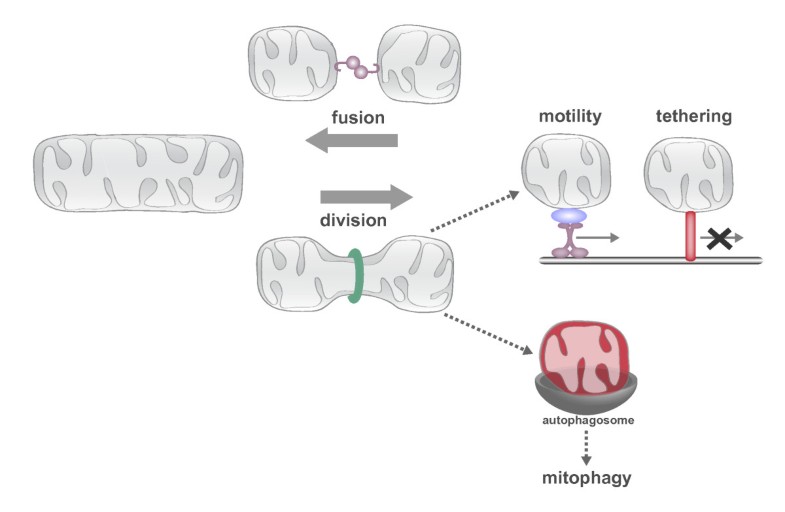 Great progress has been made in our understanding of the molecular mechanisms that actively shape the dynamic mitochondrial network. However, we still have much to learn regarding the coordinate regulation of the activities that drive the context-specific changes in mitochondrial form and function. This review will highlight recent advances in our understanding of the molecular mechanisms that impact mitochondrial form and the integration of these mechanisms with one another and with cellular function.
(1)
Department of Molecular Biosciences, Northwestern University, 2205 Tech Drive Hogan 2-100, Evanston, IL 60208, USA
© Lackner; licensee BioMed Central Ltd. 2014
This article is published under license to BioMed Central Ltd. This is an Open Access article distributed under the terms of the Creative Commons Attribution License (http://creativecommons.org/licenses/by/2.0), which permits unrestricted use, distribution, and reproduction in any medium, provided the original work is properly cited.