Research article

Open Access
Human Lsg1 defines a family of essential GTPases that correlates with the evolution of compartmentalization
Received: 07 September 2005
Accepted: 07 October 2005
Published: 07 October 2005
Abstract
Background
Compartmentalization is a key feature of eukaryotic cells, but its evolution remains poorly understood. GTPases are the oldest enzymes that use nucleotides as substrates and they participate in a wide range of cellular processes. Therefore, they are ideal tools for comparative genomic studies aimed at understanding how aspects of biological complexity such as cellular compartmentalization evolved.
Results
We describe the identification and characterization of a unique family of circularly permuted GTPases represented by the human orthologue of yeast Lsg1p. We placed the members of this family in the phylogenetic context of the YlqF Related GTPase (YRG) family, which are present in Eukarya, Bacteria and Archea and include the stem cell regulator Nucleostemin. To extend the computational analysis, we showed that hLsg1 is an essential GTPase predominantly located in the endoplasmic reticulum and, in some cells, in Cajal bodies in the nucleus. Comparison of localization and siRNA datasets suggests that all members of the family are essential GTPases that have increased in number as the compartmentalization of the eukaryotic cell and the ribosome biogenesis pathway have evolved.
Conclusion
We propose a scenario, consistent with our data, for the evolution of this family: cytoplasmic components were first acquired, followed by nuclear components, and finally the mitochondrial and chloroplast elements were derived from different bacterial species, in parallel with the formation of the nucleolus and the specialization of nuclear components.
Keywords
Nuclear Localization SignalGTPase ActivityRibosome BiogenesisCajal BodyCircular Permutation
Background
Comparative genomics is a powerful method for identifying the potential functions of previously uncharacterized genes, allowing their distribution among the kingdoms of life to be characterized, and the changes in sequence and regulation underpinning their conserved or divergent functions to be tracked [1]. Comparative genomics has been enormously facilitated by progress in bioinformatics tools, comprising the enormous amount of information available from databases concerning protein localization [2, 3], viability [4, 5], protein expression [6], genetic interactions [7] and protein-protein interactions [8]. These resources are usually focused on one particular organism (S. cerevisiae, C. elegans, D. melanogaster or B. subtilis) and are therefore mainly used by the small part of the scientific community working with this organism and able to handle the outcome and limitations. Attempts have been made to correlate large datasets across species, for example in the case of protein-protein interactions [9]. These cross-correlation analyses are based on the presumption that sequence and structural similarities between gene products can be used to assess functional similarities [10, 11] and could in principle be extended to protein localization, viability or partners.
Genomics should be particularly powerful in the case of GTP binding proteins (or GTPases), which despite extraordinary functional diversity are all believed to have evolved from a single common ancestor [12]. As a result, all known GTPases have a conserved switch mechanism of action, core structure and sequence motifs. These proteins are found in all domains of life and are involved in such essential processes as vesicular trafficking, protein translation, intracellular signal transduction and cell cycle progression [12–14]. GTP binding proteins are often described as molecular switch proteins because of their particular mode of action. Binding and hydrolysis of GTP results in conformational changes in the so-called switch regions of the protein, which define the active GTP- and the inactive GDP-bound forms; these are used, for instance, for regulating receptor activation and cargo recruitment to membranes [12].
We have used comparative genomics to identify and characterize the human homologue of the yeast protein Lsg1. Here, we describe a novel family of GTP binding proteins, which we have named YRG (YlqF Related GTPases). Members of this family contain a central GTPase domain showing a unique circular permutation of the known G motifs of the GTP binding proteins. A phylogenetic analysis was used for cross-species comparisons, focusing on sub-cellular localization, cell viability and the known functions of each subfamily member. This analysis showed that YRG family members are essential, have increased in eukaryotes as cell compartmentalizationhas evolved, and show functional conservation in relation to rRNA maturation.
Results
Recently, we have localized more than 800 human proteins in living cells with the aim of gaining preliminary functional data [3]. Analysis of these proteins for sequences exhibiting characteristic GTPase motifs such as the P-loop [18] allowed us to identify a subset of proteins as putative GTPases.
Discussion
Using database sequence similarity searches coupled with phylogenetic analysis, we were able to unite the circularly permuted GTPases into a family that we have named YRG for YlqF Related GTPases [see Additional files 1 and 2]. The YlqF protein family represents the largest subfamily of YRG expansion in eukarya, which is potentially involved in ribosome biogenesis.
Phylogenetic analysis defines ten GTPase subfamilies with a global phyletic distribution compatible with their presence in the last universal common ancestor (LUCA) of extant life forms [22]. An emerging concept suggests that these universal GTPases are necessary either for ribosome function or for transmitting information from the ribosome to downstream targets to generate specific cellular responses. These are associated with translation and include four translation factors, two OBG-like GTPases, the two signal-recognition-associated GTPases, the MRP subfamily of MinD-like ATPases and the YRG family. Here we have defined the YRG family for the first time as a eukaryotic expansion of the original Yawg/YlqF family [22] tightly coupled to the evolution of compartmentalization.
The YRG family was originally defined as a particular class of GTPases showing a circularly permuted structure, with the four GTPase motifs reorganized as G4 followed by G1, G2 and G3 (Figure 1A). This circular permutation is unique in the GTPase superfamily. However, we have shown that this inverted structure does not seem to affect GTPase activity or folding, in agreement with other studies [31, 39]. Moreover, regarding the potential function of this family, it has been pointed out that most YRG members bind to the ribosome [YjeQ, [31]], are involved in the maturation of ribosomes or mitoribosomes [24, 28, 29, 2], localize to compartments related to rRNA maturation [NGP, [1, 39]], and are essential proteins (see Figure 3C and Additional file 2). Altogether, this indicates that YRG members have an essential role in ribosomal assembly.
Strikingly, we could find a member of the YRG family for every cellular compartment linked to ribosomes, including the chloroplast (Figure
1C
), correlating with the expansion of the eukaryotic cell (Figure
1C
). According to the phylogenetic tree of the family, the cytosolic form block (LSG1) is distinct from the nuclear form blocks (NOG2, NGP1, YawG), which later expanded into a nucleolar form (NUG1), in parallel with the incorporation of members upon engulfment of the future mitochondria (MTG1) that cluster within the YlqF branch as well as the future chloroplast (ChYlqF). Other events within the YlqF family included the appearance of a second cytosolic form upon speciation of the coelomates (GNL1), which may have had an equivalent in the plant lineage, since we observed a form of Lsg1 in
A. thaliana
(Figure
1B
). Moreover, we observed the appearance of a second nucleolar form (Nucleostemin) upon speciation of the deuterostomes. Since Nucleostemin is involved in cell-cycle regulation in stem cells, we can hypothesize a direct mechanism of rRNA maturation in those highly specialized animal cells. We propose the following scenario for the evolution of the YRG family. First, a cytosolic founding member was duplicated upon the formation of a proto-nucleus, allowing the rRNA maturation pathway to be maintained (Figure
6
). The second step included the engulfment of mitochondria and chloroplasts containing specific YRG forms involved in rRNA maturation in these compartments. The final step(s) involved the evolution of the cytosolic and nuclear members upon the specialization of the eukaryotic cell (nucleolus etc). This scenario accords with the work of Mans et al. [
47
], which showed by comparative genomics that a large set of proteins was involved in the formation and structure of the nuclear envelope and the pore complex: the nucleus evolved from a primordial prekaryote compartment and a primitive nuclear pore complex dependent on Ran and on Nug1p/Nug2p, a nucleolar YRG member.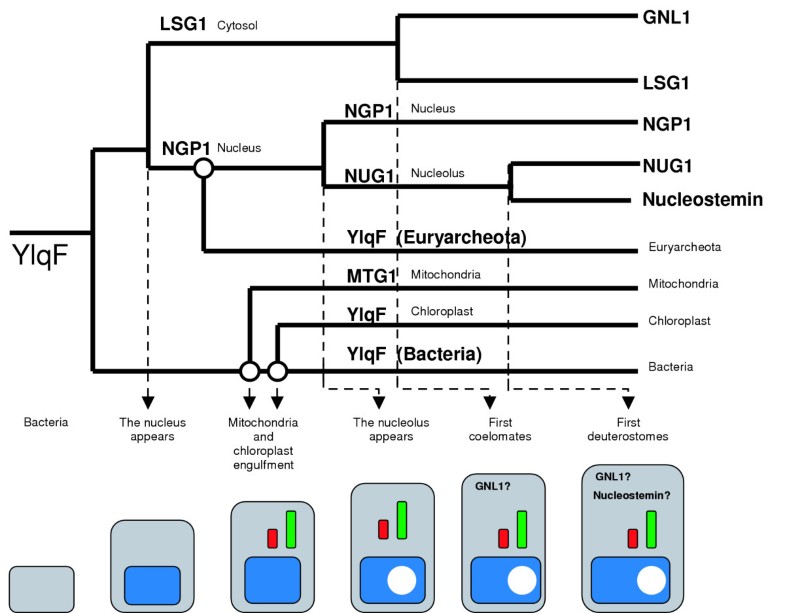 Interestingly, hLsg1 is the only member of this family that shows a dual localization (cytosol/endoplasmic reticulum and Cajal Bodies). The cytosol contains huge numbers of ribosomes freely diffusing or bound to the endoplasmic reticulum, and is the main transit pathway for rRNA en route to the mitochondria or the chloroplast. Cajal Bodies are spherical nuclear bodies containing a variety of components including nucleolar proteins, snRNPs and SMN. They are dynamic structures functionally linked to the nucleolus, presumably involved in RNP maturation and related to gene expression [43, 44]. Consistent with these data, one could hypothesize that hLsg1 is a regulator of the rRNA pathway that can relocate to Cajal Bodies and interact with specific factors such as nucleolar proteins. The observation that Leptomycin B treatment leads to accumulation of hLsg1 in the nucleus clearly indicates shuttling via a CRM1-dependent export pathway. We hypothesized that hLsg1 relocalizes from the cytosol to the nucleus in response to internal (e.g. cell cycle) or external (e.g. growth factor) stimuli. In this way, hLsg1 would act on the control of rRNA biosynthesis at its source: the nucleolus. In the future, these hypotheses will be tested for hLsg1 and for the other YRG family members to elucidate their role in rRNA biosynthesis and maturation.
Conclusion
Using comparative genomics, we defined the YRG family as a unique group of circularly permuted GTPases. We suggest a potential function for this family, as well as a potential pathway by which the family members may act sequentially, following an evolutionary process linked to compartimentalization (Figure 6). A future goal will be to test this hypothesis experimentally and to dissect the molecular mechanisms of action of each member of the pathway.
Methods
Analysis of Lsg1p protein family
Database similarity searches
The translated sequence of the Homo sapiens gene FLJ11301 (GenBank accession no. NP_060855) was used to search the non-redundant protein database at the National Center for Biotechnology Information using the PSI-BLASTP program (15). Homologues were identified in Homo sapiens (GenBank accession identifier BAA92116), Mus musculus (XP_148574), Danio rerio (AAH66695), Caenorhabditis elegans (NP_490904), Caenorhabditis briggsae (CAE74467), Drosophila melanogaster (NP_569915), Anopheles gambiae (EAA13064), Saccharomyces cerevisiae (NP_011416), Schizosaccaromyces pombe (NP_593948), Arabidopsis thaliana (NP_172317), Zea mays (AAD41267), Encephalitozoon cuniculi (CAD26329), Eremothecium gossypii (NP_985506) and Plasmodium falciparum (NP_702181). The sequence corresponding to Rattus norvegicus had to be reconstructed using an insertion from Mus musculus, probably owing to an incorrect gene prediction (XP_213604).
Phylogenetic analysis
The 14 orthologous sequences were aligned using the ClustalW program [16]. PSI-BLAST searches on the NCBI protein database were performed using different representatives of the YRG family as seed, according to the bibliography, and were iterated until members of the closest subfamily were found in the list of hits. The sets of orthologous sequences were manually checked for sequence integrity and to clarify subfamily definitions. Progressively larger multiple sequence alignments were built by constructing multiple sequence alignments of each subfamily, which were manually polished and added together stepwise. At each step, the parts outside the central GTPase domain, which often showed no homology across subfamilies (and therefore should not be aligned), were trimmed to facilitate the production of the next multiple sequence alignment. The final multiple sequence alignment was used to produce the corresponding phylogenetic tree (excluding the non-aligned regions) using ClustalW. The full list of sequences used for the tree and their database identifiers are given as supplementary material [see Additional file 1].
Cell culture, transfections, immunostaining and fluorescence microscopy
HeLa (ATCC CCL-2) and Vero (ATCC CCL-81) cells were cultured in Dulbecco's modified Eagle's medium (DMEM) supplemented with 10% FCS and penicillin/streptomycin at 37°C in an atmosphere of 5% CO2. Cells were seeded on to glass coverslips, Nunc plates or LabTek dishes and were transfected using Fugene6 (Roche) according to the manufacturer's protocols. For immunocytochemistry, transiently transfected HeLa cells were grown on coverslips and fixed in ice-cold methanol for 5 min at -20°C. The cells were then washed again and incubated in PBS for 20 min. Primary and secondary antibodies were diluted in PBS. The cells were incubated with primary antibodies followed by secondary antibodies for intervals of 30 min with three washing steps in between. The coverslips were then mounted in Mowiol on glass slides. Images of the stained cells were acquired using either a Zeiss Cell Observer System or a Leica AOBS confocal laser-scanning microscope.
GTP binding and GTPase activity measurements
Nucleotide binding was measured by the filtration method. Recombinant proteins were incubated in 20 mM Tris-HCl pH 7.5, 1 mM DTT, 5 mM MgCl2, 10 mM EDTA, 0.5 g/l bovine serum albumin, (3H)GTP or (3H)GDP (7,7 Ci/mmol, Amersham-Pharmacia-Biotech) and cold 30 μM GTP or GDP. After incubation at 30°C for the indicated times, samples were diluted in 500 μl of ice-cold washing buffer (20 mM Tris-HCl pH 7.5, 25 mM MgCl2 and 100 mM NaCl) and applied to a nitrocellulose filter (0.45 μm, Millipore). The filters were rinsed with 4 × 4ml ice-cold washing buffer and the radioactivity retained on the filters was determined by scintillation counting.
GTPase activity measurement by HPLC was described by Ahmadian et al. 1999 [17].
siRNAs transfection and western blotting
siRNA sequences were BLAST searched against the human genome to ensure that they were specific for hLsg1. The hLsg1 siRNA sequence showed no exact or near exact matches to any other sequence in the human genome and are therefore hLsg1-specific. siRNAs were synthesized by EUROGENTEC. hLsg1 siRNA (5'-UGGAGAGAAACUGCAAGACTT-3') targets nucleotides 506–524 of human hLsg1 relative to the first nucleotide of the start codon.
Cells were seeded into 12-well plates. Twenty-four hours later, they were transfected with 1.68 μg of siRNA per well (unless otherwise noted). Transfections were as described [28] with the following modifications. Additional OptiMEM (Invitrogen) was not added, and medium was removed before transfection and replaced with 400 μl of OptiMEM. Full-serum medium (unless otherwise noted) was added 4 h post-transfection. At the indicated times post-transfection, the cells were washed twice with PBS and detached from the plate with PBS EDTA. Whole cell extract was obtained by lysing the cells with RIPA buffer containing protease inhibitors and DTT. Protein concentrations were measured using the Bradford assay. Extracts were run on 8% polyacrylamide gels (12% for actin) and transferred to nitrocellulose membranes. The membranes were blocked overnight at 4°C in 1% non-fat dry milk (1 h at room temperature in 5% non-fat dry milk for actin), then probed with either rabbit polyclonal anti-hLsg1 or anti-actin (Santa Cruz Biotechnology) antibody for 1 h at room temperature (overnight at 4°C for actin), washed, and probed with a horseradish peroxidase-conjugated secondary antibody for 1 h at room temperature. Signals were detected using the ECL-Plus reagent (Amersham Biosciences).
Declarations
Acknowledgements
We thank Angus Lammond for sharing an aliquot of anti-coilin antibodies. The yeast Lsg1 construct was a kind gift from Arlen Johnson. We appreciate the help of Jeremy Simpson in siRNA design and preparation of this manuscript, and we are grateful for funding from the European Molecular Biology Organization (Long Term Fellowship) to E. Reynaud. M.A. Andrade is the recipient of a Canada Research Chair.
Authors' Affiliations
(1)
Cell Biology and Cell Biophysics Programme, European Molecular Biology Laboratory (EMBL), Heidelberg, Germany
(2)
Ontario Genomics Innovation Centre, Ottawa Health Research Institute, Ottawa, Canada
(3)
Structural and Computational Programme, European Molecular Biology Laboratory (EMBL), Heidelberg, Germany
Copyright
© Reynaud et al; licensee BioMed Central Ltd. 2005
This article is published under license to BioMed Central Ltd. This is an Open Access article distributed under the terms of the Creative Commons Attribution License (http://creativecommons.org/licenses/by/2.0), which permits unrestricted use, distribution, and reproduction in any medium, provided the original work is properly cited.