Research article

Open Access
Complex chloroplast RNA metabolism: just debugging the genetic programme?
Received: 28 July 2008
Accepted: 28 August 2008
Published: 28 August 2008
Abstract
Background
The gene expression system of chloroplasts is far more complex than that of their cyanobacterial progenitor. This gain in complexity affects in particular RNA metabolism, specifically the transcription and maturation of RNA. Mature chloroplast RNA is generated by a plethora of nuclear-encoded proteins acquired or recruited during plant evolution, comprising additional RNA polymerases and sigma factors, and sequence-specific RNA maturation factors promoting RNA splicing, editing, end formation and translatability. Despite years of intensive research, we still lack a comprehensive explanation for this complexity.
Results
We inspected the available literature and genome databases for information on components of RNA metabolism in land plant chloroplasts. In particular, new inventions of chloroplast-specific mechanisms and the expansion of some gene/protein families detected in land plants lead us to suggest that the primary function of the additional nuclear-encoded components found in chloroplasts is the transgenomic suppression of point mutations, fixation of which occurred due to an enhanced genetic drift exhibited by chloroplast genomes. We further speculate that a fast evolution of transgenomic suppressors occurred after the water-to-land transition of plants.
Conclusion
Our inspections indicate that several chloroplast-specific mechanisms evolved in land plants to remedy point mutations that occurred after the water-to-land transition. Thus, the complexity of chloroplast gene expression evolved to guarantee the functionality of chloroplast genetic information and may not, with some exceptions, be involved in regulatory functions.
Keywords
Cytoplasmic Male SterilityLand PlantChloroplast GenomeSigma FactorEditing Site
Background
As the site of oxygenic photosynthesis, chloroplasts are the most in-depth studied plant organelles. The recognition that they carry their own DNA [
1
] led, in the 1970s, to a race to decipher their genetic content, which eventually resulted in more than 100 [
2
] sequenced chloroplast genomes to date. These sequences set to rest any remaining doubts that chloroplasts are ancient endosymbionts and are derived from cyanobacterial-like ancestors. Expression analysis of the chloroplast genetic information had been studied right from the dawn of chloroplast molecular biology and several surprising findings emerged. The most puzzling of these was that the chloroplast gene expression system is far more complex than that of its cyanobacterial progenitors (Figure
1
). This gain in complexity is due to changes in RNA metabolism, specifically to novelties in the transcription and maturation of RNA. A set of newly acquired or recruited nuclear-encoded proteins comprising RNA polymerases, sigma factors and mono- or merospecific RNA maturation factors promotes transcription [
3
–
8
], RNA splicing [
9
–
11
], RNA editing [
12
–
14
], RNA end formation [
15
–
17
] or translation [
18
,
19
]. Identification and characterization of these factors stimulated research, but a unifying explanation for this Byzantine gene expression system in chloroplasts has not yet been found. Here, we propose a hypothesis on the origin of the complexity of chloroplast gene expression, encompassing recent data on factors involved in chloroplast transcription, RNA editing and RNA processing.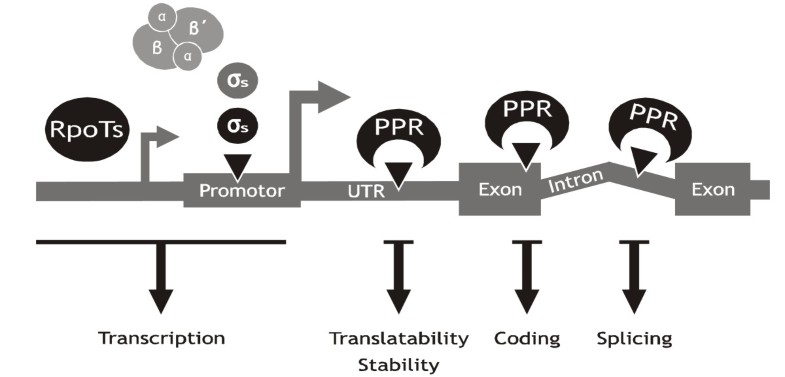 Conclusion
Here, we put forward a hypothesis to account for the enigmatic complexity of chloroplast gene expression. We propose that nuclear factors evolved to counteract chloroplast mutations that occurred after the water-to-land transition and persist due to the mode of chloroplast genome evolution. These nuclear factors act either on DNA directly or suppress point mutations on the RNA level. Specifically, we suggest that PPR proteins were recruited to counteract point mutations in coding regions, introns and UTRs. In the same way, sigma factors may help to recognise degenerated promoter motifs. Finally, low-specificity phage-type RNA polymerases support transcription despite the loss of canonical PEP-promoters. Intriguingly, all means to suppress chloroplast mutations instanced here seem to have evolved in early land plants. Hypothetically, this could mean that chloroplast genomic decay and parallel counteraction by nuclear-encoded components were accelerated in the common ancestor of all land plants.
The hypothesis put forward here draws on two established concepts: the degeneration of genomes of endosymbiotic organisms and the suppression of organellar defects by nuclear factors (the CMS example). The hypothesis circumvents the need to invoke selective pressures to account for the myriads of processing events in the chloroplast transcriptome (but does not exclude them in individual cases). It is therefore more parsimonious than the assumption that complexity in chloroplast gene expression serves a regulatory function. Finally, our hypothesis may draw a picture of the first land plant, its molecular integration into the new environment and the need to suppress radiation-engendered mutations.
Methods
Available genome datasets were screened with the following PFAM (http://pfam.sanger.ac.uk) HMMs with a cutoff of E ≤ 0.0001: Sigma70_r2/3/4 (PF 04542, 04539, 04545); PPR repeat (PF01535). Only those genes containing more than one PPR repeat were taken into account. Numbers of protein-coding plastid genes are derived from [2]. Number of RpoT genes encoding phage-type RNA polymerases in O. tauri, O. lucimarinus, T. pseudonana and P. tricornutum are derived from BLAST hits using the A. thaliana RpoTm, RpoTmp and RpoTp sequences as queries, filtered for > = 30% identity and 300 aa alignment length. RpoT gene numbers in other organisms were taken from the literature [cf. [44]] or communicated by Andreas Weihe and Uwe Richter (Humboldt University, Berlin).
Declarations
Acknowledgements
We are supported by the Deutsche Forschungsgemeinschaft within the Collaborative Research Centre TransRegio1 (SFB-TR1) (UGM, HTF), the Graduate School 'Intra- and intercellular transport and communication' (SZ, AB), the Collaborative Research Centre 429 (TB), the Emmy Noether program (MT, CSL), grant RE 837/10-2 (SAR) and BMBF (SAR, grant 0313921, Freiburg Initiative in Systems Biology). We are thankful to Uwe Richter and Andreas Weihe (Institute of Biology, Humboldt University Berlin) for providing data on RpoT gene numbers and to Gerrit Timmerhaus (Freiburg) for assistance.
Authors' Affiliations
(1)
Cell Biology, Philipps University Marburg, Marbur, Germany
(2)
Faculty of Biology, University of Freiburg, Freiburg, Germany
(3)
Humboldt University Berlin, Institute of Biology, Berlin, Germany
Copyright
© Maier et al; licensee BioMed Central Ltd. 2008
This article is published under license to BioMed Central Ltd. This is an Open Access article distributed under the terms of the Creative Commons Attribution License (http://creativecommons.org/licenses/by/2.0), which permits unrestricted use, distribution, and reproduction in any medium, provided the original work is properly cited.