Vertebrate Hedgehog signaling: cilia rule
Received: 14 May 2010
Accepted: 26 July 2010
Published: 29 July 2010
Hedgehog (Hh) signaling is an evolutionarily conserved signal transduction pathway that is essential for a range of developmental patterning events, including specifying growth and polarity of the vertebrate limb and neural tube, and is misregulated in a number of cancers, for example basal cell carcinoma and medulloblastoma [
1
]. It has recently become clear that the primary cilium (Figure
1a
), a non-motile microtubule-based structure that extends from membrane-docked basal bodies in most mammalian cell types, is essential for Hh signaling in the mouse, but not in the fruit fly
Drosophila melanogaster
[
2
]. Subsequent experiments with null mutants in components of the Hh pathway in zebrafish and mouse have raised questions about the conservation of the mechanisms of Hh signal transuction during evolution, and have suggested that utilization of the primary cilium for signaling might be a mammalian innovation. Now, data from several groups, including Kim
et al.
in
BMC Biology
[
3
], show that cilia are required for Hh signaling in zebrafish, revealing that their deployment in this pathway is thus not confined to mammals. Further, the studies demonstrate that the
iguana
gene product, originally implicated in the regulation of Hh signaling in zebrafish, has in fact a conserved role in ciliogenesis.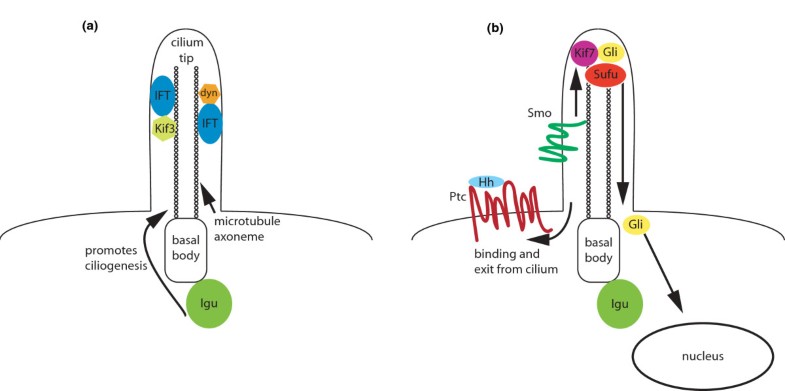 (1)
Tumour Biology and Angiogenesis Department, Genentech Inc., 1 DNA Way, South San Francisco, CA 94080, USA
(2)
Department of Biochemistry and Biophysics, Program in Developmental and Stem Cell Biology, the Liver Center, Cardiovascular Research Institute and Diabetes Center, University of California, San Francisco, CA 94158, USA
© Wilson and Stainier; licensee BioMed Central Ltd. 2010
This article is published under license to BioMed Central Ltd. This is an Open Access article distributed under the terms of the Creative Commons Attribution License (http://creativecommons.org/licenses/by/2.0), which permits unrestricted use, distribution, and reproduction in any medium, provided the original work is properly cited.