The coming and going of Batesian mimicry in a Holarctic butterfly clade
Received: 2 September 2010
Accepted: 10 September 2010
Published: 15 September 2010
Comparative studies of butterfly wing patterns by naturalists such as Henry Bates, Roland Trimen and Fritz Müller marked the birth of the scientific concept of mimicry right at the onset of the Darwinian age. Even today, the factors governing the origin, maintenance and dynamics of mimicry systems remain a challenge for evolutionary biologists, and butterfly wing patterns continue to provide prime models for developing and testing new ideas concerning the mechanisms governing how mimetic phenotypes arise and what factors may regulate their maintenance [1]. The emergence and maintenance of Batesian mimicry, in which palatable mimics share conspicuous warning color patterns with unpalatable models that are protected from predation by their aposematic pattern, is particularly intriguing in evolutionary terms. Here, fitness benefits will accrue to the non-toxic mimic only as long as the toxic model remains present, and in large enough numbers, to ensure that predators are familiar with it and are thus warned off by its characteristic appearance. Otherwise, selection should favor the disappearance of palatable mimics, which suffer from higher predation risk than inconspicuous phenotypes [2].
White admirals, that is, the Holarctic butterfly genus Limenitis (Nymphalidae), have been the target of research into the function and evolution of mimicry for more than 40 years. The genus comprises about 25 species in Asia, Europe and North America. Most of them show disruptive wing coloration [3]: dark brown with white bands stretching across fore and hind wings, and undersides similar. Within the four North American species, sometimes referred to as subgenus Basilarchia, two radically different phenotypes occur that exemplify two different mimicry syndromes. On the one hand, Limenitis archippus, the viceroy, is orange colored and forms a Müllerian mimicry ring with toxic Danaus plexippus (the monarch) and D. gilippus [4]. In a Müllerian mimicry ring, all species share a common warning color pattern, and since they are all unpalatable to predators, they collectively benefit from this common signaling. On the other hand, L. arthemis (the white admiral) comprises an experimentally proven example of Batesian mimicry [5]. Its northern two subspecies, arthemis and rubrofasciata, show the disruptive coloration usual for the genus and are non-mimetic. However, the southwestern (arizonensis) and southeastern (astyanax) subspecies are bluish without white bands, and with conspicuous red dots ventrally. They are mimics of the toxic pipevine swallowtail Battus philenor. The four forms of Limenitis arthemis freely interbreed in nature as well as in captivity and thus belong to the same species under the biological species concept.
The past 5 years have seen an interesting controversy as to whether mimetic forms in the
L. arthemis
complex have evolved once (monophyletic mimicry hypothesis (MMH); Figure
1b
), or whether the non-mimetic
arthemis
phenotype might constitute an example of the reversion to an ancestral phenotype from a mimetic one (reversion hypothesis (RH); Figure
1a
). A first sequence-based phylogenetic analysis [
6
] did not support the MMH, but soon after, Savage and Mullen [
7
] concluded the MMH to be more appropriate on the grounds of amplified fragment length polymorphism (AFLP) data, disputing support for the RH obtained from mitochondrial sequence data [
8
]. This controversy might appear of little general significance, were it not for the fact that evidence for a reversion from a mimetic to an ancestral phenotype is extremely rare so far [
2
].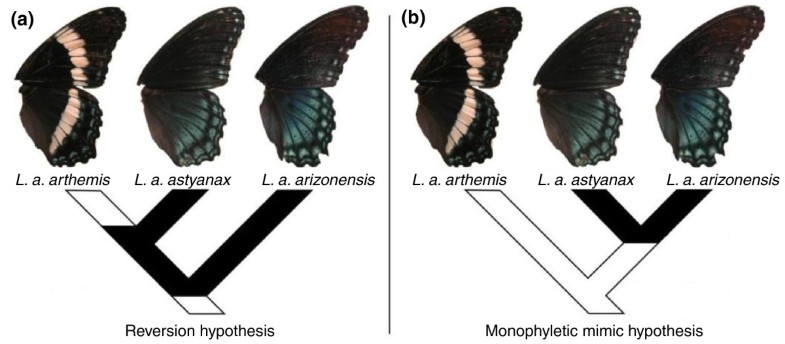 (1)
Department of Animal Biodiversity, University of Vienna, Rennweg 14, 1030 Vienna, Austria
© Fiedler; licensee BioMed Central Ltd. 2010
This article is published under license to BioMed Central Ltd. This is an Open Access article distributed under the terms of the Creative Commons Attribution License (http://creativecommons.org/licenses/by/2.0), which permits unrestricted use, distribution, and reproduction in any medium, provided the original work is properly cited.