A question of scale: Human migrations writ large and small
Received: 19 April 2010
Accepted: 13 July 2010
Published: 21 July 2010
Migration is a major force shaping patterns of genetic variation in humans [1]. The history of our species is dominated by movement: from the global expansion of modern humans out of Africa, to continent-wide dispersions following the development of agriculture, to the often socially dictated movement of individuals seeking mates or resources. As can be seen from even these simple examples, migration can occur over a variety of spatial and temporal scales - from the wholesale dispersal of populations to the movements of individuals. Large-scale dispersals cause populations to diverge as they subsequently accumulate mutations and experience genetic drift, while individual mobility over smaller geographical scales counteracts these forces by sharing genetic variants between populations. Thus, each of these forms of migration has characteristic effects on human population structure and each brings its own set of methodological challenges [2, 3].
A major aim in contemporary molecular anthropology is to determine when gene flow has occurred (that is, temporal control) and over what geographical range its effects were felt (that is, spatial control) (Figure
1
). Consider these examples: the expansion of modern humans out of Africa occurred approximately 50,000 years ago and had global impact (circle a); dispersals following the development of agriculture occurred <10,000 years ago, but were largely restricted to continental (or sub-continental) regions (circle b); gene flow driven by intermarriage between adjacent small communities is often of only local effect and frequently occurs over short time scales (circle c).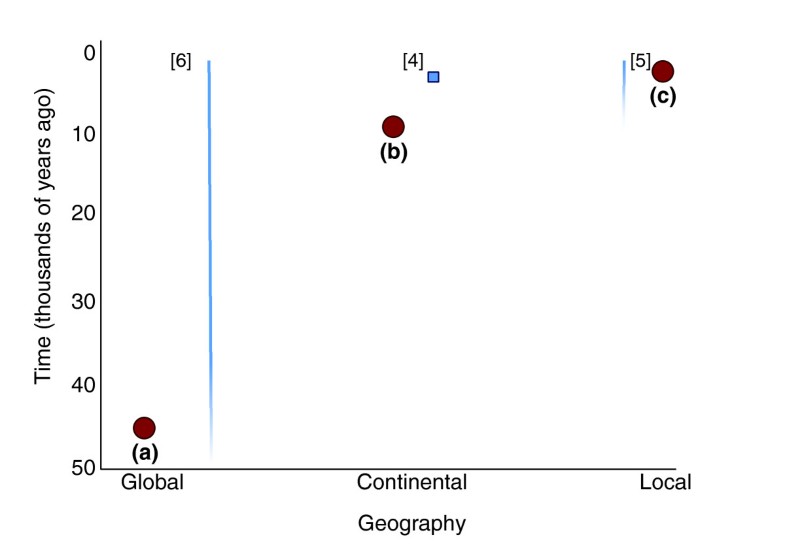 In practice, it remains difficult to determine the timing and geographic extent of specific episodes of historical human migration. Spatial control largely reduces to an issue of appropriate sampling (that is, sufficiently representing the full geographical range over which migration occurred). Increased geographical sampling is currently an expensive proposition, but advances in genotyping technologies are likely to reduce experimental costs to more reasonable levels in the near future. Attaining fine temporal control is a far more difficult prospect. To date, tight temporal resolution of human mobility has largely been the sole purview of ancient DNA studies. However, new analytical methods are currently being developed that can place chronological bounds on human gene flow using genetic data from individuals living today. The choice of genetic marker is also a major influence on what researchers can reveal about historical movements. Until recently, mitochondrial DNA (mtDNA) and the Y chromosome were favored as the most informative genetic markers available for studying human history. mtDNA is passed only from a mother to her offspring, while the Y chromosome is passed only from a father to his sons. This simple mode of transmission makes mtDNA and the Y chromosome easy model systems for studying human ancestry. In particular, these loci can be used to detect whether migration has occurred between populations in the past.
(1)
Institute of Molecular BioSciences, Allan Wilson Centre for Molecular Ecology and Evolution, and the Bio-Protection Centre, Massey University, Palmerston North, New Zealand
(2)
ARL Division of Biotechnology, University of Arizona, Tucson, AZ 85721, USA
© Cox and Hammer; licensee BioMed Central Ltd. 2010
This article is published under license to BioMed Central Ltd. This is an Open Access article distributed under the terms of the Creative Commons Attribution License (http://creativecommons.org/licenses/by/2.0), which permits unrestricted use, distribution, and reproduction in any medium, provided the original work is properly cited.