Butterfly eyespot serial homology: enter the Hox genes
Received: 20 April 2011
Accepted: 28 April 2011
Published: 28 April 2011
A common occurrence during development is the formation of repeated homologous structures. During evolution, some of the elements of such serial homology groups may become specialized to perform specific functions, leading to the morphological diversification of the serial homology elements. The best-studied homology series in animals are the body segments, which initially arise as a series of identical subdivisions and then undergo diversification to give rise to segment-specific structures, such as segments with or without legs in the arthropods or vertebrae with or without ribs in vertebrates. This morphological diversification is regulated by Hox genes. A recent paper published in EvoDevo has identified the Antennapedia (Antp) Hox gene as the earliest known gene to have eyespot-specific expression [1]. However, Antp is not expressed in the eyespots of all Lepidoptera species, uncovering the existence of developmental flexibility in eyespot morphogenesis during evolution.
The pigmented concentric rings observed in eyespots are induced during development by the group of cells located in its centre, called the focus. Nijhout, in early work, discovered that if the focus of the pupal wing is transplanted to another area of the wing, it can induce the formation of an ectopic eyespot in the surrounding cells [
2
]. Moreover, cauterization of the focus inhibits eyespot formation. These experiments suggested a model (Figure
1A
) wherein the focus secretes a signalling molecule, which acts as a morphogen present at decreasing concentration as it spreads away from the source. The cells surrounding the focus would perceive different amounts of morphogen and, depending on the concentration they detect, would activate one or another pigment, giving rise to the pattern of concentric colour rings.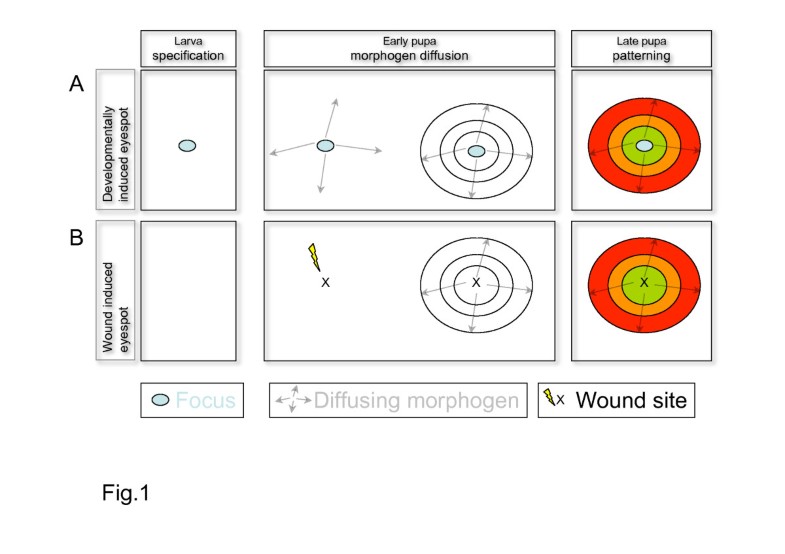 (1)
CABD, CSIC/Universidad Pablo de Olavide, Carretera de Utrera km 1, Seville, 41013, Spain
© Derenzini and Younes; licensee BioMed Central Ltd. 2011
This article is published under license to BioMed Central Ltd. This is an open access article distributed under the terms of the Creative Commons Attribution License (http://creativecommons.org/licenses/by/2.0), which permits unrestricted use, distribution, and reproduction in any medium, provided the original work is properly cited.