Research article
Open Access
The taming of an impossible child: a standardized all-in approach to the phylogeny of Hymenoptera using public database sequences
Received: 27 May 2011
Accepted: 18 August 2011
Published: 18 August 2011
Abstract
Background
Enormous molecular sequence data have been accumulated over the past several years and are still exponentially growing with the use of faster and cheaper sequencing techniques. There is high and widespread interest in using these data for phylogenetic analyses. However, the amount of data that one can retrieve from public sequence repositories is virtually impossible to tame without dedicated software that automates processes. Here we present a novel bioinformatics pipeline for downloading, formatting, filtering and analyzing public sequence data deposited in GenBank. It combines some well-established programs with numerous newly developed software tools (available at http://software.zfmk.de/).
Results
We used the bioinformatics pipeline to investigate the phylogeny of the megadiverse insect order Hymenoptera (sawflies, bees, wasps and ants) by retrieving and processing more than 120,000 sequences and by selecting subsets under the criteria of compositional homogeneity and defined levels of density and overlap. Tree reconstruction was done with a partitioned maximum likelihood analysis from a supermatrix with more than 80,000 sites and more than 1,100 species. In the inferred tree, consistent with previous studies, "Symphyta" is paraphyletic. Within Apocrita, our analysis suggests a topology of Stephanoidea + (Ichneumonoidea + (Proctotrupomorpha + (Evanioidea + Aculeata))). Despite the huge amount of data, we identified several persistent problems in the Hymenoptera tree. Data coverage is still extremely low, and additional data have to be collected to reliably infer the phylogeny of Hymenoptera.
Conclusions
While we applied our bioinformatics pipeline to Hymenoptera, we designed the approach to be as general as possible. With this pipeline, it is possible to produce phylogenetic trees for any taxonomic group and to monitor new data and tree robustness in a taxon of interest. It therefore has great potential to meet the challenges of the phylogenomic era and to deepen our understanding of the tree of life.
Keywords
Sister GroupMaximum CliqueMajor LineageMitochondrial SequenceOrthologous Sequence
Background
Reconstructing the phylogeny of organisms, the tree of life, is one of the major goals in biology and is essential for research in other biological disciplines ranging from evolutionary biology and systematics to biological control and conservation. In phylogenetics, molecular characters have become an indispensable tool, since they can be collected in a standardized and automated way. This is indicated by the exponential growth of published data, with a current doubling time of approximately 30 months [1] and expected massively accelerated data generation over the next several years. The sequencing of expressed sequence tags (ESTs), complete genomes and countless single-gene fragments has resulted in enormous, yet highly incomplete and unbalanced, data sets accessible via public databases such as the National Center for Biotechnology Information (NCBI) GenBank, the European Molecular Biology Laboratory (EMBL) and the DNA Database of Japan (DDBJ).
The accumulation of new data is, of course, important, but the potential of the currently available data for phylogenetic analysis has not yet been sufficiently explored. McMahon and Sanderson [2], Sanderson et al. [3] and Thomson and Shaffer [4] have published their attempts to use molecular data from public databases and to process them for phylogenetic analysis. However, these approaches, while valuable and trend-setting, did not offer thorough solutions and call for extension, improvements and updates in terms of generalization, detail, analysis and degree of automation. Any new approach must offer solutions to deal with data scarcity, poor data overlap, nonstationary substitution processes, base compositional heterogeneity and data quality deficits. In this study, we address these problems with a newly developed bioinformatics pipeline. We use a large exemplar taxon for which far more than 100,000 sequences have been published and show that comprehensive analyses can potentially deliver new results which were not available from each included data set separately.
As an exemplary taxon, we chose the insect order Hymenoptera, which comprises prominent groups such as bees, ants and wasps, the latter including the overwhelming armada of parasitoid species [5]. The Hymenoptera seem well-suited to demonstrate the power of our approach, since the taxon is megadiverse and offers a number of phylogenetic challenges, including many unresolved relationships and well-known problems that are associated with so-called long-branch taxa and rapid radiations (see, for example, [6–8]). Over a long period, comparatively few authors tried to resolve the phylogenetic relationships of the major lineages of Hymenoptera (see, for example, [9–16]). In recent years, however, interest and effort in solving higher-level relationships within the Hymenoptera have notably increased and led to the publication of an extensive analysis based exclusively on morphological characters [17], a study using complete mitochondrial genomes [18], a supertree approach using previously published trees [19], a phylogenetic estimate based on EST data [20] and a taxon-rich four-gene study [21]. In the past five years, complete nuclear genomes of several Hymenoptera species have been sequenced. Most noteworthy in this context are the genomes of the honey bee Apis mellifera [22] and the jewel wasp Nasonia vitripennis, with its sibling species N. giraulti and N. longicornis [23]. These genomes contributed significantly to the amount of sequence data available for Hymenoptera. However, their number is still too small to profitably augment phylogenetic analyses.
Overall, there are only few phylogenetic hypotheses on major lineages within Hymenoptera that are generally accepted. These are as follows: (1) "Symphyta" (sawflies) are paraphyletic, with the absence of the constriction between the first and second abdominal segments (that is, the wasp waist) as a symplesiomorphic character; (2) Apocrita (wasp-waisted wasps) are monophyletic (see, for example, [24]); (3) Xyelidae are sister group to all other Hymenoptera (see, for example, [25–27]); (4) Orussidae are sister group to Apocrita (see, for example, [17, 18, 27]) and (5) Aculeata (stinging wasps; Apoidea, Chrysidoidea and Vespoidea) are monophyletic (see, for example, [28]). In addition, most of the 22 currently recognized superfamilies are presumed to be monophyletic (see [29] for a synopsis). Numerous relationships within Hymenoptera are still unresolved. Among them, the most intriguing ones are the phylogeny of the major lineages within Apocrita, and in particular what the sister group of Aculeata is, and the monophyly and phylogeny of Proctotrupomorpha sensu Rasnitsyn 1988 [13] (Chalcidoidea, Cynipoidea, Diaprioidea, Mymarommatoidea, Platygastroidea and Proctotrupoidea).
In this study, we present a standardized, fast and transparent bioinformatics pipeline to collect, filter and analyze public sequence data deposited in GenBank. The pipeline is designed to be generally applicable in terms of taxa, genes and the variety of potential users. We apply this pipeline to sequences of Hymenoptera and discuss our results against the background of current hypotheses on two selected questions: the phylogeny of the major lineages within Apocrita and the monophyly and phylogeny of Proctotrupomorpha. Additionally, we use the results to diagnose persistent problems in the hymenopteran tree. Finally, we illustrate the merit of being able to easily generate trees from available sequence data at a time when data sets are accumulating at an ever-increasing speed.
Methods
We developed a bioinformatics pipeline that includes automated data retrieval, processing, filtering and analysis of sequence data using available programs in combination with newly developed scripts. The individual steps of the pipeline are illustrated in Figure
1
. Those steps that are executed by new scripts are highlighted in blue. These scripts can be downloaded from
http://software.zfmk.de/
or accessed as part of Additional file
1
. They have been written in the Ruby or Perl programming language and will run on any Linux operating system. Each of our scripts comes with a manual that provides more detailed information on what it does and how to use it (manuals are available at
http://software.zfmk.de/
and also are located in Additional file
1
). Table
1
summarizes all new scripts and their respective tasks. To maneuver through the pipeline, each script has to be manually started with the output from the preceding step. This allows the user to manually interfere at each step or to modify the pipeline to adapt it to new demands. In the following paragraphs, we explain the individual steps of the pipeline using the example of the analysis of Hymenoptera sequences deposited in GenBank.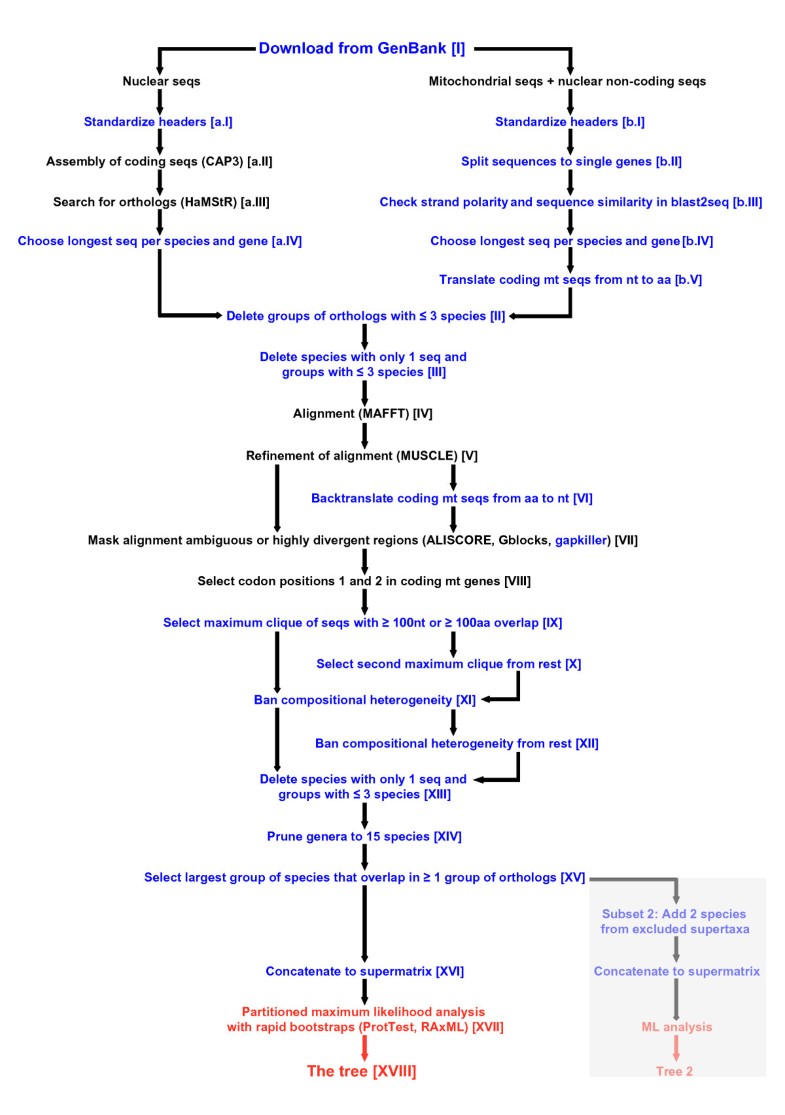 Table 1
New scripts used in our pipelinea
| Step | Number | Script |
| --- | --- | --- |
| Download from GenBank | [I] | proseqco |
| Standardize headers | [a.I], [b.I] | header_standardizer |
| Split sequences to single genes | [b.II] | multiple_sequence_splitter |
| Check strand polarity and sequence similarity | [b.III] | checking_seq |
| Choose longest sequence per species and gene | [a.IV], [b.IV] | choose_longest_seq |
| Translate coding mitochondrial sequences from nucleotides to amino acids | [b.V] | dna2aa |
| Delete groups of orthologs with three or fewer species | [II], [III], [XIII] | small_groups_deleter |
| Delete species with only one sequence | [III], [XIII] | taxon_deleter |
| Backtranslate coding mitochondrial sequences from amino acids to nucleotides | [VI] | aa2dna |
| Mask gappy regions in alignment | [VII] | gap_killer |
| Select maximum clique of overlapping sequences | [IX], [X] | minimum_sequence_overlap |
| Ban compositional heterogeneity | [XI], [XII] | nucleotide_chi |
| Prune genera to best represented species | [XIV] | prune_genera |
| Select largest group of species that overlap in at least one group of orthologs | [XV] | reduce2leading_gene |
| Concatenate alignments | [XVI] | concatenator |
Results
We downloaded 122,723 Hymenoptera sequences from GenBank 172.0 (as of 18 August 2009), including those of the nuclear genome of N. vitripennis (9,254 contigs). The annotation of the nuclear genome of A. mellifera was used as a reference when searching for orthologs (see Methods, step [a.III]), and corresponding sequences of this species were added during this step. After the first processing steps [a.I/b.I to II], including a search for orthologs, a sequence check with checking_seq, filtering for longest sequence per species and gene, and excluding groups of orthologs with fewer than four species, the data set included a total of 13,573 sequences from 4,536 species and 375 genes. Step [III], the exclusion of species with only one sequence in the data set, led to the exclusion of 1,074 species and subsequently of 68 groups of orthologs. Accordingly, sequences of 3,462 species in 307 groups of orthologs were aligned in step [IV]. The selection of the first and second maximum cliques of species with an overlap of at least 100 nucleotides or amino acids [steps IX and X] and the subsequent tests for compositional heterogeneity [steps XI and XII] led to the exclusion of 669 species and reduced the data set to 2,793 species. The pruning of species-rich genera to 15 species led to the exclusion of another 549 species [step XIV]. Pruned genera were Camponotus, Cardiocondyla, Dorylus, Lasius, Myrmecocystus, Pheidole, Pogonomyrmex, Polyrhachis, Pseudomyrmex (Formicidae), Bombus, Diadasia, Euglossa, Xylocopa (Apidae), Colletes, Hylaeus (Colletidae), Aleiodes, Cotesia (Braconidae), Ceratosolen (Agaonidae), Andricus (Cynipidae), Neodiprion (Diprionidae), Pontania (Tenthredinidae), Megastigmus (Torymidae) and Polistes (Vespidae).
After selecting the largest group of species that overlap in at least one group of orthologs [step XV], the final concatenated data set (subset 1) included 1,146 species (46 families), 222 groups of orthologs, 3,951 sequences and 88,626 aligned sites. Data coverage in subset 1 (number of sequences ÷ number of groups of orthologs × number of species) was 1.55%. Tree reconstruction and 560 rapid bootstrap replicates took 8.3 days. Tree 1 obtained from subset 1 is shown in Figures
2
and
3
and Additional file
5
.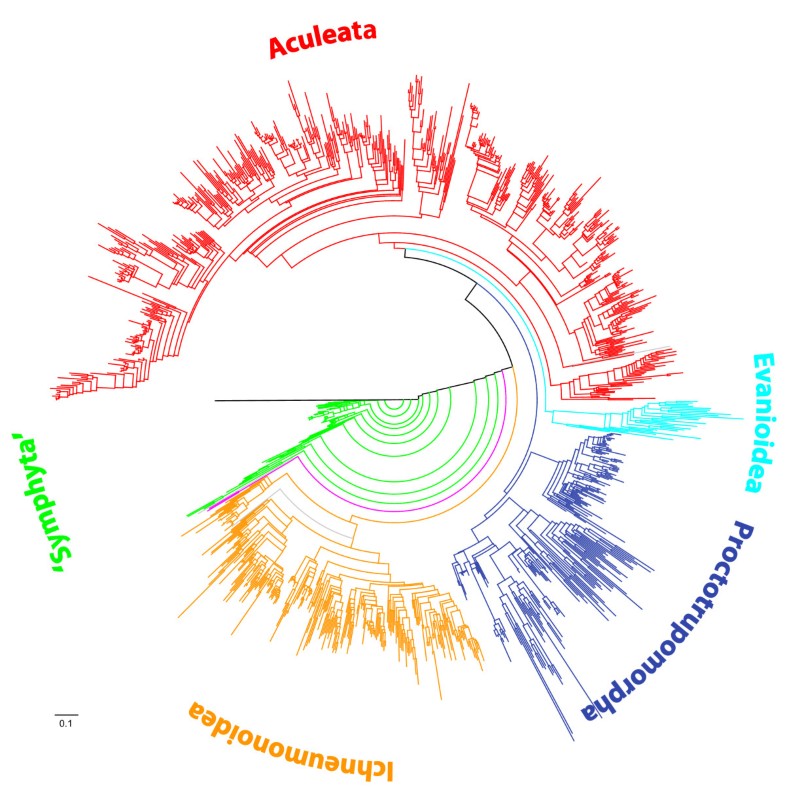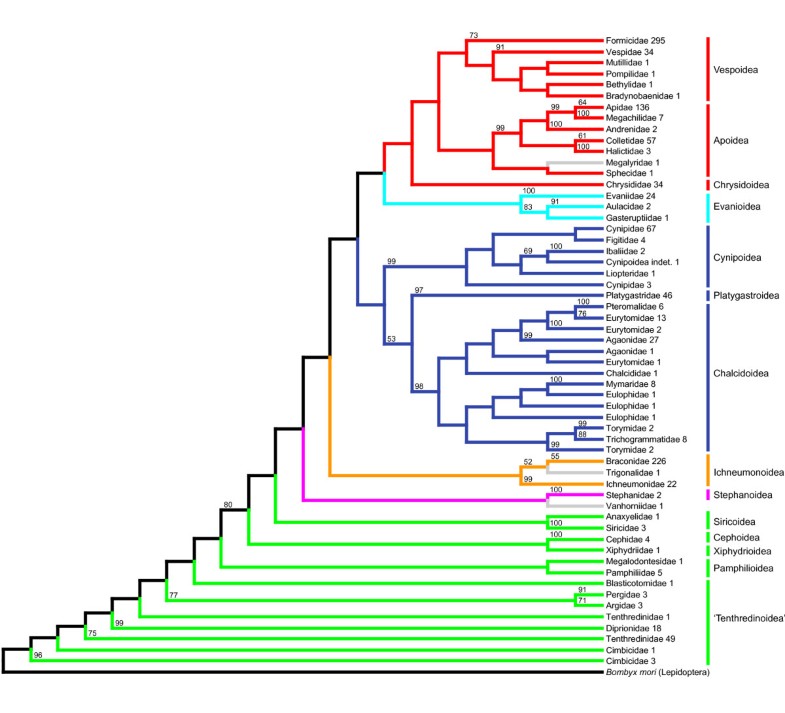 Subset 2 included an additional 115 sequences of 51 species from 31 families. Overall, the concatenated subset 2 consisted of 1,207 species (77 families), 222 groups of orthologs, 4,005 sequences and 88,807 aligned sites. The number of species is > 1,146 plus 51 due to repeated tests for compositional heterogeneity with slightly different results. (Both subsets are available at
http://www.zfmk.de/web/Forschung/Molekularlabor/Datenstze/index.en.html
). Data coverage (number of sequences ÷ number of groups of orthologs × number of species) in subset 2 was 1.49%. Tree reconstruction and 512 rapid bootstrap replicates took 8.9 days. Tree 2 obtained from subset 2 is shown in Figure
4
and Additional file
6
. All species and all groups of orthologs included in subsets 1 and 2 are listed in Additional files
7
,
8
,
9
and
10
.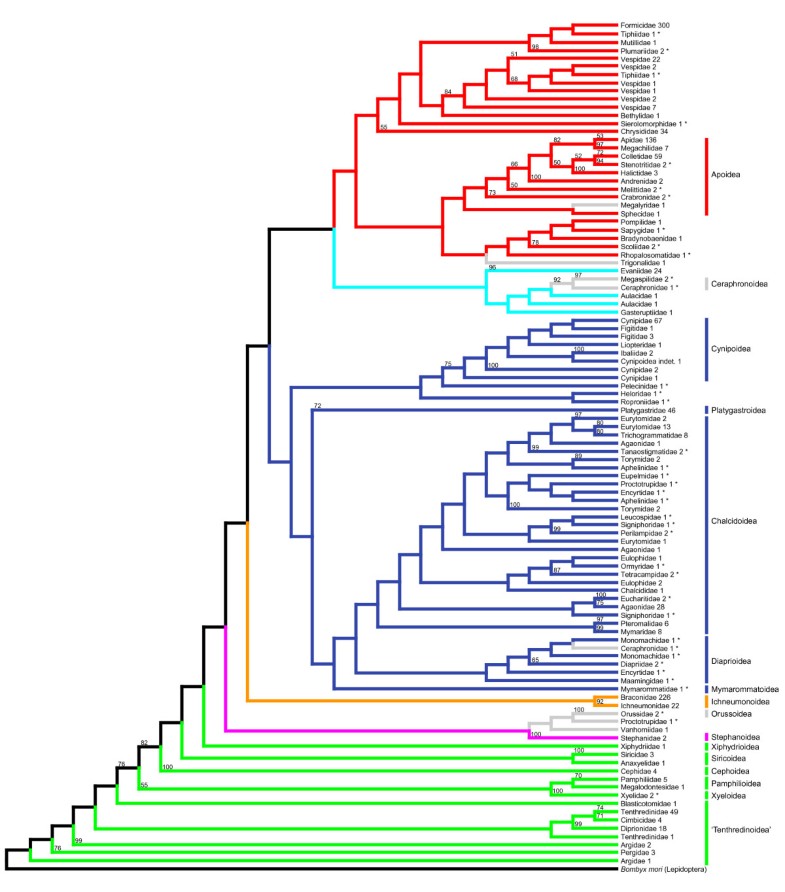 Discussion
The aim of the present investigation was to develop a bioinformatics pipeline for retrieving, processing, filtering, editing and analyzing large amounts of sequence data from GenBank in a phylogenetic context. Instead of using supertree approaches to explore existing data (see, for example, [19, 49]), we relied on a direct reanalysis of the sequence data. Smith et al. [50] presented an alternative approach that they called a "mega-phylogeny approach", which also directly uses sequence data. It includes an a priori selection of gene regions of interest and an a priori separation of sequences into alleged monophyla with the aims of reducing the size of the supermatrix and improving alignment quality. A number of taxon-specific studies have also made use of GenBank sequence data, but those studies focused on specific genes (see, for example, [51, 52]). We intended to avoid a priori decisions. In our pipeline, we suggest solutions for almost any obstacle that may appear along the way from sequence retrieval to tree reconstruction under the ML optimality criterion. In various regards, our approach is an extension and improvement of earlier efforts [2, 4]. It offers an extended degree of automation in steps such as downloading from GenBank, sorting of sequences and translating and backtranslating sequences [steps I, b.II, b.V and VI] (Figure 1). Also, our approach includes improved quality management, such as by automatically checking the GenBank sequences for strand polarity and annotation, by masking problematic alignment regions and by handling compositional heterogeneity [steps b.III, VII and XI] (Figure 1). Our data selection steps [for example, steps III, IX and XV] (Figure 1) guarantee standardized levels of the density of the data set and of sequence overlap between included species. By choosing a minimum sequence overlap of 100 positions, we attempted to find a reasonable compromise between sequence overlap and number of species in the analysis. A larger overlap would have led to a significant decrease of the number of species in our phylogenetic tree. Furthermore, the present study is an update in terms of tree reconstruction facilities. We have, for the first time, applied a ML algorithm to such a large amount of GenBank data [step XVII] (Figure 1). Our approach is more general and independent of the taxonomic group. Finally, our bioinformatics solution is transparent and user-friendly. We provide all new scripts with respective comments and detailed manuals as part of this publication so that the pipeline is ready for use by anybody interested. In the following paragraphs, we discuss the results of our exemplary pipeline run with Hymenoptera data.
Conclusions
Exemplarily for Hymenoptera, we have demonstrated that the tree reconstructed from our pipeline output can make a substantial contribution to the phylogeny of the taxon and that comprehensive results can complement the discrete inferences from the single studies that have produced the data that were reanalyzed. Inspired by McMahon and Sanderson [2] and Sanderson et al. [3], we found an adequate approach to analyze all currently available molecular data in a single phylogenetic study in a standardized and efficient way. The impossible child of the scientific community, a sequence data monster, can be tamed. Every systematic biologist, even without advanced programming and bioinformatics skills, is given the capability to produce a tree of his taxon of interest. Our approach offers the possibility of relatively simple and reliable monitoring of new data and tree robustness, that is, the possibility to keep track of the phylogenetic signal in a taxonomic group. This also enables researchers to monitor how phylogenetic trees change over time with an increase of data size and density. This might promote a better understanding of more theoretical issues related to the analyses of molecular data, such as the information content of genes or the suitability and selection of genes to answer phylogenetic questions. Our approach therefore has great potential to meet the challenges of the phylogenomic era, to improve our ideas on phylogenetic affinities and to contribute to a better understanding of the evolution of organisms.
Declarations
Acknowledgements
We thank Alexandros Stamatakis (Heidelberg, Germany) for help with the phylogenetic analyses, Ingo Ebersberger (Vienna, Austria) for help with HaMStR, Nikola Szucsich (Hamburg, Germany) for valuable discussions and three anonymous referees for their helpful reviews. We acknowledge Viktor Achter, Volker Winkelmann and Sebastian Breuers for help with likelihood analyses on the Cologne High Efficiency Operating Platform for Sciences (CHEOPS, a DFG-granted HPC cluster at the RRZK, University of Cologne, Cologne, Germany).
Authors' Affiliations
(1)
Zoologisches Forschungsmuseum Alexander Koenig, Bonn, Germany
(2)
Institut für Systemische Neurowissenschaften, Universitätsklinikum Hamburg-Eppendorf, Hamburg, Germany
(3)
Staatliches Museum für Naturkunde Stuttgart, Stuttgart, Germany
(4)
Zoologisches Institut der Universität Hamburg, Hamburg, Germany
(5)
Zoologisches Museum Hamburg, Hamburg, Germany
Copyright
© Peters et al; licensee BioMed Central Ltd. 2011
This article is published under license to BioMed Central Ltd. This is an Open Access article distributed under the terms of the Creative Commons Attribution License (http://creativecommons.org/licenses/by/2.0), which permits unrestricted use, distribution, and reproduction in any medium, provided the original work is properly cited.