Mobile DNA transposition in somatic cells
Received: 19 September 2011
Accepted: 23 September 2011
Published: 29 September 2011
Mobile DNA, or transposable elements, comprises much of the genome in all organisms, and constitutes around 50% of the genomes of most plants and mammals. Some transposable elements, known as DNA transposons, move by a simple 'cut-and-paste' mechanism removing DNA from one site and inserting it into a new target site. Others, called retrotransposons, move via an RNA intermediate that is copied into DNA and integrated into the genome. Retrotransposons that contain major activities necessary for their mobility are called autonomous. They encode reverse transcriptase and endonuclease activities essential for transposition: other activities that may be required are provided by the host cell. Non-autonomous retrotransposons lack genes for reverse transcriptase and endonuclease and can only move if these activities are provided by an autonomous mobile DNA in the same cell (Figure
1
).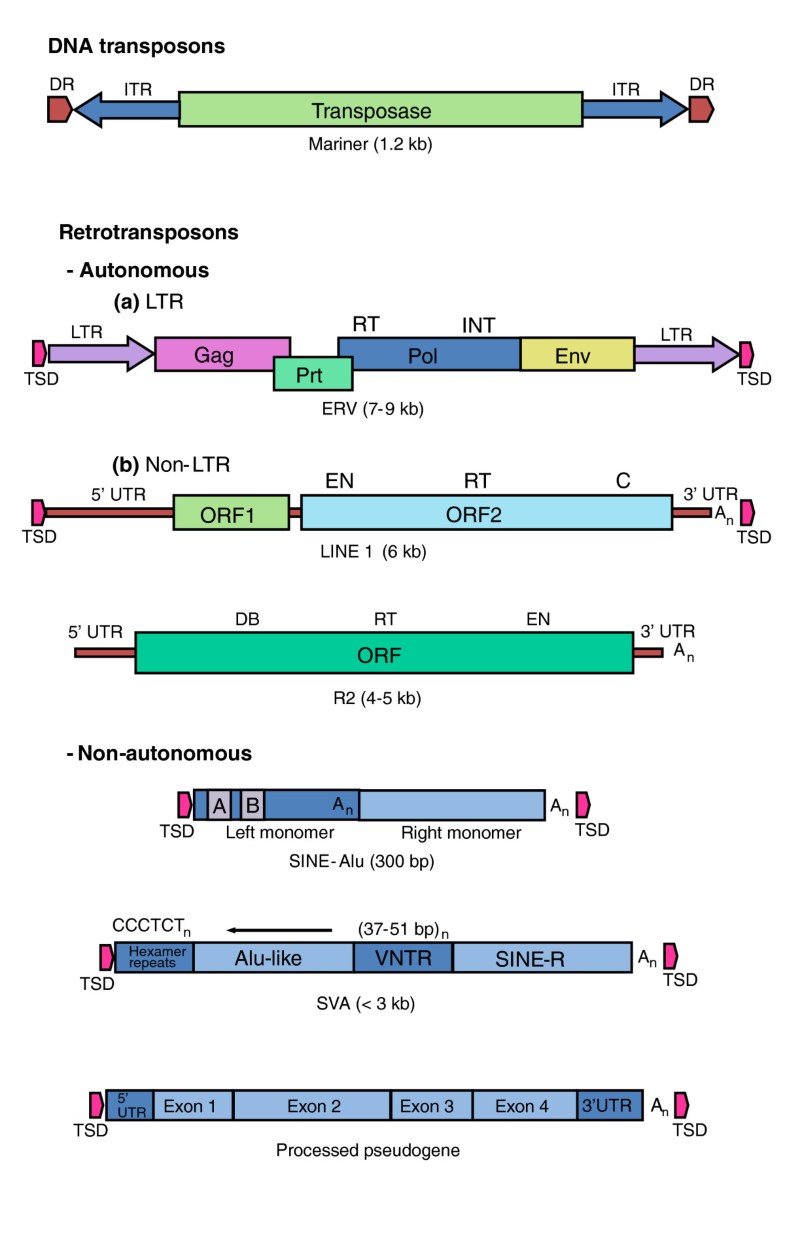 The only transposable elements that are autonomous and active in humans and other primates are the LINE-1 (L1) elements [1], which are a type of retrotransposon that lacks the long terminal repeats (LTRs) typical of endogenous retroviruses. L1 elements can also drive the insertion of non-autonomous retrotransposons, which in mammals include Alu, the SVA elements, and processed pseudogenes - the last of which are spliced RNAs that are copied into DNA and inserted in the genome by L1 activities (Figure 1).
A major question in retrotransposon biology is: when does most retrotransposition occur? Because these DNA elements are scattered throughout genomes and inherited from one generation to the next, the answer for many years has been germ cells, as most somatic insertions would not be heritable in the next generation and would not show up in the genome over generations. However, a growing body of evidence has indicated that somatic retrotransposition in mammals not only occurs, but is likely to occur at a substantial frequency.
(1)
Institute for Genetic Medicine, Johns Hopkins University School of Medicine, Baltimore, MD 21205, USA
© Kazazian; licensee BioMed Central Ltd. 2011
This article is published under license to BioMed Central Ltd. This is an Open Access article distributed under the terms of the Creative Commons Attribution License (http://creativecommons.org/licenses/by/2.0), which permits unrestricted use, distribution, and reproduction in any medium, provided the original work is properly cited.