Understanding the complex-I-ty of metformin action: limiting mitochondrial respiration to improve cancer therapy
Published: 24 October 2014
The biguanide metformin is an antihyperglycemic agent used to treat type II diabetes. Metformin decreases blood glucose levels by suppressing liver gluconeogenesis and stimulating glucose uptake in skeletal muscle and adipose tissues. Metformin is prescribed to over 120 million people, providing a wealth of epidemiological data. Retrospective studies have found that metformin treatment is associated with diminished tumorigenesis, with a recent meta-analysis of these studies reporting a 31% reduction in cancer incidence and a 34% reduction in cancer-specific mortality across many tumor types [
1
]. While these findings are provocative, it remains controversial whether the effects of metformin on improving cancer outcomes are a result of altered whole body metabolism or if metformin can act in a cell autonomous manner. Indeed, the anticancer action of metformin can be divided into two categories: `indirect effects' resulting from systemic changes in metabolism, such as reduced concentrations of blood glucose and insulin, and `direct effects' on tumor cells (Figure
1
). Importantly, both could act synergistically or have differential importance depending on the cancer context. The molecular mechanisms by which metformin can impact tumor biology are an area of active research and clinical trials are ongoing to define the role of metformin in cancer treatment.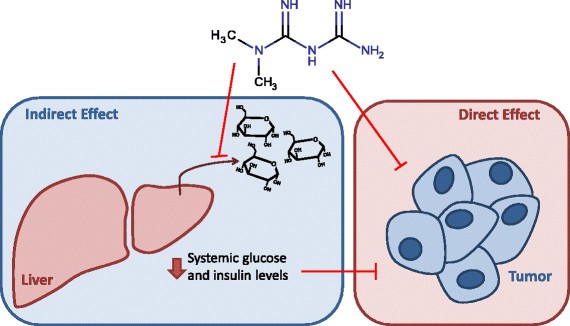 (1)
The Koch Institute for Integrative Cancer Research and Department of Biology, Massachusetts Institute of Technology, Cambridge, 02139, MA, USA
(2)
Dana-Farber Cancer Institute, Boston, 02115, MA, USA
© Luengo et al.; licensee BioMed Central Ltd. 2014
This article is published under license to BioMed Central Ltd. This is an Open Access article distributed under the terms of the Creative Commons Attribution License (http://creativecommons.org/licenses/by/4.0), which permits unrestricted use, distribution, and reproduction in any medium, provided the original work is properly credited. The Creative Commons Public Domain Dedication waiver (http://creativecommons.org/publicdomain/zero/1.0/) applies to the data made available in this article, unless otherwise stated.