Erratum to: Type IV collagen drives alveolar epithelial–endothelial association and the morphogenetic movements of septation
Published: 1 September 2016
Unfortunately, the original version of this article [
1
] contained errors. Figure
1
was included incorrectly. The corrected Fig.
1
has been corrected in the original article and Fig.
1
is included correctly below.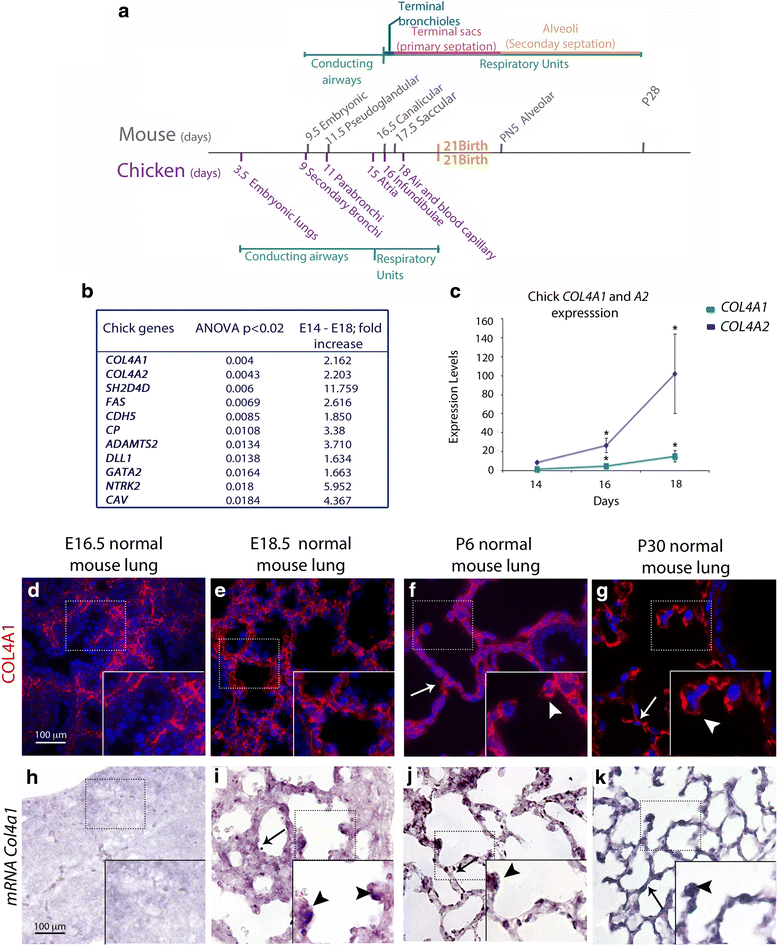 Additionally there are minor typographical errors stated below:
Additional file 3: Figure S3 has been revised: The image in the lefthand panel of the 3rd row of Additional file 3: Figure S3 (w/ y-axis labeled "PSPC PDPL") was wrong.
Page 4, second paragraph, third sentence: "week" should be "weak", and the figure panel mentioned last in that sentence should read, "(Fig. 1i-k), not g-i.
The correct sentence is below:
"Col4a1mRNA expression was very weak at epithelial tips and surrounding mesenchyme at E16.5 (Fig. 1 h), but later, at E18.5, P6, and P30, it was clearly found in the lung interstitium and at the tips of the developing septa (Fig. 1 i-k)."
Page 8, first paragraph, first sentence contains a split infinitive; it should read, "To show abnormalities more clearly in the development of type I pneumonocytes…".
Page 11, third paragraph, the word "defects" is missing, which alters the nuance, making this sentence confusing. The sentence should read: "The absence of branching defects may be because we analyzed heterozygous mutants in which sufficient levels of native protein…".
Open AccessThis article is distributed under the terms of the Creative Commons Attribution 4.0 International License (http://creativecommons.org/licenses/by/4.0/), which permits unrestricted use, distribution, and reproduction in any medium, provided you give appropriate credit to the original author(s) and the source, provide a link to the Creative Commons license, and indicate if changes were made. The Creative Commons Public Domain Dedication waiver (http://creativecommons.org/publicdomain/zero/1.0/) applies to the data made available in this article, unless otherwise stated.
(1)
The Pediatric Surgical Research Laboratories, Massachusetts General Hospital, Boston, MA 02114, USA
(2)
Department of Surgery, Harvard Medical School, Boston, MA 02115, USA
(3)
Departments of Ophthalmology and Anatomy, Institute for Human Genetics, University of California, San Francisco, School of Medicine, San Francisco, CA 94143, USA
(4)
Department of Human Anatomy, Histology and Embryology, Faculty of Medicine, Semmelweis University, Budapest, 1094, Hungary
(5)
Broad Institute of MIT and Harvard, Cambridge, MA 02142, USA