The pupylation pathway and its role in mycobacteria
Received: 2 October 2012
Accepted: 30 November 2012
Published: 30 November 2012
Post-translational protein modification is a prevalent means of diversification and regulation in all cells [
1
]. The functional consequences range from immediate effects like changes in protein conformation or stability, regulation of enzymatic activities to the determination of subcellular localization. Tags marking substrates for degradation by energy-dependent protease complexes exist in pro- and eukaryotes, as exemplified by eukaryotic ubiquitination [
2
,
3
] or bacterial co-translational ssrA-tagging [
4
]. However, until recently, the use of small-protein modifiers such as ubiquitin was considered a feature exclusive to eukaryotic cells. The discovery of pupylation, the covalent modification of protein lysines with prokaryotic, ubiquitin-like protein Pup, in
Mycobacterium tuberculosis
(
Mtb
) and
Mycobacterium smegmatis
[
5
,
6
] and the detection of conjugates between small archaeal modifier proteins (SAMPs) and substrate lysines in archaea [
7
,
8
] show that prokaryotes also employ macromolecular tags. It has been demonstrated that modification of target proteins with Pup occurs by a chemical pathway distinct from ubiquitination [
9
] (Figure
1
). However, like ubiquitination, tagging with Pup can render proteins as substrates for proteasomal degradation [
5
,
6
,
10
]. The existence of a depupylation activity in actinobacteria [
11
,
12
] and the fact that some members harbor the pupylation gene locus without encoding proteasomal subunits suggest that pupylation might fulfill a broader role in regulation and cellular signaling. The purpose of the pupylation system in actinobacteria is still a matter of investigation. In
Mtb
, the Pup-proteasome system (PPS) has been linked to the bacterium's survival strategy inside the host macrophages [
13
,
14
].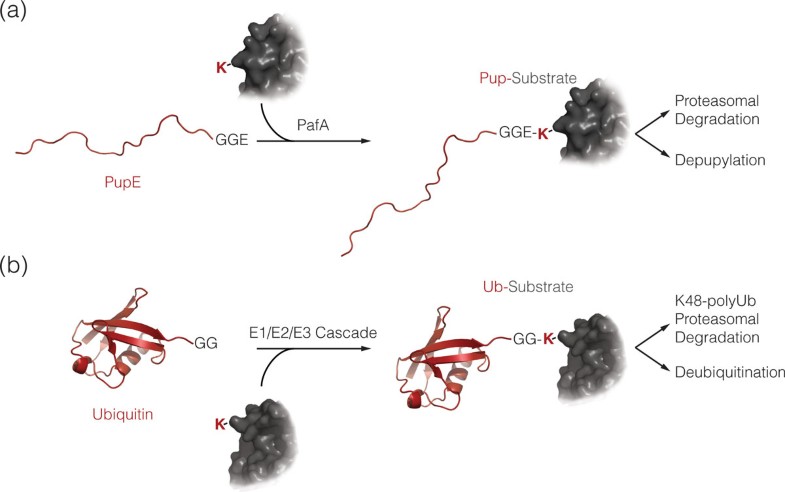 (1)
ETH Zurich, Institute of Molecular Biology & Biophysics, CH-8093 Zurich, Switzerland
© Barandun et al.; licensee BioMed Central Ltd. 2012
This article is published under license to BioMed Central Ltd. This is an Open Access article distributed under the terms of the Creative Commons Attribution License (http://creativecommons.org/licenses/by/2.0), which permits unrestricted use, distribution, and reproduction in any medium, provided the original work is properly cited.