Research article

Open Access
Functional studies of Drosophilazinc transporters reveal the mechanism for dietary zinc absorption and regulation
Received: 3 September 2013
Accepted: 23 September 2013
Published: 24 September 2013
Abstract
Background
Zinc is key to the function of many proteins, but the process of dietary zinc absorption is not well clarified. Current knowledge about dietary zinc absorption is fragmented, and mostly derives from incomplete mammalian studies. To gain a comprehensive picture of this process, we systematically characterized all zinc transporters (that is, the Zip and ZnT family members) for their possible roles in dietary zinc absorption in a genetically amenable model organism, Drosophila melanogaster.
Results
A set of plasma membrane-resident zinc transporters was identified to be responsible for absorbing zinc from the lumen into the enterocyte and the subsequent exit of zinc to the circulation. dZip1 and dZip2, two functionally overlapping zinc importers, are responsible for absorbing zinc from the lumen into the enterocyte. Exit of zinc to the circulation is mediated through another two functionally overlapping zinc exporters, dZnT1, and its homolog CG5130 (dZnT77C). Somewhat surprisingly, it appears that the array of intracellular ZnT proteins, including the Golgi-resident dZnT7, is not directly involved in dietary zinc absorption. By modulating zinc status in different parts of the body, we found that regulation of dietary zinc absorption, in contrast to that of iron, is unresponsive to bodily needs or zinc status outside the gut. The zinc transporters that are involved in dietary zinc absorption, including the importers dZip1 and dZip2, and the exporter dZnT1, are respectively regulated at the RNA and protein levels by zinc in the enterocyte.
Conclusions
Our study using the model organism Drosophila thus starts to reveal a comprehensive sketch of dietary zinc absorption and its regulatory control, a process that is still incompletely understood in mammalian organisms. The knowledge gained will act as a reference for future mammalian studies, and also enable an appreciation of this important process from an evolutionary perspective.
Keywords
Dietary zinc
Drosophila
Intracellular zinc trafficking
Regulation
Zinc absorption
Background
Zinc, an essential micronutrient, serves as a structural, catalytic, or regulatory component of many zinc-containing proteins, and is important in almost all aspects of biology [1–5]. Zinc deficiency is a worldwide health problem, and it is estimated that at least 25% of the population is at risk [6]. Low zinc can cause pleiotropic problems, such as abnormal morphogenesis, growth retardation, and dysfunction of the reproductive and immune systems [2, 7–11]. Too much zinc accumulation is also harmful to cells and organisms. Maintenance of zinc homeostasis is therefore critical, and multiple mechanisms participate in ensuring the proper uptake, storage, and efflux of zinc. Zinc dyshomeostasis has been shown to cause or influence many common diseases including diabetes, neurodegeneration, and cancer [12, 13].
Given the multi-faceted roles of zinc in biology and the alarmingly high deficiency rate observed in human populations, the importance of research into zinc is starting to be appreciated. Recent research indicates that zinc transport across membranes is mediated by two subfamilies of mammalian zinc transporters, ZnT (Slc30) and Zip (Slc39) [14–17]. Members of the Zip protein family function in zinc influx from the extracellular medium or vesicular organelles into the cytoplasm, and those of the ZnT family mediate zinc efflux or compartmentalization. Systemically, dietary zinc is absorbed through the enterocyte and transported into the circulation and then to the tissues where it is needed. Adjustments in zinc absorption and excretion are the primary means of maintaining zinc homeostasis [18–21].
Human Zip4 has been identified as the gene responsible for acrodermatitis enteropathica, a disease caused by impaired absorption of dietary zinc in the intestine [22, 23]. The Zip4 protein has been proposed to absorb zinc from the lumen, a role which is supported by its localization in the apical membrane of the enterocyte and its functionality in the mouse [24, 25]. Expression of Zip4 was found to be strongly responsive to dietary zinc concentrations, exhibiting upregulation with zinc limitation and downregulation with zinc excess, and thus indicating a mechanism by which the absorptive rate of dietary zinc can be beneficially regulated [22–26]. Mutations in Zip1, Zip2, or Zip3 also confer on mice a decreased ability to survive under dietary zinc limitation, particularly during pregnancy, when zinc absorption is normally increased [27–29]. In vitro studies additionally showed that human Zip1 can regulate zinc homeostasis in intestinal epithelial Caco-2 cells [30]. However, direct supporting evidence for the involvement of Zip1, Zip2, and Zip3 in mammalian dietary zinc absorption is still lacking. It has been suggested that ZnT1 on the basal membrane is involved in pumping of zinc from the cytosol of enterocytes into the circulation, and this was functionally confirmed in Drosophila[31].
Despite this progress, our knowledge of zinc absorption is still fragmented and limited, and mostly derived from studies in mammalian organisms, some of which were not functional studies. Targeted mutagenesis of many zinc transporters in mice have not yet been performed and for those that have been targeted, mutations were usually generated ubiquitously instead of in a tissue-specific manner, making analysis of their specific role in dietary zinc absorption difficult. For example, Znt1 knockout mice die at the embryonic stage, precluding further functional analysis of ZnT1 in dietary zinc absorption [32]. Znt7 mutant mice have an overall lower bodily zinc level, suggesting that Znt7 might be a player in dietary zinc absorption, but it can be argued that this is a secondary effect due to the intracellular zinc dyshomeostasis in Znt 7-mutant cells. Indeed, Znt7-mutant mice do not display typical zinc deficiency symptoms, and their phenotypes cannot be rescued by zinc supplementation [33].
As a result of these limits, after years of studies we still do not have a complete picture of dietary zinc utilization in a single platform. It remains unknown exactly how many zinc transporters are involved in dietary zinc utilization, how they are regulated, and while western and immunohistochemical evidence has shown that some intracellular zinc transporters are expressed in the mouse gastrointestinal tract [33–37], it is not known whether those transporters found on membranes of the intracellular exocytosis pathway are important for dietary zinc absorption. To gain a more comprehensive picture of zinc absorption, we took advantage of the powerful genetics of Drosophila and systematically dissected the specific involvement of all potential dZips and dZnTs in gut zinc absorption. Prior to this study, our understanding of dietary zinc absorption in Drosophila was extremely limited. Although some analyses of dZips and dZnTs have been undertaken [17, 38, 39], none of these transporters, except for dZnT1 [31], have been studied for their involvement or regulation in the process of dietary zinc absorption.
Discussion
In this work, we systematically dissected the repertoire of zinc transporter candidates for their functions in dietary zinc absorption. Through this systematic work in a
Drosophila
model, the mechanism of zinc absorption has started to take shape, and the important players have been clarified. Zinc absorption is mediated by several transporters localized to the plasma membrane, whereas transporters in the exocytosis pathway appear to be insignificant in this process. The regulation of dietary zinc absorption is mediated through changes in the expression of some of these plasma membrane-localized transporters. A model summarizing this process is shown in Figure
8
.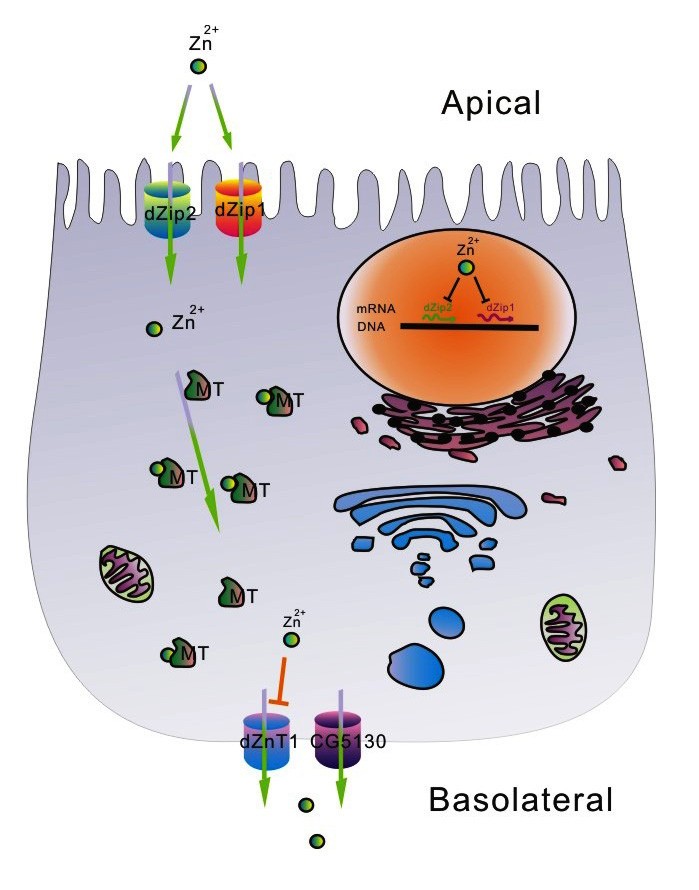 In order to analyze the tissue-specific functions of these zinc transporters, we utilized tissue-specific RNAi. One caveat of this approach is that when a phenotype is seen, it is not clear whether this is due to an off-target effect, and when no effect is observed, it is not clear whether this is due to low RNAi efficiency.
To address the first concern, we used multiple RNAi lines that were generated by targeting different gene regions, and we also tested their zinc-specific effects. For example, if an RNAi line has a zinc-responsive phenotype, this suggests that the resultant phenotype is probably real, and unlikely to be the result of off-targeting because the probability of a random off-targeting event happening to a zinc metabolism gene is low.
The second concern is more of an issue because RNAi is never a genetic null, so to argue that a gene is not involved in a process simply because no phenotype is associated with RNAi needs extra caution. For the purpose of this study, we wanted to test whether intracellular ZnTs are involved in dietary zinc absorption. Gut-specific RNAi of the plasma membrane-resident ZnT genes dZnT1 and CG5130 resulted in a change in the zinc phenotype of the body, while gut-specific RNAi of the intracellular ZnTs had no discernible effect on dietary zinc absorption. When we performed a ubiquitous knockdown we saw specific effects for many of these intracellular ZnT genes, suggesting effective RNAi and their functionality in other aspects of zinc metabolism.
Ubiquitous RNAi of two of these genes in particular, the Golgi-resident dZnT7 and the vesicle-resident CG31860 (dZnT4 homolog), induced larval or embryonic lethality in treated flies (see Additional file 3: Table S1A) [17], however, specifically targeting each of the intracellular transporters by RNAi in the gut did not appear to have any effect on dietary zinc absorption. Worth mentioning is that CG31860 is the closest Drosophila homolog of CDF-2, which has been shown to function in zinc storage in the gut granules of Caenorhabditis elegans. Further, in Drosophila, suppression of CG31860 greatly decreases MtnB-eYFP expression [17]. It appears therefore that CG31860 is an important regulator of intracellular zinc homeostasis, although it plays an insignificant role in the process of dietary zinc absorption.
The exocytosis pathway involves many organelles. In contrast to the dramatic effect seen for the plasma membrane-resident ZnTs, none of the multiple RNAi lines for the whole set of ZnTs located in different parts of this pathway displayed any zinc absorption defect, and this was the case even in an sensitized background (dZnT1 RNAi) and using the sensitive ALP activity assay. This strongly suggests that the intracellular pathway plays no role or at least no significant role in dietary zinc absorption.
A central part of the secretion pathway is the Golgi apparatus. There is only one Golgi-resident ZnT member, dZnT7, in the fly. ZnT7 has been previously implicated in dietary zinc absorption in a mouse knock-out study [33], and Znt7-null mice have a reduced body zinc level. Nevertheless their phenotype is not ameliorated by intravascular zinc injection. We consider the complex phenotype of Znt7-null mice as arising from a universal Golgi zinc transport defect, resulting lack of zinc in the Golgi apparatus, instead of a systemic zinc deficiency. In our study, we found that universal knockdown of dZnT7 also caused a severe phenotype, including a reduction in bodily zinc level. However, gut-specific dZnT7 knockdown produced little effect on bodily zinc metabolism, except for a local change of the Golgi zinc level, as reflected by ALP activity reduction in the gut only.
Among the several zinc transporters involved in dietary zinc absorption, the two Zips (dZip1 and dZip2) and at least one dZnT (dZnT1) involved in zinc uptake are strongly influenced by the dietary zinc level. When there is an excess of zinc available, uptake and efflux of zinc are reduced. When zinc is scarce, the uptake transporters dZip1 and dZip2 are upregulated, whereas the efflux of zinc is not greatly affected. The ectopic induction of dZnT1 in otherwise non-expressing gut tissues may be a self-protecting mechanism for the gut when zinc overdosing happens, because zinc accumulation is generally toxic to cells.
Some general characterization of the Zip and ZnT transporters was previously performed [17, 38], although the roles of different zinc transporters in the process of dietary zinc absorption were not previously explored except that of dZnT1. In this study, the zinc transporters that were newly found to be involved in dietary zinc absorption were characterized in more detail at the molecular and cellular levels. Our results, when applicable, are largely consistent with previous work, but some inconsistencies do arise. It was previously reported that ubiquitous dZip2 knockdown resulted in lethality [17]We did not see this lethality under normal culturing conditions. However, we did see lethality when the zinc supply was lowered. The difference in results is likely attributable to different culturing conditions in different laboratories such as variations in food mineral content. Likewise, midgut-specific overexpression of dZip1 was reported to be lethal [17], but in our hands this happened only when extra zinc was added. Further, we found that ubiquitous knockdown of dZip1 produced a reduced ALP phenotype without much of a decrease in viability, whereas Lye et al. [17] found that ubiquitous knockdown of dZip1 with a stronger Gal4 driver, tubulin-Gal4, resulted in larval lethality. This discrepancy may be a consequence of either the difference in the drivers used, or in the food nutrient supply, as mentioned above. Therefore, in the characterization of the general properties of these zinc transporters, our results are largely consistent with previous studies, except in a few cases in which the extent of the phenotype is different, which could be attributable to differences in the experimental conditions used.
Partial redundancy of the influx and efflux transporters were seen in dietary zinc absorption in Drosophila. dZip1 and dZip2 are responsible for zinc uptake, whereas dZnT1 and CG5130 are responsible for the efflux. Knocking any of these transporters down caused zinc deficiency under zinc-limited conditions, suggesting that all of them are important in the absorption of dietary zinc.
Nevertheless, slight differences do exist. Although downregulation of either dZip1 or dZip2, had equivalent effects on ALP levels when flies were cultured on 0.1 mmol/l EDTA food, on 0.3 mM EDTA food dZip1 knockdown flies developed well while dZip2 flies were arrested at the early larval stage (Figure 1A). It is possible that dZip2 is slightly more important than dZip1 or is a more potent zinc transporter when zinc is severely depleted. This notion is consistent with the observation that overexpression of dZip2 causes a more severe phenotype than does overexpression of dZip1.
In the case of the zinc efflux transporters, dZnT1 and CG5130, knockdown of either presents a similar phenotype, namely, death at around the third-instar larval stage when zinc is limited. Interestingly, dZnT1 is regulated by zinc, whereas CG5130 is not, suggesting that dZnT1 is a regulatory transporter whereas CG5130 may play a more constitutive role in zinc absorption in the gut. Further, overexpression of dZnT1 produced a zinc-sensitive phenotype whereas CG5130 overexpression did not. We speculate that CG5130 might have a lower zinc-transporting capacity so that under conditions of zinc excess, the amount of zinc it can transport is limited, so that zinc toxicity is avoided. Alternatively, CG5130 might work together with dZnT1 (for example by forming a complex) to export zinc. Either scenario can explain why it is not important for CG5130 to have zinc-responsive expression.
Together our results offer a glimpse into the overall process of dietary zinc absorption in a Drosophila model. Zinc absorption, regulated by uptake, occurs through a relatively direct route from the gut lumen to the basolateral sides of the gut epithelium and hence into the circulation. Although most intracellular ZnTs are expressed in the gastrointestinal tract, these intracellular zinc transporters are not significant in dietary zinc absorption. dZip1/2 and dZnT1/CG5130 are respectively responsible for zinc intake and efflux in the enterocytes. In human studies, the dZip1/2 counterpart hZip4 was shown to be important for zinc absorption. hZip4 is haploinsufficient as mutation in one allele may cause zinc deficiency [24]. Whether any other Zips are involved in this process in mammals is not well-established [30]. The lack of an ortholog of Zip4 in Drosophila makes it possible that dZip1/2 may substitute for Zip4 in mediating zinc absorption. Therefore, the specific transporters for a particular role may vary between different organisms. For zinc efflux, participation of mammalian Znt1, the counterpart of dZnT1, is almost a certainty, but whether Znt1 is the sole player in zinc efflux in the mammalian gut remains to be seen. Overall, our results are notably consistent with some findings regarding mammalian zinc absorption: expression of Zip4 and ZnT1 is reduced when the diet is replete in zinc [59], and the zinc status of the body appears to have little effect on the efficiency of dietary zinc absorption [60].
Conclusions
The genetic amenability of Drosophila enabled us to show which zinc transporters are involved in the process of dietary zinc absorption, and which are not. We found that dietary zinc absorption is mediated by a set of plasma membrane-resident zinc transporters with partially overlapping functions, including the importers dZip1/dZip2 and the exporters dZnT1/CG5130 (dZnT77C). The array of intracellular zinc transporters, such as the Golgi-resident ZnT7, is not involved in dietary zinc absorption. Zinc absorption is subject at the influx side to the RNA-level control of zinc importers, and at the efflux side to the translational or post-translational control of the exporters. Bodily zinc needs do not exert a feedback control on zinc absorption; instead, zinc absorption is controlled solely by the zinc levels in the enterocytes. Dietary zinc influences zinc absorption through its effects on enterocyte zinc. This work assessed for the first time all potential zinc transporters for their roles in dietary zinc absorption, and we have outlined a relatively intact picture of the dietary zinc absorption and its control in a model organism (Figure 8). The deciphering of dietary zinc absorption in Drosophila should be helpful for zinc absorption research in general, and offers a reference point for future studies in other organisms including comparative evolutionary analysis of this important biological process.
Methods
Plasmids
UAS-dZip1 and UAS-dZip2 were generated by PCR amplification of the coding region of dZip1 and dZip2, respectively, from Drosophila cDNA, and cloned into vector pUAST [50]. Following this, pCDNA3.1-dZip2-eGFP, pCDNA3.1-CG6672-eGFP and pCDNA3.1-CG5130-eGFP were generated by fusing the enhanced green fluorescent protein (eGFP) in frame to the C terminal of the individual coding region of dZip2, C6672, and CG5130, respectively. All the constructs were verified by sequencing.
Cell culture and transient transfection
Human Caco-2 cells were maintained in DMEM medium (Invitrogen Corp., Carlsbad, CA, USA) containing 10% fetal bovine serum (FBS; Gibco BRL, Gaithersburg, MD, USA) at 37°C. Caco-2 cells were cultured and when they reached 80% confluence, they were transfected using Lipofectamine™ 2000 (Invitrogen) in accordance with the manufacturer's instructions. A DNA: liposome ratio of 1.6 μg: 4 μl was used for each 4 cm2 dish (0.8 μg DNA each when two plasmids were co-transfected).
Fly stocks, culture media, and transgenics
Fly stocks were raised at 18°C, and all the experiments were performed at 25°C on standard cornmeal food. When necessary, the food was supplemented with EDTA, or ZnCl2 at the concentrations stated below for each experiment. The temperature was increased to 29°C when necessary. Fly stocks, including da-GAL4 and UAS-eGFP, were obtained from Bloomington Stock Center (Bloomington, IN, USA), while NP3084 and NP1093 lines were obtained from the Drosophila Genetic Resource Center at the Kyoto Institute of Technology (Kyoto, Japan). The RNAi lines were provided by the VDRC (Vienna, Austria) or custom-made at Tsinghua Fly Center (Beijing, China). Transgenic flies were prepared by P-element-mediated transformation in w 1118 background.
Fly survival assays
da-GAL4 or NP3084 homozygous flies were crossed with transgenic flies, as indicated in each experiment. The progeny were fed on food supplemented with the stated metals or metal chelators. The density of each vial was about 70 progeny.
Antiserum preparation
A rabbit polyclonal anti-dZip1 antibody was raised against a synthetic peptide of amino acids 173 to 186 of dZip1 (DTEPQPHKDHHGHS) by Abmart (Shanghai, China).
Western blotting, immunohistochemistry, and microscopy
For western blot analysis, midgut samples were dissected, and homogenized in buffer containing 1% TritonX-100 in the presence of a proteinase inhibitor cocktail (P2714-1BTL' Sigma Chemical Co., Chicago, IL, USA), centrifuged, separated by SDS-PAGE in 12% gels, and transferred to PVDF membranes (Millipore Corp., Billerica, MA, USA).
The antibodies used were anti-dZnT1, mouse monoclonal anti-β-actin, anti-HA, HRP-conjugated goat anti-mouse IgG, and HRP-conjugated goat anti-rabbit IgG (Zhongshan Goldenbridge Biotechnology, Beijing, China). Signals were developed with a SuperSignal West Dura kit (Thermo, Rockford, IL, USA). For immunohistochemistry, the anti-dZip1 antibody was preabsorbed with fixed w 1118 embryos before being used for staining fly tissues. Third-instar larvae were dissected in cold phosphate-buffered saline (PBS), fixed with paraformaldehyde, and stained as previously described [31]. Anti-dZip1 and anti-HA were used (1:200 dilution) in combination with TRITC-conjugated goat anti-rabbit IgG (Zhongshan Goldenbridge Biotechnology Co. Ltd., Beijing, China). Samples were incubated in 50 ng/ml DAPI for 10 min for nuclear staining. Tissues were mounted in 50% glycerol/50%PBS. The fluorescence of MtnB-eYFP in the larval gut was captured with an ECLIPSE 80i microscope attached to a DXM1200F digital camera (both Nikon, Tokyo, Japan) The fluorescence of cell cultures was recorded by fluorescence microscopy (1X71; Olympus, Tokyo, Japan), and the immunostainings were examined using a laser scanning confocal microscope (FV500; Olympus, Tokyo, Japan).
Zinpyr-1 staining for intracellular labile Zn2+
dZip1, dZip2, and CG5130 were cloned into the pIRESneo vector, and transfected into CHO cells. Stable lines were obtained by selecting with 800 μg/ml G418. Cells were incubated in DMEM containing 75 μmol/l ZnCl2 for 3 hours, washed 3 times with PBS for 5 minutes each time, and then fixed with paraformaldehyde for 30 minutes. After three washes, cells were incubated in 2 μmol/l Zinpyr-1 (Santa Cruz Biotechnology, Santa Cruz, CA, USA) in PBS for 30 minutes at 37°C. Excessive Zinpyr-1 was washed away by three washes in PBS, and the fluorescence signal was examined under an Olympus 1X71 fluorescence microscope.
RNA isolation and semi-quantitative RT-PCR
Total RNA was extracted from embryos, larvae, or gut from the third-instar larvae or from cultured cells, using TRIzol reagent (Invitrogen, Carlsbad, CA, USA). cDNA was transcribed from 1 μg total RNA with TransScript First-Strand cDNA Synthesis SuperMix (TransGen Biotech Co., Ltd., Beijing, China), in accordance with the manufacturer's instructions. Semi-quantitative RT-PCR was performed using the specific primers corresponding to partial regions of the analyzed genes.
Measurement of ALP activity
Total protein (1 to 10 μg) was lysed in ALP lysis buffer (1.0 mmol/l Tris–HCl pH7.4, 0.5 mmol/l MgCl2, and 0.1% Triton X-100), then 90 μl solution A (1.0 mol/l diethanolamine, 0.5 mmol/l MgCl2 pH9.8) and 10 μl solution B (150 mmol/l p-nitrophenyl phosphate) were added. The absorbance at 405 nm was measured after incubation for 30 min at 25°C.
Measurement of aconitase activity
Total protein (10 to 100 μg) was incubated in PBS with Triton (137 mmol/l NaCl, 2.7 mmol/l KCl, 10 mmol/l Na2HPO4, 2 mmol/l KH2PO4, and 0.1% Triton X-100), and then mixed with 700 μl citrate reaction solution (30 mmol/l citric acid, 50 mmol/l K2HPO4 pH 7.4). The absorbance of the reactant at 240 nm was recorded for 2 min using a UV–Visible spectrophotometer, and the aconitase activity was calculated by the increased value of the absorbance.
Statistical analysis
Differences were analyzed by one-way ANOVA using SPSS software (version 16.0 for Windows; SPSS Inc., an IBM Company, Chicago, IL, USA). P < 0.05 was considered significant.
Declarations
Acknowledgments
We are grateful to the Drosophila Genetic Resource Center at the Kyoto Institute of Technology, the Bloomington Stock Center, the Vienna Drosophila RNAi Center, and the Tsinghua Fly Center (Beijing, China) for the fly stocks. This work was supported by the National Basic Research Program of China (2013CB910700 and 2011CB910900) and the National Natural Science Foundation of China (31123004 and 30971568). We also thank Sumin Guo for help in Drosophila microinjection, and Abmart (Shanghai, China) for antibody preparation.
Authors' Affiliations
(1)
State Key Laboratory of Biomembrane and Membrane Biotechnology, School of Life Sciences, Tsinghua University, Beijing, China
Copyright
© Qin et al.; licensee BioMed Central Ltd. 2013
This article is published under license to BioMed Central Ltd. This is an Open Access article distributed under the terms of the Creative Commons Attribution License (http://creativecommons.org/licenses/by/2.0), which permits unrestricted use, distribution, and reproduction in any medium, provided the original work is properly cited. The Creative Commons Public Domain Dedication waiver (http://creativecommons.org/publicdomain/zero/1.0/) applies to the data made available in this article, unless otherwise stated.