Anniversary Update

Open Access
Arthropods and inherited bacteria: from counting the symbionts to understanding how symbionts count
Received: 7 January 2013
Accepted: 12 April 2013
Published: 15 April 2013
Before 1990, the existence of heritable microbes in insects was recognized only by specialists working in the field of symbiosis. In the mid-1990s, the advent of simple PCR assays led to the widespread appreciation of one particular symbiont, Wolbachia. A deeper investigation of the biodiversity of symbionts led to a third phase of knowledge: bacteria from many different clades have evolved to be heritable symbionts, typically transmitted maternally and thought not to be routinely horizontally (infectiously) transmitted. In an issue of BMC Biology published in 2008, we observed that a diverse assemblage of maternally inherited bacteria were present in a broad range of arthropods [1]. Whilst Wolbachia remained the dominant bacterium, we noted that three other inherited bacteria, Spiroplasma, Cardinium and Arsenophonus, were also common. Overall, 33% of arthropod species examined were observed to carry at least one of these four symbionts.
It is now clear that many more than one-third of species carry heritable symbionts. Any sampling regime produces 'false negatives', species that are infected but where infection is not detected. This occurs when infected individuals go unsampled, either because the symbiont is present in a minority of individuals in the population, or where the sample is from an uninfected population but individuals from other areas in the species range are infected. Further, surveys such as ours looked for particular bacteria, and ignored clades of bacteria that are restricted to particular host groups. Altogether, it is now clear that the majority of arthropod species carry inherited microbes, and that these microbes are diverse (Figure
1
).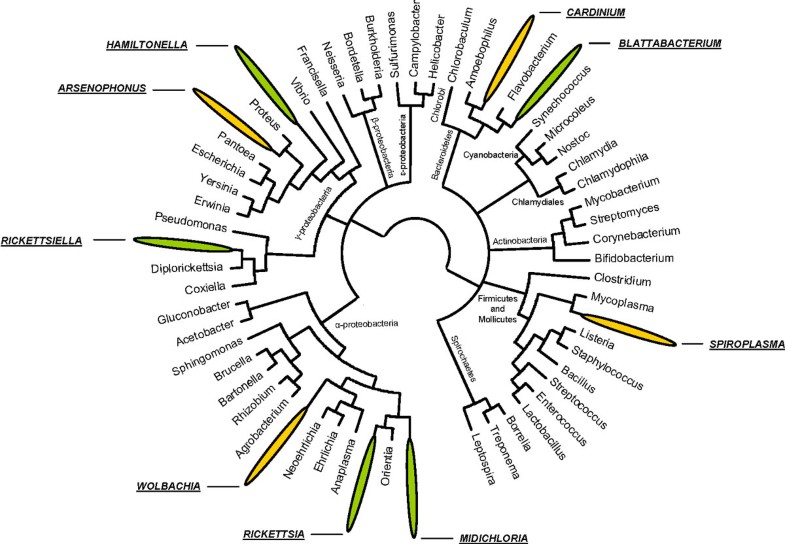 In this piece we review two aspects of the biology of heritable symbionts where our views have changed substantially in the last five years. First, we note that the effect of infection on a host is more complex than previously considered. Symbionts increase host fitness more commonly than previously believed, and they may also have multiple impacts on their host. Second, whilst it has long been established that symbionts transfer from one host species to another, it was previously considered that these horizontal transfer events were rare. We now understand that some symbionts transfer very frequently between species. Further, symbiont genes transfer into the host nucleus, host genes transfer into the symbiont, and symbionts may also acquire genes from other symbionts. Thus, there are complex webs of genetic information exchange.
(1)
Institut des Sciences de l'Evolution, Centre National de la Recherche Scientifique (CNRS), Université Montpellier 2, 34095 Montpellier Cedex 05, France
(2)
Institute of Integrative Biology, University of Liverpool, Liverpool, L69 7ZB, UK
© Duron and Hurst; licensee BioMed Central Ltd. 2013
This article is published under license to BioMed Central Ltd. This is an Open Access article distributed under the terms of the Creative Commons Attribution License (http://creativecommons.org/licenses/by/2.0), which permits unrestricted use, distribution, and reproduction in any medium, provided the original work is properly cited.