Research article

Open Access
Spatial chemical conservation of hot spot interactions in protein-protein complexes
Received: 18 January 2007
Accepted: 09 October 2007
Published: 09 October 2007
Abstract
Background
Conservation of the spatial binding organizations at the level of physico-chemical interactions is important for the formation and stability of protein-protein complexes as well as protein and drug design. Due to the lack of computational tools for recognition of spatial patterns of interactions shared by a set of protein-protein complexes, the conservation of such interactions has not been addressed previously.
Results
We performed extensive spatial comparisons of physico-chemical interactions common to different types of protein-protein complexes. We observed that 80% of these interactions correspond to known hot spots. Moreover, we show that spatially conserved interactions allow prediction of hot spots with a success rate higher than obtained by methods based on sequence or backbone similarity. Detection of spatially conserved interaction patterns was performed by our novel MAPPIS algorithm. MAPPIS performs multiple alignments of the physico-chemical interactions and the binding properties in three dimensional space. It is independent of the overall similarity in the protein sequences, folds or amino acid identities. We present examples of interactions shared between complexes of colicins with immunity proteins, serine proteases with inhibitors and T-cell receptors with superantigens. We unravel previously overlooked similarities, such as the interactions shared by the structurally different RNase-inhibitor families.
Conclusion
The key contribution of MAPPIS is in discovering the 3D patterns of physico-chemical interactions. The detected patterns describe the conserved binding organizations that involve energetically important hot spot residues and are crucial for the protein-protein associations.
Keywords
RNase InhibitorTrue Negative RateAlanine ScanningShared InteractionSpatial Conservation
Background
Protein-protein interfaces (PPIs) are defined as regions of interaction between two non-covalently linked protein molecules. As binding is closely related to function, analysis of the properties of PPIs have long been a problem of major interest [1–7]. The pioneering work of Clackson and Wells has shown that only a small and complementary set of cooperative contact residues, termed "hot spots" maintains the binding affinity [8]. Hot spots are identified by alanine scanning experiments. They are defined as residues whose mutation to alanine leads to a significant drop in the binding free energy [9, 10]. Several works have studied the nature and organization of hot spots [11–13] as well as their computational prediction [14–19]. Using the double mutant cycle, Schreiber and Fersht have shown the cooperativity of residues and interactions across the interface [20]. Furthermore, it was shown that PPIs are built in a modular fashion [21] and there is a cooperativity between the hot regions [22] and the conserved residues [23, 24].
A key underlying concept in many studies postulates that functionally important properties are conserved throughout evolution [13, 25] and can be recognized by the comparison of a set of protein sequences [26–29] or structures [30–32]. Structural classification of protein-protein interfaces by their C α patterns [33, 34] has led to an insight into interface organizations [35] and preferred residues conformations [36]. However, backbone atoms do not fully capture the physico-chemical nature of the interfaces and chemical interactions are known to be created by atoms of side chains with different residue identities. Current methods that do compare physico-chemical properties align single binding sites (i.e. one side of the interface) and do not consider the interacting partner [37–40]. Recently, we have presented a method that aligns a pair of PPIs by simultaneously considering the two pairs of complementary binding sites [41, 42]. However, a combination of high scoring pairwise patterns does not necessarily provide a high scoring pattern common to a set of PPIs [43]. Several studies considered the chemical interactions formed across the interface [44–46] and used them for classification [47, 48] and complex prediction [49]. However, the spatial conservation of these interactions was not systematically addressed, mostly due to the lack of computational tools for recognition of spatial patterns of interactions shared by a set of PPIs.
Here, we present the first extensive study of the spatial conservation of physico-chemical interactions shared within families of PPIs formed by functionally similar proteins. This study was performed with our novel method, MAPPIS (Multiple Alignment of PPIS). The method is based on physico-chemical interactions formed across the interface between groups of atoms, which may derive from amino acids with different identities and backbone locations [50]. The uniqueness of MAPPIS lies in its ability to detect spatially conserved patterns of interactions even when there is no sequence and fold homology between the corresponding proteins. By applying MAPPIS to different families of PPIs, we observed that (i) most of the conserved physico-chemical interactions are contributed by the hot spot residues, and (ii) consequently, MAPPIS predicts hot spots with a high success rate, indicating the functional importance of the conserved chemical interactions. Using MAPPIS, we further provide specific biological examples that reveal previously overlooked similarities between structurally different though functionally related complexes.
Results and discussion
We assess the significance of spatially conserved patterns of interactions. First, we describe the physico-chemical patterns we look for and the concept behind MAPPIS. Next, we present an extensive analysis of the families of PPIs that were previously studied by experimental alanine scanning, and show that spatially conserved interactions can predict hot spots. Finally, we provide the details of the specific patterns of interactions shared within these families.
Conclusion
Here, we have shown that spatially conserved physico-chemical interactions play a crucial functional role. We have presented a computational method, MAPPIS, for recognition of such patterns of conserved interactions formed between groups of atoms independent of the identity of the amino acids as well as the overall protein sequences and folds. Considering multiple complexes of functionally similar PPIs, MAPPIS allows the identification of the smallest set of interactions that may be responsible for binding and function. We have shown that chemical groups that form spatially conserved interactions correlate with cooperative effects in double mutant cycles and are useful for predicting hot spots.
Interestingly, we observed that increasing the number of the compared PPIs, as well as comparing PPIs of proteins with different overall sequences and folds, improves the specificity of the hot spot prediction. The main limitation of our approach is the requirement for the existence of a sufficient number of high resolution structures of complexes comprised by functionally similar proteins. The selection of such complexes is not straightforward, especially as there is no direct correspondence between functional similarity and the similarity of the overall sequences and structures [32].
With the fast progress of Structural Genomics and the availability of multiple structures of functionally related proteins, methods like MAPPIS are expected to become increasingly useful. MAPPIS complements both computational and experimental alanine scanning by explaining the functional role of hot spots in the formation of atomic interactions. Further, by recognition of conserved spatial patterns of physico-chemical interactions, it rationalizes hot spots' cooperativity and elucidates the complex binding organizations of the protein-protein interfaces. Therefore, it complements the experimental techniques, such as the double mutant cycle, which provide the experimental evidence for the cooperativity effects at the amino acid level but do not describe the atomic interactions that are responsible for it. Moreover, analysis of the conserved interactions with MAPPIS can explain the effect of amino acids' mutations and can contribute to studies of the binding affinity and specificity. Furthermore, targeting the conserved chemical organizations may be a useful strategy in protein and drug design.
The MAPPIS Method
Given a set of PPIs, MAPPIS solves an optimization problem of finding a set of transformations that superimpose the PPIs in 3D space in a way that maximizes the spatial and chemical similarity of their interactions and pseudocenters. As this optimization problem is computationally NP-hard [
58
], we provide an efficient approximation algorithm, the main stages of which are presented in Figure
3
and below.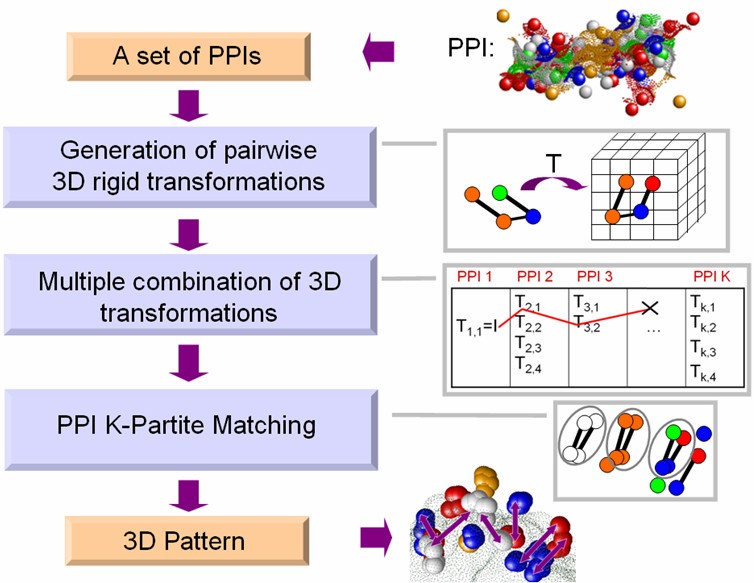 Availability and requirements
The MAPPIS software is available for download at: http://bioinfo3d.cs.tau.ac.il/mappis/. The software package contains the executable and a set of Perl scripts for PPI extraction. The package is suitable for the Linux platform and its download is free for non-commercial users.
Declarations
Acknowledgements
We thank D. Reichmann, D. Schneidman, O. Dror, I. Halperin-Landsberg, and K. Lasker for useful insights and the help with the preparation of this manuscript. The research of AS-P was supported by the Clore PhD Fellowship. The research of HJW has been supported in part by the Israel Science Foundation (grant no. 281/05), by the NIAID, NIH (grant No. 1UC1AI067231), by the Binational US-Israel Science Foundation (BSF) and by the Hermann Minkowski-Minerva Center for Geometry at TAU. This publication has been funded in whole or in part with Federal funds from the National Cancer Institute, National Institutes of Health, under contract NO1-CO-12400. This research was supported [in part] by the Intramural Research Program of the NIH, National Cancer Institute, Center for Cancer Research. The content of this publication does not necessarily reflect the views or policies of the Department of Health and Human Services, nor does mention of trade names, commercial products, or organizations imply endorsement by the US Government.
Authors' Affiliations
(1)
School of Computer Science, Raymond and Beverly Sackler Faculty of Exact Sciences Tel Aviv University, Tel Aviv, Israel
(2)
Physical Biosciences Division, Berkeley National Lab, California, USA
(3)
Basic Research Program, SAIC-Frederick, Inc. Center for Cancer Research Nanobiology Program, NCI, Frederick, USA
(4)
Department of Human Genetics and Molecular Medicine Sackler Faculty of Medicine, Tel Aviv University, Tel Aviv, Israel
Copyright
© Shulman-Peleg et al; licensee BioMed Central Ltd. 2007
This article is published under license to BioMed Central Ltd. This is an Open Access article distributed under the terms of the Creative Commons Attribution License (http://creativecommons.org/licenses/by/2.0), which permits unrestricted use, distribution, and reproduction in any medium, provided the original work is properly cited.