Immune mechanisms of protection: can adjuvants rise to the challenge?
Received: 08 April 2010
Accepted: 12 April 2010
Published: 12 April 2010
The immune system is functionally diverse, able to make a refined response to hundreds of different types of infectious organisms. The initiation of an immune response to an infection requires collaboration between innate immune cells, which recognize general distinguishing features of pathogens, and the T lymphocytes of the adaptive immune system, whose highly variable antigen receptors are specific for a given pathogen. The activation of T lymphocytes depends on interactions with professional antigen-presenting cells (APCs), specialized cells of the innate immune system that are directly activated by the pathogens they engulf and regurgitate for presentation to, and activation of, T cells. The T cells then proliferate and are mobilized to protect the body by activating other immune cells or by killing infected cells. Among the immune cells activated by T lymphocytes, most importantly, are the B lymphocytes that produce antibodies. T lymphocytes direct the types of antibodies that B cells produce and the activity of other immune cells, thereby directing the immune response to optimally provide protection against different types of infections.
At the end of an immune response, the majority of activated B and T cells will undergo apoptosis, but a small number remain as memory cells, primed ready in case the host is exposed to the same infection [1, 2]. Vaccines must work in a similar way, priming antigen-specific T and B cells, some of which convert to the memory cells that will control subsequent infections by the invader targeted by the vaccine. Moreover, like the infection itself, the vaccine must generate the optimal type of immune response to protect against a particular pathogen.
The different ways in which the immune system can respond to antigen are schematically summarized in Figure
1
, which shows the two major classes of T lymphocyte, cytotoxic (or CD8) cells and helper (or CD4) cells, and their principal actions. For example, virus infections can be cleared by cytotoxic T cells (CTLs) or antibodies, whereas intracellular bacteria and parasites are most effectively controlled by T cells that produce cytokines specialized to activate particular groups of innate immune cells (Figure
1
) [
3
–
5
].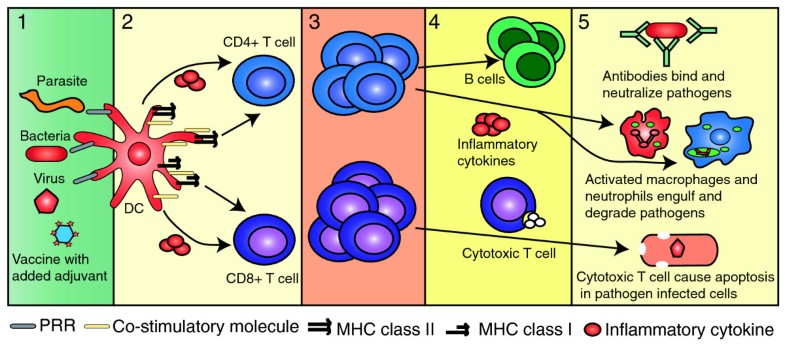 The immune system is thought to distinguish the different kinds of pathogens through recognition by innate immune cells of pathogen-associated molecular patterns (PAMPs) on microorganisms, which enables responding cells to direct the adaptive responses along the pathway that will best help to reject the invader. PAMPs include, for example, characteristic cell wall components of bacteria, double-stranded RNA, which is found in some viruses, and CpG-rich DNA, which can be present in bacteria and viruses. These microbial components are detected by innate signaling pattern recognition receptors (PRRs), among the best known and most versatile of which are the Toll-like receptors (TLRs). Different members of the TLR family of membrane-bound receptors are specialized for detection of different classes of pathogens. In addition, many cytoplasmic proteins have recently been recognized to be important in innate immunity as PRRs [6–9]. Recognition of PAMPs by responding cells promotes recruitment of innate immune cells and APCs and activates APCs, increasing uptake of antigen and inducing cell-surface molecules and soluble mediators that are required for T cell activation. Together, these effects influence the magnitude of T and B cell responses and the numbers of memory cells that are produced. Not only do they serve to warn and activate the cells of the adaptive immune response but, importantly, they also control the type of immune response that follows.
Currently, three main types of vaccine are used in humans: live attenuated vaccines composed of a virus or bacterium that is similar to but less pathogenic than the real pathogen; inactivated vaccines that are heat-inactivated or chemically inactivated particles of the pathogen; or subunit vaccines that are made from components of the pathogen. Vaccines contain not only the antigen that is the target of the adaptive immune response, but either PAMPs or other substances that amplify or influence the adaptive response: these are known as adjuvants. In the live attenuated vaccines, the antigens that are recognized by the cells of the adaptive immune system are coupled to the PAMPs that activate professional APCs, just as they are in the pathogen itself, and these thus provide a natural adjuvant. Subunit vaccines, by contrast, consist of the purified antigens that are specifically recognized by lymphocytes, and although they are safer than whole-organism vaccines, they are unable, on their own, to activate the immune system optimally because they lack intrinsic PAMPs. Such vaccines require the addition of adjuvants that enhance their immunogenicity and influence the magnitude and nature of the response.
Adjuvants may promote immune responses by recruiting professional APCs to the vaccination site, by increasing the delivery of antigens to APCs, or by activating APCs to produce cytokines and provide activating signals to T cells. One adjuvant that has a long historical use in human vaccines is aluminum salt (sometimes referred to as alum). Proteins from the pathogen are adsorbed onto the aluminum salt, creating a suspension that is injected intramuscularly. Despite its long-standing and widespread use in human vaccines, it is still not clear exactly how this adjuvant works. Although it was widely believed that aluminum adjuvants promote their effects by maintaining a slow-releasing depot of antigen to the immune system, it is now clear that they promote multiple effects on the innate immune system. In addition, excision of aluminum adjuvant nodules after immunization has no impact on the magnitude of the immune response, which has brought the role of the depot into question [10].
Adjuvants were first deliberately introduced into vaccines after it was shown that aluminum salts and other particles could enhance immune responses [
11
]. At present, there are very few licensed vaccine adjuvants for clinical use. In the USA, aluminum salts have been, for many years, the only adjuvants that could be added to human vaccines. Recently, monophosphoryl lipid A (MPL), a derivative of the highly immunogenic bacterial cell wall component lipopolysaccharide (LPS), has been approved for use in the GlaxoSmithKline vaccine for human papillomavirus in combination with aluminum hydroxide. In Europe several additional adjuvants are used, including the oil-in-water adjuvants MF59 and ASO3, made by Novartis and GlaxoSmithKline, respectively (Table
1
). As well as these, a large number of novel vaccine adjuvants have been studied in the laboratory, and some of them have also been used in clinical trials in humans (Tables
1
and
2
). Whether these adjuvants will pass the two major criteria required for general use (effectiveness and safety) remains to be determined.
Table 1
Adjuvants in use or being tested for use in human vaccines
| Adjuvant | Composition | Current status | References |
| --- | --- | --- | --- |
| Aluminum salts (alum) | Aluminum hydroxide or aluminum phosphate non-crystalline gels | In use in vaccines against DT, DPT, HBV, Hib, Streptococcus pneumoniae, meningococcal and HPV infections | [94] |
| MF59 | Oil (squalene)-in-water emulsion | In use in influenza vaccine (Europe); in trials for malarial, hepatitis C and HIV vaccine systems | |
| MPL | Non-toxic derivative of LPS | Used in various trials in combination with oil (squalene)-in-water emulsions for malaria and leishmaniasis or in liposomal formulation | |
| QS21 | Purified fraction of Quil A | Trialed alone and in combination with MPL (AS02, AS01) for malaria, influenza and cancers | [87] |
| ISCOMS | Liposomes containing QS21 | Trials for influenza vaccines | |
| AS01 | Liposomal formulation containing MPL and QS21 | Trials for malaria vaccines (a more effective formulation than AS03 and AS04) | [87] |
| AS02 | Oil (squalene)-in-water emulsion of MPL and QS21 | Trials for malaria, HBV and TB vaccines | [103] |
| AS03 | Oil (squalene)-in-water emulsion | Trials for influenza vaccines | |
| AS04 | Aluminum hydroxide and MPL | Trials for HBV and HPV vaccines | |
| MPL-SE | MPL in a oil (squalene)-in-water emulsion | Trials for leishmaniasis vaccines | [100] |
Table 2
Proposed mechanisms of adjuvant activity of major adjuvant components
| Adjuvant | Composition | Adjuvant activity | Mechanism of adjuvant action | References |
| --- | --- | --- | --- | --- |
| Aluminum salts | AlOH or AlPO4 non-crystalline gels | Antibody and TH2 cells | ↑ Chemokine/cytokine production; ↑ recruitment of monocytes and differentiation to DC; ↑ antigen uptake by DC | |
| MF59 | Oil (squalene)-in-water emulsion | ↑ Ab titre; ↑ Ab cross-reactivity; drives TH2 cells | ↑ Chemokine/cytokine production; recruitment of myeloid DCs to injection site; ↑ antigen uptake by DCs | |
| TLR ligands | MPL, GpG, imiquimod, resiquimod (both imidazoquinolinamines) or poly(I:C) | Drives TH1 and CTL cells; ↑ T cell memory | TLR signaling in DCs promotes antigen presentation on MHC I and MHC II, enhanced migration of DCs to lymph nodes and DCs cytokine production; may have direct impacts on lymphocytes | [111] |
| QS21 | Purified fraction of Quil A that has lower toxicity and retains adjuvant effects | Antibody, TH1 and CTL responses | Enhances protective responses through poorly understood mechanisms; has lytic capacity and local reactogenicity | [97] |
(1)
Howard Hughes Medical Institute and Integrated Department of Immunology, National Jewish Health, Denver, CO 80206, USA
(2)
Program in Biomolecular Structure, University of Colorado Denver, School of Medicine, Aurora, CO 80045, USA
(3)
Department of Medicine, University of Colorado Denver, School of Medicine, Aurora, CO 80045, USA
(4)
Department of Biochemistry and Molecular Genetics, University of Colorado Denver, School of Medicine, Aurora, CO 80045, USA
© McKee et al.; licensee BioMed Central Ltd. 2010
This article is published under license to BioMed Central Ltd.