Research article

Open Access
Distinct adhesion-independent functions of β-catenin control stage-specific sensory neurogenesis and proliferation
Received: 6 October 2014
Accepted: 30 March 2015
Published: 11 April 2015
Abstract
Background
β-catenin plays a central role in multiple developmental processes. However, it has been difficult to study its pleiotropic effects, because of the dual capacity of β-catenin to coordinate cadherin-dependent cell adhesion and to act as a component of Wnt signal transduction. To distinguish between the divergent functions of β-catenin during peripheral nervous system development, we made use of a mutant allele of β-catenin that can mediate adhesion but not Wnt-induced TCF transcriptional activation. This allele was combined with various conditional inactivation approaches.
Results
We show that of all peripheral nervous system structures, only sensory dorsal root ganglia require β-catenin for proper formation and growth. Surprisingly, however, dorsal root ganglia development is independent of cadherin-mediated cell adhesion. Rather, both progenitor cell proliferation and fate specification are controlled by β-catenin signaling. These can be divided into temporally sequential processes, each of which depends on a different function of β-catenin.
Conclusions
While early stage proliferation and specific Neurog2- and Krox20-dependent waves of neuronal subtype specification involve activation of TCF transcription, late stage progenitor proliferation and Neurog1-marked sensory neurogenesis are regulated by a function of β-catenin independent of TCF activation and adhesion. Thus, switching modes of β-catenin function are associated with consecutive cell fate specification and stage-specific progenitor proliferation.
Keywords
Sensory neurogenesis
Cell fate decisions
Cellular proliferation
Canonical Wnt signaling
Signaling versus adhesion function of β-catenin
Background
Canonical Wnt signaling is one of the most important evolutionarily conserved signaling pathways in embryonic development [1-3]. There are 19 Wnt genes found in mammals and a multitude of receptors to which they bind. In the canonical Wnt signaling pathway the interaction between Wnt and the transmembrane receptor proteins Frizzled and LRP leads to recruitment of Axin and GSK-3 to the membrane, thus preventing degradation of β-catenin. This in turn results in the accumulation of β-catenin in the cytoplasm and its translocation into the nucleus, where it can interact with one of the members of the TCF/Lef family. In the absence of β-catenin, TCF/Lef transcription proteins act as transcriptional repressors by binding to Groucho/TLE co-repressors. Nuclear β-catenin physically displaces Groucho co-repressors and converts TCF/Lef into transcriptional activators [4]. In recent years, evidence has revealed that the purpose of some TCFs is not only their function to serve as trans-activators, but also their ability to act as repressors when bound by Groucho/TLE co-repressors. In this case, TCF targets become de-repressed upon removal of Groucho/TLE co-repressors due to the binding of nuclear β-catenin. The main TCF prone to act as a repressor is TCF3, whereas TCF4 and TCF1 have the capacity to fulfill both activator and repressor functions depending on the spatial and temporal context [5-12].
β-catenin is the bottleneck of canonical Wnt signaling, as it is the central, non-redundant component of the pathway. This trait has made β-catenin especially attractive as a target for genetic manipulation to elucidate the impact of Wnt signaling
in vivo
. The β-catenin protein is composed of 12 Armadillo repeats and is flanked by an amino-terminal domain and a conserved helix-C next to a carboxy-terminal domain. Nuclear β-catenin interacting with TCF/Lef recruits transcriptional co-activators to the transcription complex by means of its N- and C-terminal, initiating TCF/Lef-mediated transcription [
13
] (Figure
1
A). However, apart from its role as a transcriptional co-activator, β-catenin also serves as a linking protein in cadherin-mediated adherens junction. In adherens junctions, transmembrane cadherins bind to the first eleven Armadillo repeats of β-catenin, while actin-bound α-catenin binds to the amino-terminal domain. This dual role of β-catenin in mediating Wnt signaling and cell-cell adhesion made it difficult to collate a specific phenotype obtained upon β-catenin gene (
Ctnnb1
) manipulation to either or both functions of β-catenin. To distinguish between signaling and adhesion functions of β-catenin in the skin, a transgene has previously been used [
14
], which led to expression of a mutated form of β-catenin harboring a C-terminal truncation and lacking the first 87 amino acids. However, this version of β-catenin was non-degradable, unlike its physiological counterpart, and did not block interaction with N-terminal co-activators. We recently generated another allele of β-catenin (
Ctnnb1
dm
) that results in expression of a mutated form of the protein from its endogenous locus. The protein expressed from this allele (β-catenin-dm) is degradable in the absence of Wnt, is fully functional in adherens junctions, and lacks known signaling properties as a transducer of Wnt-dependent transcriptional activation [
15
,
16
]. Moreover, a dominant negative effect of the mutated protein can be excluded as heterozygous animals carrying
Ctnnb1
dm
display no phenotype [
15
]. This form of β-catenin has a single amino acid change in the first Armadillo repeat of β-catenin (D164A), which prevents the binding of the N-terminal transcriptional co-activators BCL9/BCL9L. These regulators are important independently of C-terminal co-activators. Indeed, homozygosity of the D164A mutation leads to lethality in mouse embryos at embryonic day (E10.5) [
15
]. Additionally, a truncation of its C-terminus blocks the association of β-catenin-dm with a multitude of co-activators acting as chromatin modifiers (CBP/p300, Brg1) or connecting β-catenin to RNApolII machinery (Paf1 complex, MEDIATOR complex). Importantly, β-catenin-dm is still able to bind to cadherins, α-catenin, and TCF/Lef (Figure
1
A'). Therefore, β-catenin-dm maintains the ability to mediate cellular adhesion and, likely, to de-repress TCF targets, allowing the identification of effects of β-catenin that are TCF-transactivation independent.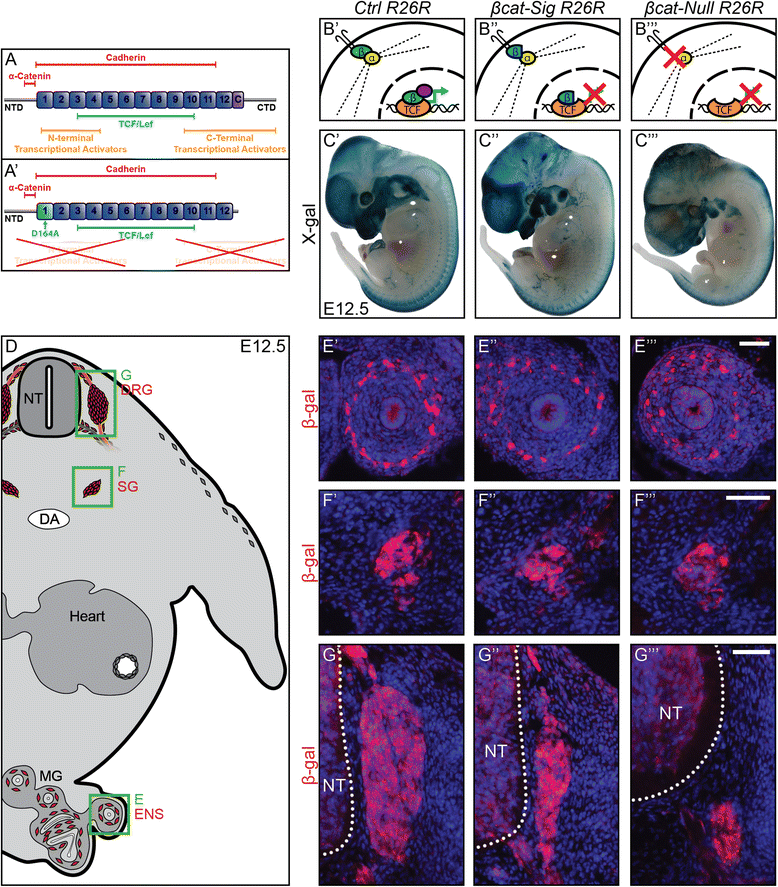 Neural crest cells (NCCs) are a population of multipotent cells that delaminate from the dorsal part of the neural tube during neurulation of vertebrate embryos [17]. Upon delamination, NCCs migrate along specific routes throughout the embryo to give rise to a broad variety of derivatives, such as the neuronal and glial cells of the peripheral and enteric nervous system as well as craniofacial bone, cartilage, smooth muscle, and melanocytes. Wnt signaling has been implicated at multiple developmental stages of the neural crest [18-24]. In particular, we have previously demonstrated the consequences of conditional ablation of β-catenin in the premigratory NCCs using Cre recombinase driven by the Wnt1 promotor (Wnt1-Cre) [18,25]. Inactivation of β-catenin in Wnt1-Cre Ctnnb1 flox/flox embryos resulted in a drastic reduction of sensory neuronal, and complete absence of glial, lineages in the dorsal root ganglia (DRG), whereas other neural derivatives, such as sympathetic ganglia and the enteric nervous system, appeared to develop normally [18]. Sensory neurogenesis involves the generation of multiple neuronal subtypes in three temporal waves and is tightly associated with the aggregation of NCCs in DRG [26]. However, it remains to be determined to what extent β-catenin transactivation signaling as opposed to other functions, such as β-catenin-mediated adhesion and TCF/β-catenin-mediated de-repression, controls sensory neuronal subtype specification and DRG formation. Here, we exploited our novel β-catenin signaling mutant allele, Ctnnb1 dm , together with β-catenin null and other conditional knockout alleles, and reveal distinct requirements of β-catenin functions for sensory neurogenesis. Surprisingly, while β-catenin/α-catenin-mediated cellular adhesion plays a negligible role in sensory neuron formation, several steps in sensory neurogenesis require β-catenin, but only some of these are dependent on β-catenin-mediated transcriptional activation.
Discussion
β-catenin is a multifaceted regulatory protein that apart from mediating β-catenin-dependent cellular adhesion elicits various transcriptional responses in a context-specific manner [13]. These signaling responses often involve activation of TCF/Lef transcription factors, but can also be independent of TCF/Lef activation. In the present study, we use sensory neurogenesis and ganglia formation as a model system to demonstrate how distinct facets of β-catenin function to control cell proliferation and fate specification in a cell type- and stage-specific manner. Unexpectedly, the adhesion function of β-catenin is dispensable for sensory neurogenesis and the formation of DRG, as revealed by the comparison of conditional βcat-Null, βcat-Sig, and αcat-Adh embryos. β-catenin signaling, on the other hand, is essential for proper DRG development. However, β-catenin exploits both TCF activation-dependent and -independent signaling to regulate proliferation at different developmental stages as well as distinct cell fates associated with consecutive waves of sensory neurogenesis.
Sensory ganglia formation does not require β-catenin/α-catenin-mediated cellular adhesion
Cadherin adherens junctions associate transmembrane cadherin proteins with the actin cytoskeleton via a β-catenin - α-catenin complex. Cellular adhesion mediated by this process might conceivably be important for DRG formation, because DRG size and cellular composition were severely affected in conditional βcat-Null but much less so in βcat-Sig mutant animals. In the dorsal neural tube used as a control tissue, the deletion of either β-catenin or α-catenin resulted in loss of cell-cell adhesion and, thus, in the disruption of the epithelial integrity. In contrast, deletion of α-catenin did not affect DRG formation or growth, unlike loss of β-catenin in βcat-Null embryos. Crossing αcat-Adh with βcat-Sig animals also did not produce the phenotype of βcat-Null mutant DRG, excluding any compensatory mechanisms between TCF/Lef transcription and down-stream factors of stabilized adhesion. Additionally, we showed that DRG cells and their projecting axons commence to express plakoglobin as the DRG coalesces and maintain this expression with further development. Taken together, these findings substantiate that cadherin adhesion junctions are negligible for sensory neurogenesis and that cell-cell adhesion in the developing DRG might be mediated via desmosomes. Moreover, the differences in DRG formation observed in βcat-Sig versus βcat-Null embryos can apparently not be attributed to an adhesion phenotype. This, in turn, suggests that the mutated form of β-catenin in βcat-Sig mice not only maintains the ability to preserve cadherin-mediated adhesion, but also rescues a function of β-catenin independent of its function as an activator of TCF/Lef transcription.
Different functions of β-catenin regulate stage-specific proliferation of dorsal root ganglia progenitor cells
NCCs at different stages of development are subject to distinct mechanisms of proliferation control [
48
]. This most probably reflects the changing environment NCCs encounter in the tissue they migrate through and the niches they reside in post migration. At early stages of migration, NCC proliferation was neither affected in
βcat-Sig
nor in
βcat-Null
embryos, consistent with earlier reports that canonical Wnt signaling does not regulate proliferation of early NCCs [
18
,
21
]. However, at E10.5, post-migratory DRG progenitors of
βcat-Sig
and
βcat-Null
mutant embryos failed to incorporate EdU after a one hour pulse even though they expressed KI67. These results indicate that DRG progenitors in both mutant animals are stuck in cell cycle, most probably in G1 phase. Wnt signaling has been shown to regulate cell proliferation by promoting G1 progression [
31
]. Moreover, we found Lef1 to be expressed at E10 and E11.5 within the Sox10 population of control animals, while its expression was lost at E12.5 within the DRG. Furthermore, reduction of Lef1 in both
βcat-Sig
and
βcat-Null
mutants was observed at E10 and E11.5. Therefore, at a stage during development when NCCs coalesce to form DRG, cell cycle progression of DRG progenitors is controlled by Wnt/β-catenin-dependent transcriptional activation, possibly mediated by Lef1 (Figure
8
, green arrow). Intriguingly, at somewhat later stages of DRG development (E11.5 onwards), the DRG progenitors of the
βcat-Sig
mutants recovered their capacity to progress through the cell cycle, whereas the
βcat-Null
mutant cells were still incapable of doing so. Thus, the mutant form of β-catenin expressed in
βcat-Sig
animals is apparently able to rescue DRG progenitor proliferation at later developmental stages.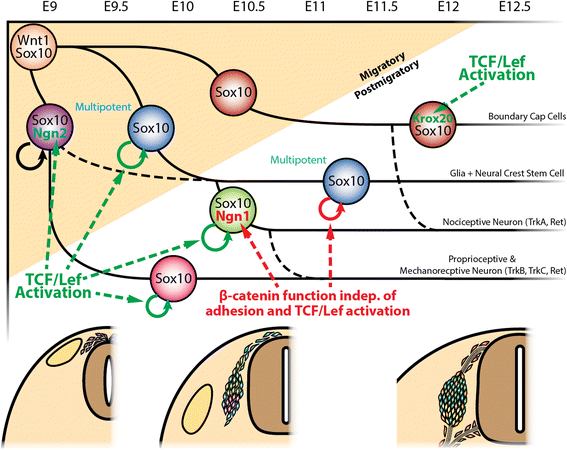 As described above, the differences in the phenotype between βcat-Sig and βcat-Null mutant DRG are not due to changes in cadherin-mediated adhesion. We propose, therefore, that an alternative, adhesion- and TCF/Lef-transactivator-independent function of β-catenin regulates one or multiple factors responsible for the induction of a second wave of proliferation in DRG (Figure 8A, red arrow). The expression of the known repressors TCF3 and, in particular, TCF4 [5-12] in the developing DRG allows us to speculate, that this function likely involves the ability of β-catenin to de-repress TCF-bound target genes. In summary, NCC proliferation during migration and in specific NC target structures appears to be dynamically controlled by stage- and location-specific mechanisms that involve β-catenin-independent factors [48] as well as diverse β-catenin-dependent signaling pathways.
Specification of the three waves of sensory neurogenesis depends on distinct β-catenin signaling functions
Subtype specification of sensory neurons is driven by proneural transcription factors, which regulate the three sequential waves of neurogenesis. The first wave is initiated in mice at around E9 and consists of migratory Sox10- and Neurog2-double positive cells fated to become mechano- or proprioceptive neurons expressing TrkB, TrkC and RET [26]. However, lineage tracing revealed that some Neurog2-positive cells also give rise to TrkA-expressing neurons [49]. The second wave of neurogenesis is characterized by the continuous expression of Sox10 throughout migration and thereafter in the coalescing DRG. These multipotent DRG progenitors divide at a very high rate [50] and then either give rise to a subpopulation of sensory neurons or glial cells, or remain DRG progenitors. The subgroup designated to become sensory neurons express Neurog1 post migration and bias cells to become nociceptive neurons expressing TrkA and Ret, but they can also give rise to mechano- and proprioceptive neurons [32]. The third and final wave of sensory neurogenesis refers to the generation of BCCs. These cells express Krox20 and produce peripheral glia along the sensory axons entering the dorsal entry zone and motor axons exiting the ventral neural tube at prospective motor exit points [34]. However, a subgroup of these cells loses their Krox20 expression, migrate into the developing DRG and give rise to nociceptive neurons [34].
In both βcat-Sig and βcat-Null animals, expression of Neurog2 and Krox20 was absent, indicating that these transcription factors are regulated by TCF/Lef-mediated transcription (Figure 8, green arrows). In the case of Krox20, which has been proposed to be a TCF/Lef transcriptional target [36], the responsible transcription factor likely is Lef1, which is strongly expressed within the BCCs. In contrast, Neurog1 was lost in βcat-Null mutants, but was still expressed in βcat-Sig animals. The expression of Neurog1 was not dependent on the capacity of the βcat-Sig mutant to preserve cadherin-mediated adhesion, as expression of Neurog1 was lost neither in αcat-Adh nor in αcat-Adh βcat-Sig embryos. Promoter binding studies performed in CNS progenitor cells have previously indicated that β-catenin can regulate Neurog1 gene expression [51,52]. Thus, given the normal expression of Neurog1 in βcat-Sig DRG, a function of β-catenin independent of its role in adhesion and TCF/Lef-induced transcriptional activation is responsible for Neurog1 expression. In support of this, BAT-gal reporter activity was low in Neurog1-expressing cells, in contrast to Neurog2-positive cells. Although this remains to be proven, Neurog1 is likely a target gene of TCF3/4-mediated repression released upon binding of β-catenin.
Collectively, these findings indicate that the proneural transcription factors specific for each of the three waves of sensory neurogenesis depend on β-catenin independent of its role in the cadherin adhesion complex. Importantly, the expression of Neurog2 and Krox20 are dependent on the ability of β-catenin to attract transcriptional co-activators to initiate TCF/Lef transcription, whereas Neurog1 expression does not require β-catenin to function as a TCF-transactivator (Figure 8, red arrows).
Our data show that both stage-specific proliferation and progressive fate determination in DRG involve β-catenin functions. The successive waves of sensory neurogenesis could be regulated by spatiotemporal Wnt ligand expression in the DRG itself or by changing Wnt expression in the tissues adjacent to the growing DRG. In agreement with previous studies [53,54], Wnt1-Cre-mediated conditional deletion of Wls – which prevents secretion of any Wnts in NCCs and their derivatives – did not result in overt DRG malformation. Previous work has shown that non-conditional double knock-out of Wnt1 and Wnt3a, the mayor known Wnts expressed in the dorsal neural tube and premigratory NCCs, leads to major deficiencies in NCC derivatives, including the DRG [55,56]. The Wnt1-Cre Wls flox/flox might not mimic this phenotype, because deletion of Wls occurs only after activation of the Wnt1-promotor. Our findings show that DRG progenitors are not subject to autocrine Wnt signaling after delamination. Rather, they depend on Wnt secretion from the surrounding tissue. In particular, BCCs emerge in close proximity to the neural tube, which is known to express various Wnt ligands [57]. Indeed, a thorough comparison between Wnt1-Cre Wls flox/flox embryos (in which secretion of Wnts is lost in the dorsal neural tube and in NCCs) and Sox10-Cre Wls flox/flox animals (in which secretion of Wnts is exclusively depleted from NCCs; [19]), revealed that Wnts derived from the neural tube promote the generation of BCCs, while Neurog2- and Neurog1-dependent sensory lineages require other Wnt sources, most likely provided by the mesenchyme adjacent to NCCs and the forming DRG. Thus, the different subpopulations of sensory progenitors not only depend on different β-catenin functions but also on distinct sources of Wnt ligands.
Conclusions
Adhesion and signaling independent functions of β-catenin during DRG development
Although canonical Wnt signaling has previously been implicated in neural crest development and, in particular, sensory neurogenesis [18,20,21,55], the dual function of β-catenin in mediating cell-cell adhesion and Wnt signaling made it difficult to study the actual contribution of this signaling pathway to peripheral ganglia formation and cell type specification. Therefore, we designed an animal model, which allowed us to dissect adhesion and signaling roles of β-catenin in vivo [15]. To definitely attribute phenotypic changes to defective adhesion, we also performed an analysis of β-catenin-deficient DRG. Surprisingly, however, our study reveals that several processes underlying DRG formation do neither depend on a structural role of β-catenin in adherens junctions nor solely to attract transcriptional co-activators for initiating TCF/Lef mediated transcription. Recently it has been shown that some TCFs also act as repressors for other modes of transcription [5,7-10,12,58]. The binding of β-catenin to these TCFs displaces the co-repressors and de-represses the TCF-target genes, allowing transcription by other transcription complexes. Although for technical reasons we were unable to address this hypothesis directly, it is conceivable that the mutated form of β-catenin present in βcat-Sig embryos is capable of maintaining the capacity to de-repress the TCF/Lef Groucho repression complexes, as its TCF/Lef-binding domain is preserved. This theory is supported by the fact that Neurog1 is expressed in the DRG progenitors of βcat-Sig animals, even though consensus sequences for TCF binding are located close to the transcription start site of the mouse Neurog1 gene [51] and β-catenin is directly involved in regulation of Neurog1 [52]. In any case, our findings demonstrate that the double mutated form of β-catenin in cells of βcat-Sig mice, although defective in TCF/Lef activation, preserves a specific signaling function of β-catenin, next to its ability to maintain proper formation of the cadherin adhesion complex. This made it possible to demonstrate that distinct β-catenin signaling functions regulate DRG size and cellular composition in a spatiotemporal manner. The interaction partners and targets mediating these stage-specific functions remain to be identified.
Methods
Animals and genotyping
Mouse experiments were performed in accordance with Swiss guidelines and approved by the Veterinarian Office of the Kanton of Zürich, Switzerland. The Cre-loxP system was used to conditionally knockout various genes. The generation of mutant mice has been reported previously: Wnt1-Cre mice [59], Sox10-Cre mice [47], Ctnnb1 tm2Kem (Ctnnb1 flox ) mice [25], Ctnnb1 dm mice [15], and Ctnna1 tm1Efu (Ctnna1 flox ) mice [41]. In vivo fate mapping was performed utilizing either the ROSA26 reporter expressing β-galactosidase (R26R) [27] or the ROSA26 reporter expressing EGFP [29] mouse lines. Embryos carrying one allele for lineage tracing are indicated as R26R or EGFP. To monitor Wnt/β-catenin transcription, animals were crossed with the BAT-gal reporter line [28].
To study the role and importance of Wls in the mouse, a conditional allele of Wls (Wls flox ) was generated (Ozgene, Bentley, Australia). The targeting approach was to flank the first exon with loxP sites. The first exon encodes the transcriptional start and the complete signal sequence. Excision of the 'floxed' region, therefore, leads to a Wls null-allele. Bl6 was used as the background strain. The targeting vector was generated by assembling the 5' and 3' homology arms with the loxP site flanked first exon and the FRT site flanked neomycin selection cassette (Additional file 1: Figure S7). Deletion of the FRT flanked neomycin resistance cassette was verified by PCR and subsequent sequencing of positive Bl6 ES cell clones. Wls conditional homozygous mice are viable and fertile and do not show any abnormalities. Deletion of the loxP flanked first exon to generate the Wls knockout allele was verified by PCR and sequencing.
Genotyping for the floxed Wls allele was performed by PCR with primers Wls-up (5'-CCCCCTTTCCCTCTCGGTTCC-3') and Wls-lo (5'- GGCGGCATGGAAGCCAAGGGC -3') and 34 cycles of 94°C for 30 seconds, 57°C for 30 seconds and 72°C for 1 minute, to amplify a wild type fragment of 267bp length and, respectively, a mutant fragment 353bp in length.
X-Gal staining and immunohistochemistry
LacZ reporter gene expression was detected using X-Gal staining [18]. For immunohistochemistry, cryo-sections were fixed for 30 seconds in 4% formaldehyde at room temperature and treated with blocking buffer (1% BSA, 0.3% Triton X-100, in PBS) for 30 minutes. Primary antibodies were used as follows: chicken anti-β-galactosidase (1:2000; Abcam ab9361, Cambridge, UK), rabbit anti-GFP(1:500; Abcam ab290), goat anti-Sox10 (1:200; Santa Cruz sc-17342, Dallas, Texas, USA), mouse anti-Neurog2 (1:10; gift from D. J. Anderson, California Institute of Technology, Pasadena, CA, USA), anti-Neurog1 (1:200; Santa Cruz sc-19231), goat anti-RET (1:500; Fitzgerald 70R-RG002X, Acton, Massachusetts, USA) rabbit anti-TrkA (1:500; gift from L.F. Reichardt, University of California, San Francisco, CA, USA), rabbit anti-TrkB (1:100; Cell signaling 4607, Danvers, Massachusetts, USA), goat anti-TrkC (1:50; R&D system Inc. AF1404, Minneapolis, Minnesota, USA), mouse anti-NF (1:250; Invitrogen 13-0700, Carlsbad, California, USA), rabbit anti-Krox20 (1:4000 gift from D. Meijer, Erasmus University Medical Center, Rotterdam, NL), mouse anti-JUP (1:200, BD Transduction laboratories 610253, Franklin Lakes, New Jersey, USA), rabbit anti-Wls(1:1000 Seven Hills Bioreagents, Cincinnati, Ohio, USA WLAB-177), rabbit anti-Ki67 (1:200, Abcam ab15580),mouse anti-β-catenin N-terminus (1:200; Enzo Life Sceince ALX-804-060-C100, Farmingdale, New York, USA), rabbit anti-β-catenin C-terminus (1:200; Sigma c2206, Buchs, St. Gallen, Switzerland), rabbit anti-cCasp3 (1:200; Cell Signaling 9661), mouse anti-Islet1/2 (1:200; Hybridoma 40.2D6, Iowa City, Iowa, USA), goat anti-TCF3 (1:200; Santa Cruz sc-8635) mouse anti-TCF4 (1:200; gift from Basler Lab; University of Zurich, Zurich, Switzerland), rabbit anti-Lef1 (1:500; Cell Signaling C12A5), rabbit anti-Brn3a (1:5000; gift from Turner Lab, Seattle Children's Research Institute, Seattle, WA 98101, USA) rabbit anti-Ncad (1:200; Takara M142, Otsu, Shiga, Japan) rabbit anti-αcat (1:200; Sigma C-2081) mouse anti-ZO1 (1:200; Zymed 33-9100, Carlsbad, California, USA). Secondary antibodies were from Jackson Immuno Research, West Grove, Pennsylvania, USA or Invitrogen. Tyramide Signal Amplification (TSA) kit from PerkinElmer, Waltham, Massachusetts, USA was used for amplification of TCF3 and TCF4. EdU incorporation was stained using 'click' chemistry and was performed as described [60].
Statistical analysis
All quantifications were performed on 12 μm transverse sections. Three control and three mutant embryos were quantified at each stage for each type of mutant. To determine rostral-caudal differences quantifications were performed in each embryo on levels of the upper and lower limbs as well as on an intermediate level between the two, collecting two to three sections for each level. As relative proportions were consistent on all three levels in all animal types, we averaged the output of eight sections per embryo. Statistical analyses were performed using the two-tailed unpaired Student's t-test between control and mutant animals with Microsoft Excel. All results are shown as mean ± standard deviation. Pictures in figures were chosen from the intermediate sections between the upper and lower limbs.
Abbreviations
BCCs:

boundary cap cells
bHLH:

basic helix-loop-helix
bp:

base pair
BSA:

bovine serum albumin
DRG:

dorsal root ganglia
E:

embryonic day
EdU:

5-ethynyl-2′-deoxyuridine
EGFP:

enhanced green fluorescent protein
JUP:

junction plakoglobin
NCCs:

neural crest cells
PBS:

phosphate-buffered saline
Trk:

tyrosine receptor kinase
β-gal:

β-galactosidase
Declarations
Acknowledgements
We thank R. Kemler, S. Piccolo, E. Fuchs, McMahon and P. Soriano for providing transgenic animals, and L.F. Reichardt, D. Meijer, E. Turner and D. J. Anderson for sharing antibodies, and Iris Miescher, Annika Geminn, Jessica Häusel for technical support, and past and current members of the Sommer lab for critical comments. This work was supported by the Swiss National Science Foundation (SNF).
Authors' Affiliations
(1)
Cell and Developmental Biology Division, Institute of Anatomy, University of Zurich, Zurich, Switzerland
(2)
Institute of Molecular Life Sciences, University of Zurich, Zurich, Switzerland
(3)
Present address: SciLifeLab, Stockholm, Sweden
(4)
Present address: University Hospital Zurich, Clinical Trials Center, Zurich, Switzerland
Copyright
© Gay et al. ; licensee BioMed Central. 2015
This is an Open Access article distributed under the terms of the Creative Commons Attribution License (http://creativecommons.org/licenses/by/4.0), which permits unrestricted use, distribution, and reproduction in any medium, provided the original work is properly credited. The Creative Commons Public Domain Dedication waiver (http://creativecommons.org/publicdomain/zero/1.0/) applies to the data made available in this article, unless otherwise stated.