Research article
Open Access
The transcriptome of Toxoplasma gondii
Received: 06 October 2005
Accepted: 02 December 2005
Published: 02 December 2005
Abstract
Background
Toxoplasma gondii gives rise to toxoplasmosis, among the most prevalent parasitic diseases of animals and man. Transformation of the tachzyoite stage into the latent bradyzoite-cyst form underlies chronic disease and leads to a lifetime risk of recrudescence in individuals whose immune system becomes compromised. Given the importance of tissue cyst formation, there has been intensive focus on the development of methods to study bradyzoite differentiation, although the molecular basis for the developmental switch is still largely unknown.
Results
We have used serial analysis of gene expression (SAGE) to define the Toxoplasma gondii transcriptome of the intermediate-host life cycle that leads to the formation of the bradyzoite/tissue cyst. A broad view of gene expression is provided by >4-fold coverage from nine distinct libraries (~300,000 SAGE tags) representing key developmental transitions in primary parasite populations and in laboratory strains representing the three canonical genotypes. SAGE tags, and their corresponding mRNAs, were analyzed with respect to abundance, uniqueness, and antisense/sense polarity and chromosome distribution and developmental specificity.
Conclusion
This study demonstrates that phenotypic transitions during parasite development were marked by unique stage-specific mRNAs that accounted for 18% of the total SAGE tags and varied from 1–5% of the tags in each developmental stage. We have also found that Toxoplasma mRNA pools have a unique parasite-specific composition with 1 in 5 transcripts encoding Apicomplexa-specific genes functioning in parasite invasion and transmission. Developmentally co-regulated genes were dispersed across all Toxoplasma chromosomes, as were tags representing each abundance class, and a variety of biochemical pathways indicating that trans-acting mechanisms likely control gene expression in this parasite. We observed distinct similarities in the specificity and expression levels of mRNAs in primary populations (Day-6 post-sporozoite infection) that occur prior to the onset of bradyzoite development that were uniquely shared with the virulent Type I-RH laboratory strain suggesting that development of RH may be arrested. By contrast, strains from Type II-Me49B7 and Type III-VEGmsj contain SAGE tags corresponding to bradyzoite genes, which suggests that priming of developmental expression likely plays a role in the greater capacity of these strains to complete bradyzoite development.
Keywords
Tissue CystmRNA PoolBradyzoite StageBradyzoite DifferentiationToxoplasma Genome
Background
Toxoplasma gondii belongs to the phylum Apicomplexa, which comprises a diverse group of protozoa, considered to share much of the biology underlying obligate occupation of a host cell and responsible for disease in a range of host species. Toxoplasma is distinct from most members of the large coccidian family contained in this phylum owing to the exceptional number of animals that are able to serve as host including virtually all warm-blooded animals. While T. gondii completes the definitive life cycle in a single animal host (feline), the capacity of oocysts (shed from the feline host) as well as tissue cysts to infect multiple hosts has enabled T. gondii to increase the host range for the intermediate life cycle. This rare modification to the heteroxenous (two host) life cycle is thought to have occurred relatively recently and may be responsible for the expansion of this parasite to nearly every continent [1]. Parasite transmission via the oocyst stage has resulted in epidemics of human toxoplasmosis [2–6] and widespread infections of livestock that can also lead to human infections through the consumption of tissue cyst-contaminated food [7, 8]. Together, oocyst and tissue cyst sources contribute to rates of human exposure such that the risk of infection in the U.S. is one in three by age 50 (25% for >20 yrs of age [9]; and nearly 100% by the end of childhood in other parts of the world [10]).
Given the importance of Toxoplasma infections to human populations, understanding developmental mechanisms leading to tissue cyst formation is critical for ultimately controlling transmission and chronic disease. Based on cat bioassays, tissue cysts are first detected in mouse tissues approximately one week from the time of oral inoculation of oocyst (containing sporozoites) or tissue cyst material (containing bradyzoites) [11, 12]. The invariant course of T. gondii primary infections in animals suggests that developmental mechanisms initiated by either the sporozoite or bradyzoite stage are similar and are likely the consequence of an unfolding parasite genetic program. Studies of sporozoite- and bradyzoite-initiated development in vitro [13, 14] support this view, as parasites emerging from infections of human foreskin fibroblasts (HFF) follow a defined course of development evident by nearly synchronous changes in growth and stage-specific gene expression that result in the emergence of bradyzoites 7–10 days later [13, 14]. The key to this developmental pathway in T. gondii may lie in a shift to slower growth that occurs following a limited number of divisions in sporozoite-infected cultures, and is well documented in all studies of bradyzoite differentiation [13–17]. The link between cell cycle mechanisms and bradyzoite development is unknown, but is characterized by a transient slowing of S phase that leads to mature bradyzoites, which possess a uniform genome content consistent with cell cycle arrest in G1/G0 (1N DNA content) [13, 14]. These studies suggest that a developmental timer system in primary T. gondii infections (oocyst or tissue cyst) may regulate tissue cyst development in the intermediate host.
The frequency of bradyzoite switching (tachyzoite to bradyzoite, bradyzoite to tachyzoite) varies among Toxoplasma isolates and may influence the level of parasite expansion in animals. As such, defining the changes in gene expression that accompany this development pathway is important for understanding the molecular events that contribute to chronic as well as acute disease. EST projects have been undertaken in Toxoplasma [18, 19] for the purpose of gene discovery, but have also confirmed earlier studies that first demonstrated that novel gene expression is associated with the major intermediate life cycle stages [20, 21]. EST sequencing has led to the development of a limited Toxoplasma cDNA array [22–24] that focused on tachyzoite-bradyzoite transitions in cell culture models of bradyzoite differentiation [22] and explored gene expression in mutants that are unable to differentiate [23, 24]. It is not possible given the small size of these arrays (~600 genes) to draw global themes about Toxoplasma gene expression; however, these studies are important in that they confirm that changes in mRNA levels correlate with the expression of known bradyzoite protein antigens (supporting transcriptional mechanisms) and provide some evidence that a hierarchal progression of gene expression may govern development in this parasite [23]. At present, the Toxoplasma genome has been sequenced to 10X-coverage of the Me49B7 Type-II strain [25] with plans to extend coverage to Type I and III strains. Even in the absence of whole genome sequence for all three lineages, a complete map of the parasite transcriptome will allow us to begin analysis of development and inter-strain variation.
In this paper, we report a comprehensive investigation into the whole cell changes in the levels of mRNAs occurring during progression of parasite populations through the T. gondii intermediate life cycle. Additionally, we have examined laboratory strains representing the three major genotypes and demonstrate that specific patterns of gene expression are uniquely shared between laboratory strains and the primary parasite stages characteristic of specific transitions in the T. gondii intermediate life cycle.
Conclusion
This report describes the first large-scale investigation of the
Toxoplasma
transcriptome during development in the intermediate life cycle. This comprehensive SAGE database offers a broad view of gene expression in primary as well as laboratory adapted parasite populations and defines fundamental changes in mRNA pools that will serve as a comparative base for future functional genomic studies. The emerging view from this study of gene organization and global mRNA expression demonstrates that mRNA classes based on abundance, function or co-regulation are dispersed throughout the chromosomes, which is consistent with a model where gene-specific mechanisms involving trans-acting factors are responsible for regulating mRNA levels in this protozoon. Experimental evidence shows that Apicomplexan protozoa promoters have a bipartite organization of basal and cis-elements [
73
] suggesting that transcriptional initiation in these parasites follows principles similar to other eukaryotes. It is noteworthy that ~60% of the factors necessary for general POL II transcriptional control in other crown group eukaryotes have now been found in Apicomplexa genomes [
45
]. Unfortunately, only a handful of
Toxoplasma
(or Apicomplexan) promoters have been investigated to identify intergenic regions that contain cis-element sequences [
51
,
71
,
74
–
79
] and only one gene-specific transcription factor in any Apicomplexan protozoan has been validated [
80
]. There is reason to believe that transcription in these parasites will have unique features. Unlike animal cells, where constitutive mRNA expression is a dominant feature, our studies show that transcription in
Toxoplasma
is considerably more dynamic with large numbers of mRNAs exclusively expressed in a single developmental stage. This phenomenon is consistent with the "just-in-time" concept put forth from studies of
Plasmodium
[
47
], where more than 80% of the transcripts monitored in microarray experiments were regulated, with most having a peak expression within a single timeframe in parasite development. It is plausible that this strategy for regulating gene expression in the Apicomplexa results in the unusual composition and changing complexity of
Toxoplasma
mRNA pools. Our results also demonstrate that gene expression leading to abundant mRNA levels in these parasites is focused on a select group of genes that have evolved with the adaptation of these protozoa to a parasitic life style and within the context of unique host-parasite relationships. Thus, it seems likely that gene-specific transcriptional mechanisms will be divergent in these parasites when compared to other well studied eukaryotic models and this view is supported by recent searches for general transcription factors in these parasites [
46
]. Gene expression associated with the major developmental stages studied here indicates that critical phenotypic transitions (i.e. changes in growth and developmental stage) are strongly influenced by changes in mRNA levels, and in those cases where data were available on protein changes, the mRNA levels were observed to move in similar directions. This too is consistent with the high degree to which protein and mRNAs levels correlate in the related parasite,
P. falciparum
[
81
]. Altogether these data do not rule out a role for post-transcriptional mechanisms in this parasite, but rather demonstrate that changes in mRNA levels play a significant role in regulating critical developmental transitions in this parasite. A summary of the overall gene expression patterns in sporozoite-initiated development is illustrated in Figure
5
. It is significant that sporozoite gene expression influences early stages of the intermediate life cycle, given the similarities in gene expression between sporozoites and Day-4 emergent parasites. It is also noteworthy that tachyzoite gene expression, which is first detected in emergent parasites, remains strongly expressed in the slowly growing Day-7 parasites and is present in early bradyzoite, mixed populations (
i.e
. Day-15 parasites). Thus, tachyzoite gene expression was not confined to a specific developmental phenotype, and by itself was a poor gauge of a parasite's position within the intermediate life cycle. This may explain why laboratory strains considered to be tachyzoites based on antigen expression differ greatly in their replication rate and capacity to form bradyzoites. In fact, baseline expression of bradyzoite genes in VEGmsj and Me49B7 appears to be a more reliable predictor of the capacity of these strains to form bradyzoites, while the absence of this pattern in the RH strain is well correlated with developmental incompetence. Based on this principle, it is intriguing to speculate that expression in the highly virulent RH parasites of mRNAs also uniquely found in rapidly growing Day-6 parasites influences the characteristic resistance of RH and other Type I strains to form tissue cysts [
72
,
82
]. The Type I parasites may harbor a mutation that alters a critical regulatory mechanism controlling the capacity of these parasites to progress into the bradyzoite developmental pathway and this is reflected in the sustained (rather than transient) expression of a cluster of Day-6 genes in these parasites.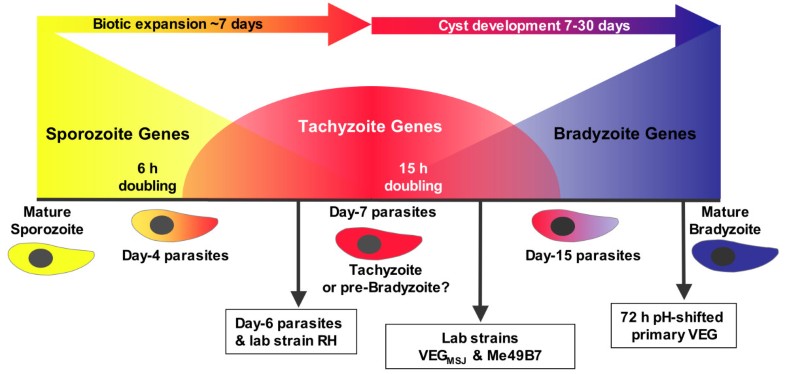 Declarations
Acknowledgements
This work was supported in part by grants from USDA-CRS and the NIH to MWW, DSR and JRR including COBRE NCRR P20 RR-020185 and R21 AI53815. A special thanks to Matthew White and Maria Jerome for parasite culture and molecular biology support and to Dr. Bill Sullivan for contributions to the editing of this manuscript. Preliminary genomic and/or cDNA sequence data were accessed via http://ToxoDB.org and/or http://www.tigr.org/tdb/t_gondii/. Genomic data were provided by The Institute for Genomic Research (supported by the NIH grant #AI05093), and by the Sanger Center (Wellcome Trust). EST sequences were generated by Washington University (NIH grant #1R01AI045806-01A1). This manuscript is a contribution from the Montana State University Agricultural Experiment Station.
Authors' Affiliations
(1)
Department of Veterinary Molecular Biology, Montana State University Bozeman, USA
(2)
Department of Biology and Penn Genomics Institute, University of Pennsylvania, Philadelphia, USA
Copyright
© Radke et al; licensee BioMed Central Ltd. 2005
This article is published under license to BioMed Central Ltd. This is an Open Access article distributed under the terms of the Creative Commons Attribution License (http://creativecommons.org/licenses/by/2.0), which permits unrestricted use, distribution, and reproduction in any medium, provided the original work is properly cited.