Research article
Open Access
Generation of an integrated Hieracium genomic and transcriptomic resource enables exploration of small RNA pathways during apomixis initiation
Received: 7 July 2016
Accepted: 21 September 2016
Published: 6 October 2016
Abstract
Background
Application of apomixis, or asexual seed formation, in crop breeding would allow rapid fixation of complex traits, economizing improved crop delivery. Identification of apomixis genes is confounded by the polyploid nature, high genome complexity and lack of genomic sequence integration with reproductive tissue transcriptomes in most apomicts.
Results
A genomic and transcriptomic resource was developed for Hieracium subgenus Pilosella (Asteraceae) which incorporates characterized sexual, apomictic and mutant apomict plants exhibiting reversion to sexual reproduction. Apomicts develop additional female gametogenic cells that suppress the sexual pathway in ovules. Disrupting small RNA pathways in sexual Arabidopsis also induces extra female gametogenic cells; therefore, the resource was used to examine if changes in small RNA pathways correlate with apomixis initiation. An initial characterization of small RNA pathway genes within Hieracium was undertaken, and ovary-expressed ARGONAUTE genes were identified and cloned. Comparisons of whole ovary transcriptomes from mutant apomicts, relative to the parental apomict, revealed that differentially expressed genes were enriched for processes involved in small RNA biogenesis and chromatin silencing. Small RNA profiles within mutant ovaries did not reveal large-scale alterations in composition or length distributions; however, a small number of differentially expressed, putative small RNA targets were identified.
Conclusions
The established Hieracium resource represents a substantial contribution towards the investigation of early sexual and apomictic female gamete development, and the generation of new candidate genes and markers. Observed changes in small RNA targets and biogenesis pathways within sexual and apomictic ovaries will underlie future functional research into apomixis initiation in Hieracium.
Keywords
Megaspore Mother CellPredict Gene ModelApomictic PlantApomictic SpeciesTranscriptomic Resource
Background
Apomixis describes a suite of reproductive processes in flowering plants that result in asexual seed formation, and subsequently give rise to progeny which are clones of the maternal parent [1]. Contrary to the sexual pathway, wherein the diversity of progeny is derived from meiotic recombination during gamete formation followed by parental gamete fusion and embryogenesis at fertilization, apomixis avoids meiosis during female gamete development, and embryogenesis initiates without fertilization. Use of apomixis in plant breeding could economize and speed delivery of new plant varieties by preserving unlinked complex traits, such as heterosis in hybrid crops, within a single seed generation. As apomixis is not evident in major seed crops, isolation of genes from apomictic model species with the intention to transfer them to crops has been a major focus of research.
Most apomictic species are polyploids, often with large genomes, and evidence suggests apomixis is generally conferred by dominant loci in most examined species [2, 3]. Apomictic loci are often found to be associated with highly repetitive chromosomal regions where recombination is suppressed, and additional loci also appear to influence the penetrance of the apomixis phenotype [1, 3, 4]. To date, genes within apomictic loci which are capable of conferring apomixis phenotypes are largely unknown, with the exception of a recently identified gene from apomictic Pennisetum that stimulates fertilization-independent embryogenesis [5].
Identification of genes regulating apomixis has been hindered due to limited genomic and transcriptomic resources available in apomict model species. Several transcriptomic analyses in apomictic species have been published to date, including serial analysis of gene expression (SAGE), microarray approaches [6–8], and more recently de novo sequencing [9, 10]. However, the generation of genomic resources within these species has generally been neglected, and an integrated resource combining genomic and transcriptomic data in any one apomictic species has not yet been realized. Furthermore, genome assembly and annotation has been difficult due to the high complexity of polyploid genomes in apomicts, and de novo transcriptomic assemblies are likely to underrepresent the diversity of transcripts actually present due to the collapsing of homologous genes with high sequence similarity into chimeric contigs [11, 12].
Hieracium subgenus Pilosella species within the Asteraceae contain both obligate sexual and facultative apomictic species where apomixis is not fully penetrant [13, 14]. Within apomictic species the trait is dominant, and apomixis occurs via aposporous embryo sac formation (described below). Apomictic Hieracium species are also amongst the few known apomicts capable of both fertilization-independent embryo and endosperm development during seed formation [15–18]. Recombination at apomixis loci within the Pilosella subgenus of Hieracium does occur at low rates when crossed with sexual species, which in combination with a collection of apomixis deletion mutants, available bacterial artificial chromosome (BAC) libraries and expressed sequence markers, has aided in the generation of a genetic linkage map [16–20]. Coupled with a short lifecycle and an established transformation capability, these species have been developed into a valuable molecular and genetic model for the analysis of apomixis. Currently, the closest phylogenetic relative to Hieracium with a comprehensively sequenced and annotated genome is the tomato (Solanum lycopersicum), within the Solanaceae, which reproduces exclusively through typical sexual seed formation pathways [21]. A substantial expressed sequence tag (EST) database from a closer relative within the Asteraceae, lettuce (Lactuca sativa), also an obligate sexual, is publicly available together with a high-density genetic map [22]; however, functional annotation within the lettuce EST resource is limited. The availability of a Hieracium genomic resource coupled with temporally staged ovary transcriptomes, where the events of apomixis take place, could significantly accelerate the isolation of apomixis genes and loci.
Within aposporous species of
Hieracium
, specification of the megaspore mother cell (MMC), meiosis and selection of the functional megaspore (FM) occur as found during typical polygonum-type female gamete development in sexual plant species (Fig.
1
) [
23
]. However, following the initiation of meiosis, one or more cells from sporophytic tissue, termed aposporous initial (AI) cells, enlarge near the cells undergoing the events of meiosis and megaspore selection in the majority of ovules (Fig.
1
). One of the AI cells initiates a mitotic gametophyte program which results in the formation of an aposporous gametophyte and concurrently leads to degeneration of the developing sexual female gametophyte (Fig.
1
). Inhibiting meiosis within the MMC prevents AI cell initiation, suggesting that ovule cues associated with activation and progression of meiosis may stimulate AI cell development [
18
]. Transcriptomic analysis of microdissected AI cells suggests that enlarging AI cells do not express key meiosis genes [
9
]. The egg and central cell in the aposporous embryo sac then undergo fertilization-independent embryo and endosperm development [
24
].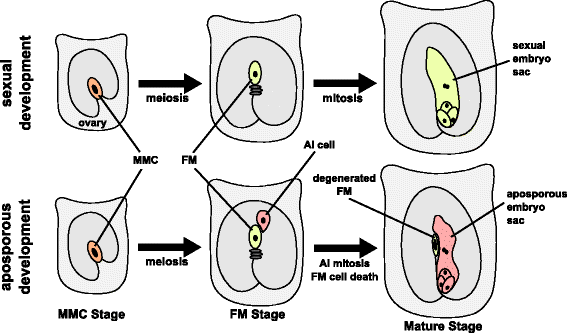 A collection of gamma irradiated deletion mutants within the aposporous Hieracium species H. praealtum (R35) identified two independent and dominant loci, LOSS OF APOMEIOSIS (LOA) and LOSS OF PARTHENOGENESIS (LOP), which are required for AI cell initiation and fertilization-independent seed development, respectively [16, 18]. Deletion mutants lacking LOA fail to initiate AI cell development, and therefore sexual gametophytic development progresses to completion. Sexual gametophytes that inherit a functional LOP locus, in the absence of LOA, can still initiate fertilization-independent seed formation resulting in plants with reduced ploidy relative to the parent. Deletion mutants lacking LOP generate unreduced gametophytes mitotically through AI cells. However, they are not capable of undergoing fertilization-independent embryo or endosperm development and therefore require fertilization by a male gamete to initiate seed development, resulting in plants with increased ploidy. Deletion of both loci results in a complete reversion to sexual reproduction, indicating that sexual reproduction is the default state in the apomict, and the apomixis phenotype in R35 is superimposed upon and suppresses normal sexual development [18]. The model for apomixis regulation in subgenus Pilosella currently posits that the initiation of meiosis during sexual megaspore development activates LOA, enabling specification of an apomictic lineage with AI cell formation. The AI cell recruits genes normally involved in the mitotic events of sexual female gametogenesis, and as it undergoes aposporous embryo sac formation the adjacent sexual gametophyte is actively suppressed. LOP later functions together with other identified seed initiation loci to either de-repress or activate genes involved in embryo and endosperm formation within the aposporous embryo sac, overcoming the requirement for fertilization [25].
A cytological analysis with LOA-specific probes indicates LOA is localized within a hemizygous, repeat-rich chromosomal region, and molecular markers linked to LOA and LOP have been shown to be conserved in additional Hieracium species, including H. piloselloides (D36) and H. caespitosum [17, 19]. While much has been learned regarding the genomic region surrounding both LOA and LOP, very little is known about the specific loci themselves, or any putative genes contained within them.
Interestingly, recent studies in sexual plants indicate that species-specific disruptions in small RNA biogenesis and function can cause apomixis-like initiation of female gametogenic development. In Arabidopsis, mutations affecting ARGONAUTE9 (AGO9) cause formation of additional gametic precursor cells in the ovule, which is reminiscent of the apospory phenotype [26]. In Zea mays mutations that affect ZmAGO4d/AGO104, the sexual MMC avoids meiosis and forms unreduced embryo sacs reminiscent of apomictic development in diplosporous species [27]. Both AGO genes are involved in the maintenance of non-CG DNA methylation through the RNA-dependent DNA methylation (RdDM) pathway [28]. Additional genes involved in the biogenesis of small RNAs have also been shown to induce the formation of extra cells with gametogenic potential in Arabidopsis mutants. Mutations in RNA-DEPENDENT RNA POLYMERASE2 (RDR2) and DICER-LIKE3 (DCL3), genes required for the production of 24-nt small interfering RNAs (siRNAs) as part of the RdDM pathway, as well as RDR6 and SUPPRESSOR OF GENE SILENCING3 (SGS3), which are required for the production of 21-nt siRNAs and trans-acting siRNAs (tasiRNAs), all induce formation of extra gametic precursor cells [26]. Small RNAs may also be involved in sexual gametophyte development, as evidenced by a semi-dominant mutant affecting AGO5 in Arabidopsis, which fails to initiate megagametogenesis following selection of the post-meiotic FM [29]. While these data indicate that a number of genes involved in small RNA biogenesis or function are required for specification and development of female gametogenesis within these normally sexual species, whether small RNAs might also be involved in the regulation of apomictic pathways within naturally apomictic species is currently unknown.
In this paper, we introduce a genomic survey sequence of D18, a dihaploid apomictic plant derived from a rare meiotically reduced egg that underwent parthenogenesis within the tetraploid apomict H. piloselloides (D36). D18 has been demonstrated to contain the LOA-associated chromosome and markers [17, 30]. We used the D18 genomic resource to investigate apomixis initiation through the analysis of transcriptomes and small RNA profiles in ovaries isolated from sexual and apomictic plants, and provide an initial characterization of small RNA pathway genes within Hieracium. Comparisons of ovary transcriptomes from apomictic R35 and two R35 deletion mutants unable to initiate apomixis (m115 and m134) identified differentially expressed genes in common between the two mutants to be enriched for gene ontology (GO) terms associated with small RNA biogenesis and chromatin silencing via the RdDM pathway. However, for genes associated with these GO terms, the direction of their fold change was not conserved between the two mutants. Comparisons of small RNA length distributions between R35 and the m115 or m134 deletion mutant did not reveal any large-scale alterations, although an alignment of small RNAs to D18 genomic contigs identified a small number of putative differentially targeted genes within the two mutants. These data provide an extensive integrated platform to aid in the identification of apomixis-related genes and the investigation of the role of small RNAs during asexual gametophyte development.
Conclusion
We have introduced a comprehensive toolkit for research into the early events of apomictic initiation observed in Hieracium species. The developed toolkit includes a previously unavailable genomic assembly coupled to transcriptome and small RNA sequencing of both sexual and apomictic ovaries at two developmental stages across early aposporous and sexual events. This toolkit will significantly support research towards uncovering the molecular events underpinning the apospory phenotype. We have demonstrated the efficacy of these developed resources by using them to identify common deleted genomic regions within m115 and m134 that are linked to LOA, in addition to comparing differences in small RNA pathways between ovaries of sexual and apomictic plants. Future work will focus on clarifying the role of these observed differences in sexual and apomictic Hieracium species, with particular emphasis on using additional transcriptomes generated through laser-assisted microdissection to identify cell type-specific genes for functional testing. The D18 genomic resource will also prove useful in the analysis of other aspects of research in Hieracium, such as autonomous seed formation.
Declarations
Acknowledgements
We thank Jana Sperschneider and Jean-Philippe Vielle Calzada for critical comments on the manuscript. We also thank Uwe Dressel for advice and help with the grafting experiments.
Funding
This work was funded by a grant from the Science and Industry Endowment Fund (SIEF RP01-006) and CSIRO Office of the Chief Executive Postdoctoral Fellowships to David Rabiger and Karsten Oelkers.
Availability of data and materials
The datasets supporting the conclusions of this article are publicly available within the CSIRO Data Access Portal repository (http://doi.org/10.4225/08/57D8BEF575C8B).
Authors' contributions
DSR, JMT, KO, BJC and AMGK conceived and designed the experiments. DSR, MLH, STH, SDJ, KO and KS performed the experiments. DSR, JMT, AS, MLH, MH, KS, GS, YM, BJC and AMGK analysed data. DSR, JMT and AMGK wrote the manuscript with contributions from all authors. All authors read and approved the final manuscript.
Competing interests
The authors declare that they have no competing interests.
Open AccessThis article is distributed under the terms of the Creative Commons Attribution 4.0 International License (http://creativecommons.org/licenses/by/4.0/), which permits unrestricted use, distribution, and reproduction in any medium, provided you give appropriate credit to the original author(s) and the source, provide a link to the Creative Commons license, and indicate if changes were made. The Creative Commons Public Domain Dedication waiver (http://creativecommons.org/publicdomain/zero/1.0/) applies to the data made available in this article, unless otherwise stated.
Authors' Affiliations
(1)
Commonwealth Scientific and Industrial Research Organisation Agriculture and Food, Glen Osmond, Australia
(2)
Commonwealth Scientific and Industrial Research Organisation Agriculture and Food, Crace, Australia
(3)
Australian Centre for Plant Functional Genomics, University of Adelaide PMB 1, Glen Osmond, Australia
(4)
Division of Natural Science, Osaka Kyoiku University, Osaka, Japan
(5)
School of Chemistry and Molecular Biosciences, University of Queensland, St. Lucia, Australia