Research article

Open Access
Enzyme intermediates captured "on the fly" by mix-and-inject serial crystallography
Received: 23 January 2018
Accepted: 3 May 2018
Published: 31 May 2018
Abstract
Background
Ever since the first atomic structure of an enzyme was solved, the discovery of the mechanism and dynamics of reactions catalyzed by biomolecules has been the key goal for the understanding of the molecular processes that drive life on earth. Despite a large number of successful methods for trapping reaction intermediates, the direct observation of an ongoing reaction has been possible only in rare and exceptional cases.
Results
Here, we demonstrate a general method for capturing enzyme catalysis "in action" by mix-and-inject serial crystallography (MISC). Specifically, we follow the catalytic reaction of the Mycobacterium tuberculosis β-lactamase with the third-generation antibiotic ceftriaxone by time-resolved serial femtosecond crystallography. The results reveal, in near atomic detail, antibiotic cleavage and inactivation from 30 ms to 2 s.
Conclusions
MISC is a versatile and generally applicable method to investigate reactions of biological macromolecules, some of which are of immense biological significance and might be, in addition, important targets for structure-based drug design. With megahertz X-ray pulse rates expected at the Linac Coherent Light Source II and the European X-ray free-electron laser, multiple, finely spaced time delays can be collected rapidly, allowing a comprehensive description of biomolecular reactions in terms of structure and kinetics from the same set of X-ray data.
Background
Observing the catalytic action of a biomolecule in atomic detail has been the dream of structural biologists since the first structure of an enzyme was solved [1, 2]. By exploiting X-ray radiation from powerful synchrotron sources, time-resolved crystallographic methods were developed [3] with the goal of achieving a complete description of a reaction in real time [4, 5]. However, X-ray damage and the need for large single crystals made time-resolved crystallography very challenging. The advent of X-ray free-electron lasers (XFELs) has enabled time-resolved serial femtosecond (fs) crystallography (SFX), where X-ray damage is outrun by ultrashort fs X-ray pulses [6, 7]. This approach has made it possible to follow and describe cyclic and non-cyclic reactions triggered by light. Examples include pioneering studies on the photoactive yellow protein [8, 9], myoglobin [10], bacteriorhodopsin [11], photoswitchable fluorescent proteins [12, 13], and photosystem II [14–17]. However, structural investigations on one-pathway enzymatic reactions present additional difficulties, because diffusion of substrate(s) and products in and out of the crystals limit the accessible reaction times. Standard crystallography can be used to track reaction intermediates of slow reactions by flash cooling [18–20], but the method is then unable to reveal enzymatic reactions at room temperature in real time. The problem is to start a reaction in large-sized crystals. Initiation by diffusion is far slower in these crystals than the typical millisecond turnover times of enzymes. It was proposed that one can trigger enzymatic reactions by light by soaking inactive (caged) substrates [21] into the crystals, which then can be activated by a laser pulse. The first proof of concept for time-resolved Laue crystallography triggered by a caged substrate was achieved in 1990 [22]. While this method has great potential, its application has so far been limited due to significant experimental challenges. Only a few time-resolved experiments have been reported where highly reactive, caged substrates are readily available [18, 22, 23], or the reactions are slow and allow the use of more conventional methods [24, 25]. It is therefore highly desirable to develop new methods that open the field of time-resolved crystallography to the study of biomolecular reactions at room temperature with the native enzyme and its natural substrate(s).
Structural studies at XFELs offer the possibility of a breakthrough. The XFEL intensity is high enough to generate a diffraction pattern from an exposure to a single fs X-ray pulse even from micrometer- and submicrometer-sized crystals. These tiny crystals allow for fast (sub-millisecond to millisecond) diffusion times, which are not rate-limiting for many enzymatic reactions [26–32]. The microcrystals are mixed "on the fly" and injected into the XFEL beam, a method we call mix-and-inject serial crystallography (MISC) [28, 30]. In MISC, crystals react with their native substrate(s) at ambient temperature until they are probed by a single X-ray pulse that destroys them but not before a diffraction pattern has been recorded. The pulses are short enough to essentially outrun radiation damage by means of the "diffraction-before-destruction" principle [33–35]. Optimized injectors have been recently developed [36, 37] for MISC experiments with the potential to provide submillisecond time resolution [38]. The microcrystals may tolerate even larger conformational changes leading to unit cell or even space group changes [14, 31].
Here, we apply MISC to the study of a very important public health problem: bacterial antibiotic resistance. Specifically, we have obtained time-resolved crystallographic data on the binding and cleavage of the third-generation antibiotic ceftriaxone (CEF) in microcrystals of the enzyme β-lactamase from Mycobacterium tuberculosis (BlaC). Previous studies introduced mutations into BlaC by exchanging catalytically important residues to slow down (or stop) the reaction to the extent that the binding of numerous antibiotics to BlaC could be studied [39]. In our experiments, however, carried out at the Linac Coherent Light Source (LCLS), microcrystals of unmodified BlaC are mixed with CEF on the fly, and the cleavage and thereby inactivation of the antibiotics by the wild-type β-lactamase is followed at runtime. BlaC is a broad-spectrum β-lactamase which confers resistance to all classes of β-lactam antibiotics in tuberculosis [19, 40]. BlaC chemistry has rendered the frontline arsenal of antibacterial agents ineffective against this deadly disease, creating a global public health crisis.
Beginning with the famous discovery of penicillin, β-lactam antibiotics were widely used to eliminate deadly bacterial infectious diseases [
41
]. More compounds with diverse chemical composition have been found through the years [
42
], the most prominent of them most likely the cephalosporins. The chemical structure of CEF is shown in Fig.
1
. Unlike the penicillins, which feature a 5-membered thiazolidine ring, in the cephalosporins a 6-membered dihydrothiazine ring is fused to the β-lactam ring. However, rampant resistance against these antibiotics was observed shortly after their widespread use [
41
]. β-lactamases open the β-lactam ring, thereby rendering the antibiotic inactive. BlaC from
M. tuberculosis
, an Ambler class A β-lactamase [
43
], uses a conserved serine to attack the β-lactam ring (Fig.
1
, blue arrow), thus inactivating the antibiotics. Because of the medical challenge that BlaC causes for the fight against infectious diseases, the process of catalysis has been studied by conventional biochemical methods in detail, leading to the hypothesis of a three-step model of the cleavage process. The first step is the formation of the enzyme-substrate (ES) complex (Fig.
1
, species 1), and it has been proposed that the enzyme may use active site interactions to orient the β-lactam carbonyl carbon near the Ser-70 nucleophile [
19
,
40
]. The next step proposed along the reaction coordinate is the nucleophilic attack of Ser-70, which results in the opening of the β-lactam ring and the formation of the covalently bound active site acyl intermediate (species 3). For cephalosporins there is evidence that during the enzymatic reaction a leaving group (denoted R in Fig.
1
) is split off [
44
,
45
]. In the third step, the open-ring β-lactam ligand is hydrolyzed and released by the enzyme (Fig.
1
, species 4). Various rates have been reported for this step of the catalytic reaction across different classes of β-lactams, followed by product release [
40
]. Static structures of some of the critical intermediates have been determined and reported [
19
], including an initial enzyme substrate complex trapped by removal of catalytically important amino acid residues [
39
]. Obtaining time-resolved data on BlaC chemistry holds the potential to directly visualize substrate chemical intermediates and the accompanying active site interactions, with wide-ranging implications for all classes of β-lactams. Ultimately, knowledge of the molecular processes by which BlaC is able to bind and catalyze the breakdown of β-lactams will directly impact rational drug design against deadly human diseases.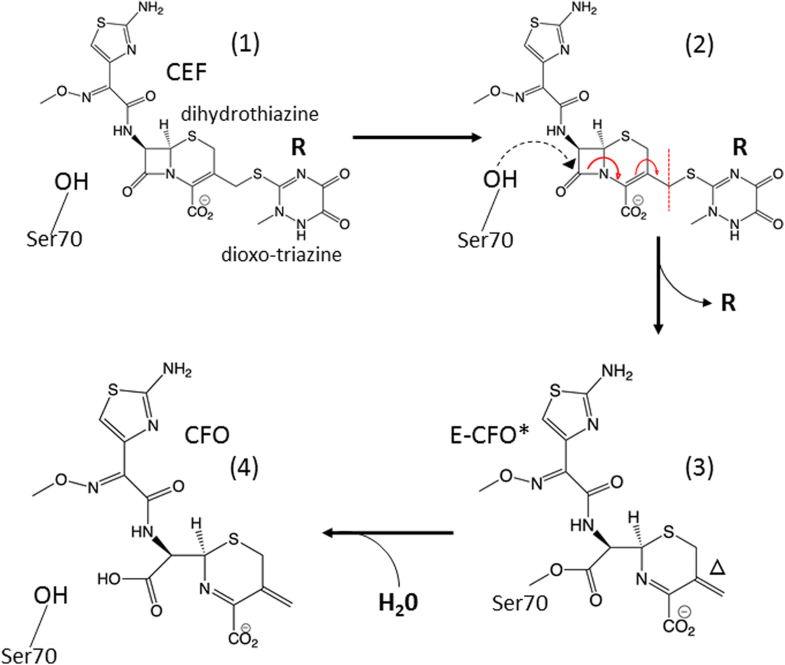 Our previous results at 2 s after mixing showed that CEF can diffuse into the crystals and binds to the active site of the crystalline β-lactamase [
30
]. These first studies showed that the catalytic reaction is heterogeneous, as the reactivity is specific to individual copies of the four β-lactamase chains in the asymmetric unit of the crystal. Only subunits B and D bind and process CEF, while subunits A and C do not directly contribute to catalysis, at least on the time scale of our experiments (Fig.
2a
). This first proof-of-concept study was limited to a single time point about 2 s after reaction initiation [
30
]. Multiple time points covering the reaction are required for any kinetic analysis.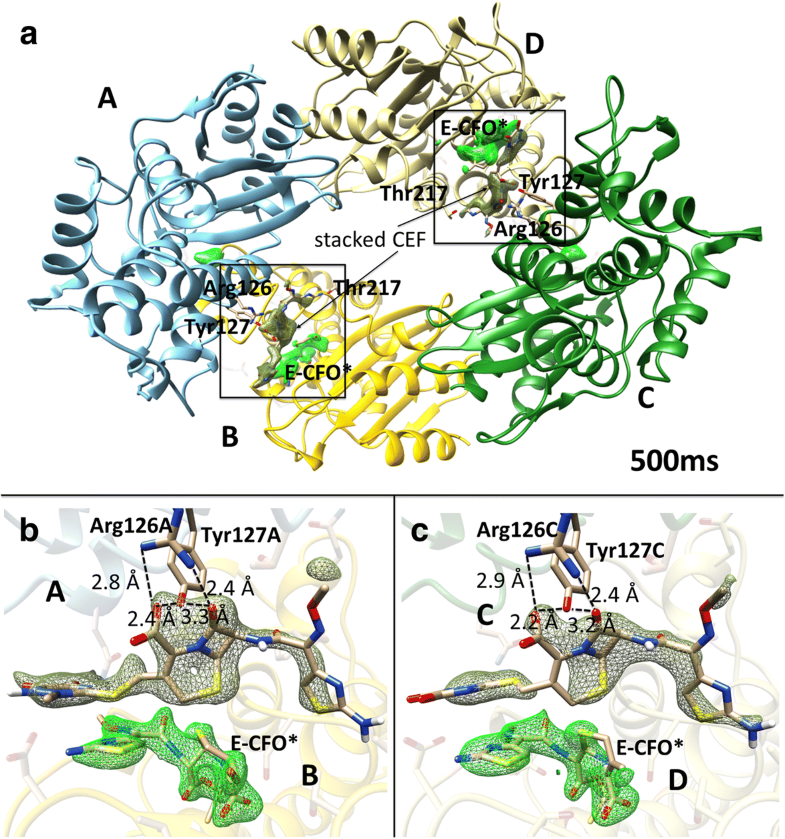 Results
Here we present a time series from 30 ms to 2 s after mixing with substrate in two different crystal forms, called shards and needles; this allows us to discover the conformational changes and to characterize the kinetics of this important class of enzymes directly from the X-ray data. We base our interpretation on bias-free omit maps obtained by simulated annealing. Figure 2 and Additional file 1: Figures S2–S6 show details of these maps near the active site. As a complement, more conventional 2mFo-Fc maps are shown in Additional file 1: Figures S7–S9.
The critical questions in MISC concern whether the enzyme in the crystals is still catalytically active and whether the reaction is limited by constraints of crystal packing or the solvent/precipitant used for crystallization. We have therefore crystallized BlaC in two different crystal forms. With phosphate as the precipitant, the BlaC crystallizes in a shard-shaped crystal form with four copies in the asymmetric unit (Fig. 2a) as previously reported [30]. With polyethylene glycol (PEG) 1000 as the precipitant, needle-shaped crystals are obtained with one molecule in the asymmetric unit. The packing of BlaC in both crystal forms is shown in Additional file 1: Figure S11.
In our MISC experiment, the small microcrystals were rapidly mixed with CEF "on the fly" using optimized mixing devices (Additional file
1
: Figure S1), and structures of the reaction of BlaC with CEF were determined by scattering from femtosecond X-ray pulses at five time points (unmixed, and 30 ms, 100 ms, 500 ms, and 2 s after mixing, respectively) during the reaction in both crystal forms. Results are shown in Figs.
1
and
2
. CEF binds to the active site of BlaC as shown in Fig.
2a
. In Fig.
3
more details are shown for the substrate binding in the shard and needle crystal forms (see also Additional file
1
: Figure S2 for details from another viewing direction, and Additional file
1
: Figures S3–S10 for stereo representations of various viewing directions and time points). Strong electron density at 30 ms shows that substrate diffusion into the crystals was successful. At this time delay the formation of the non-covalently bound ES complex is observed (Fig.
3a, b, c
). The ES complex can be identified by strong electron density of the leaving group sulfur (blue arrows in Fig.
3a, b
), and somewhat stronger dioxo-triazine ring features (red arrows in Fig.
3a, b
). Since the resolution of our X-ray data at the 30-ms time delay is limited to 2.75 Å, the distinction between a non-covalently bound species and a covalently bound species (see below) is difficult. However, the non-covalently bound species dominates occupancy refinements (see Table
2a
, and remarks therein). At 100 ms the ES complex still prevails and is the major component observed (~ 70%, see also Table
2
). A minor fraction (~ 30%) has an open β-lactam ring (Fig.
3d, e, f
). The open, covalently bound species E-CFO* can be identified more clearly at 500 ms, where it dominates the electron density (Fig.
3g, h, i
). Only on a time scale longer than 100 ms does the nucleophilic attack of Ser-70 open the β-lactam ring. At 500 ms this results in high occupancy of an intermediate which is covalently bound to the enzyme called E-CFO* as shown in Fig.
3g, h, i
. At the same time the leaving group R (Fig.
1
) is split off, as witnessed by the vanishing density of the leaving group sulfur and some of the weak ring density features (compare Fig.
3d and g
, or Fig.
3e and h
; see also feature β in Additional file
1
: Figure S10c). The covalently bound ligand is much shorter than CEF. The red arrow in Fig.
3g
indicates that the double bond ∆ (Fig.
1
) may have reacted to an alcohol in subunit B, which does not occur in subunit D or in the needle form of the crystals. Additional file
1
: Figure S10 shows the density in the unmixed shard crystal form (Additional file
1
: Figure S10a) and a difference map between the 500 ms and the 100 ms time points (Additional file
1
: Figure S10c), which displays changes in the region of the covalent attachment of the intermediate between 100 ms and 500 ms. At 2 s, the binding sites are occupied mainly by the full-length CEF with a minor contribution from E-CFO* (Table
2a, b
).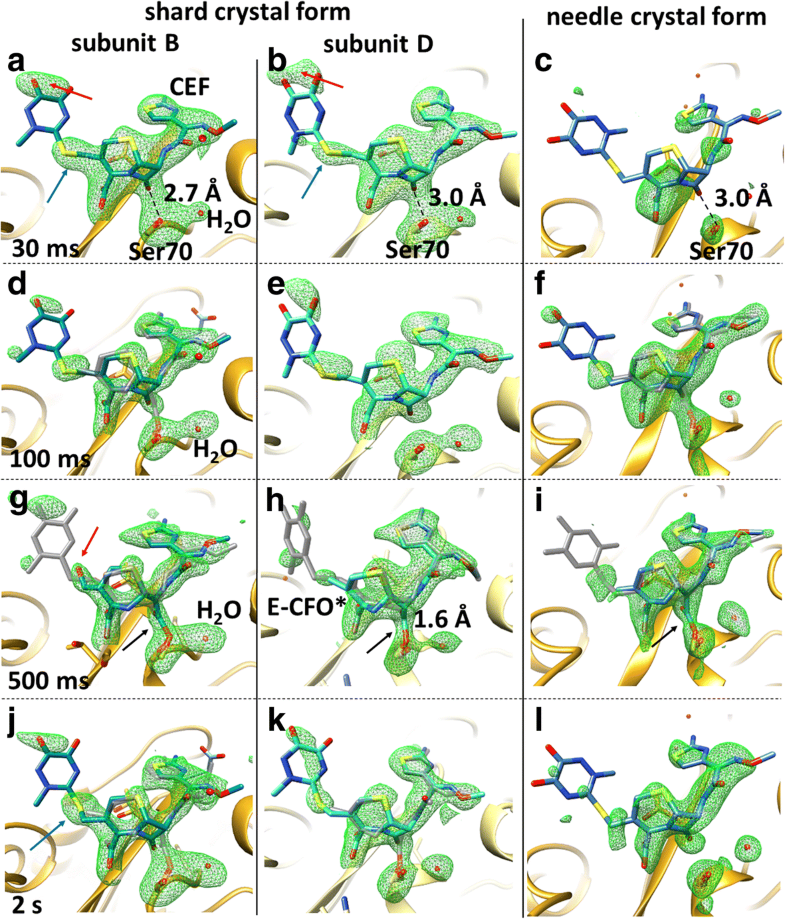 In the multi-copy shard crystal form, subunits A and C do not directly participate in catalysis, at least not in the first 2 s. In the monomeric needle crystal form, it appears that the reaction proceeds similarly to that observed in subunit D in the shards. However, substrate occupancy is lower than that in the shards, with substoichiometric occupancy ranging from 20% to 40%. The reason for this might be that the enzyme is more tightly packed in the needle crystal form (Additional file
1
: Figure S11). To reach full occupancy in the needles, at least 30 mmol/L of CEF (one CEF molecule per asymmetric unit) is initially required, which needs to be delivered by diffusion from the solution to the side of the crystal. While the outside CEF concentration is on the order of 200 mmol/L in both experiments (Table
3c
), the ratio of CEF to enzyme varies in the shard and needle crystals. Additional file
1
: Figure S11 shows how the solvent volume that contains CEF surrounding the BlaC molecules in the crystals varies. The solvent volume as estimated by the CCP4 program "truncate" [
46
] is on the order of 59% for the shard-shaped crystal, and it is substantially lower (28%) in the needles. Additional file
1
: Figure S11 also shows that there are substantial differences in the solvent channel sizes in the two crystal forms. When measured by the program Coot [
47
], cavities with diameters as wide as 90 Å can be identified in the shards, and only 20-Å voids exist in the needles. Both may significantly impact diffusion of the CEF substrate (which is about 20 Å long and 10 Å wide) into the crystals. However, compared to other antibiotics such as ampicillin [
40
], CEF binds relatively slowly to BlaC, so it may first build up by diffusion (see also the discussion below and estimates in the Methods section). Strong electron density in our maps shows that diffusion and formation of the ES complex is near completion on a 30-ms time scale. Diffusion times and time scales of the ES formation (30 ms) are irrelevant compared to those for the E-CFO* intermediate formation (~ 500 ms). As a consequence, the ability to observe the E-CFO* intermediate does not critically depend on CEF diffusion times into the crystals (compare the solid and dashed lines in Fig.
4
). Accordingly, the reaction dynamics of the catalytic reaction in the needle and the shard crystal forms appear to be similar despite the different crystal morphologies and packing (see further explanation in the Methods section). Subtle differences between the results from the two crystal forms, and between the subunits in different crystal environments, confirm previous preliminary results [
30
] and previous predictions from biochemical results for other cephalosporin species [
44
].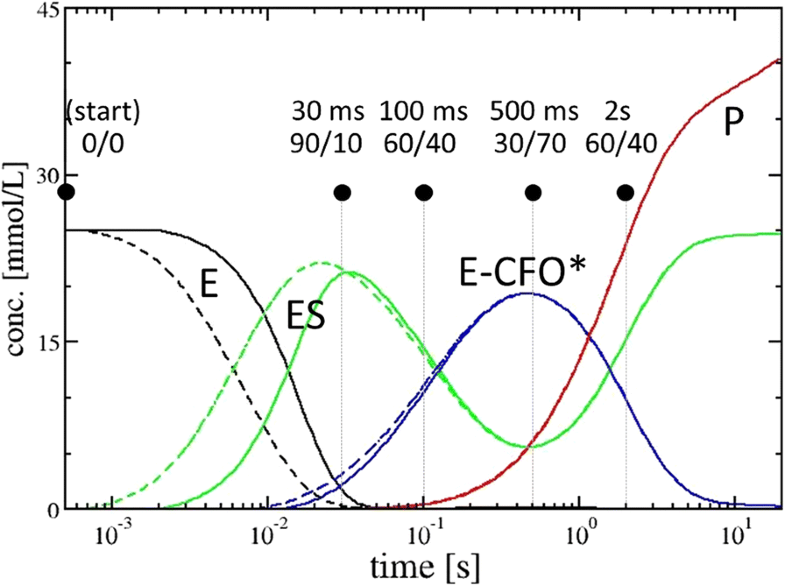 An additional CEF molecule (CEFstack) can be identified near the catalytic clefts of subunits B and D, each in the shard crystal form (Fig. 2a, b, c, and Additional file 1: Figure S9). This molecule stacks to the CEF species that occupy the active sites on all time scales. CEFstack is non-covalently interacting with Arg-126 and Tyr-127 of subunit A or C, which are adjacent to the active catalytic clefts of subunit B or D, respectively. For more details see Additional file 1: Figure S9 for a stereo view. This way CEFstack is quite close, pre-oriented, and can rapidly access the active site after the initial CFO has been hydrolyzed and has left the enzyme. Stacking of multiple cephalosporin (cefamandole) molecules has also been observed in orthorhombic crystals of the BlaC K73A mutant [39]. In these crystals the stacked molecules interact with Asp-192 and Arg-194 of a symmetrically equivalent BlaC molecule; this is different from the interactions seen here. As with most proteins, BlaC can crystallize in crystal forms with different numbers of copies in the asymmetric unit [39, 48, 49]. Since stacking is not observed in crystals that pack in the same way as our needle crystal form [19], it might be argued that it represents a non-physiological, non-specifically bound substrate that occurs only in the environment in the shard crystals. However, the binding of the additional CEF molecule could be a mechanism to steer the substrate towards, and orient it with respect to, the active site under certain conditions. It appears, however, that at the very high concentrations of CEF applied here (around 200 mmol/L), stacking is not required for effective catalysis, as the kinetics in the monomeric needles, where stacking does not occur, is similar to that in the shard crystal form. When only low CEF concentrations are present, stacking might well be essential to recruit antibiotic substrate molecules to promote effective BlaC function.
Discussion
One of the major questions addressed here is whether the structural data obtained by MISC can be interpreted in accordance with previous investigations on BlaC catalysis. Ideally, a compatible chemical kinetic mechanism can be developed and expressed in the terminology of enzyme kinetics [50, 51]. Accordingly, we set up a kinetic mechanism (see Methods, Scheme 1) which allows for diffusion of substrate and which features a sufficiently large number of intermediate states to explain our observations. Initially, we simulated the catalytic cycle employing literature values of the Michaelis constant Km (~ 500 μmol/L) and kcat (0.8 s− 1) [40] (Table 3). Our simulations describe the change from the transient state kinetics regime at 30 ms to 2 s, covering a large range of substrate and product concentrations. We then vary the rate coefficients in the mechanism to explain our MISC experiment. Since only five time delays are available, the parameters in the mechanism cannot be independently determined, but we do show that our interpretation is consistent with known kinetic parameters in solution. After initial formation of the ES complex represented by a non-covalently bound full-length CEF, the intermediate E-CFO* has its peak concentration at 500 ms. It has been previously suggested [19] that the hydrolytic cleavage of an acyl adduct from Ser-70 (hydrolysis of species 3 in Fig. 1) should be the rate-limiting step in BlaC catalysis. Then the E-CFO* species should be the dominant species in the steady state. However, this is not the case, as the ES complex with the non-covalently bound, full-length CEF is prevalent (> 70%) in our MISC data at 2 s (Table 2). The simulation can explain this, if the nucleophilic attack of Ser-70 on species 2 in Fig. 1 is inhibited or slowed down. High product concentrations of > 10 mmol/L are already reached after one catalytic cycle due to the very high enzyme and substrate concentrations (Table 3). In initial velocity solution studies, the enzyme concentration is kept in the low micromolar range. Even under a saturating substrate (vmax) condition, only micromolar concentrations of product can be produced per turnover. With a turnover rate of 0.8 s−1 of BlaC, it may take hours to reach millimolar concentrations of product. In BlaC crystals and with stoichiometric CEF concentrations (of 16 mmol/L for the shard crystal form, and 30 mmol/L for the needles), however, these concentrations are already reached after one turnover. Consequently, product inhibition is not only plausible but likely, as previous studies have shown that lactamases do show product inhibition by similar lactams with inhibitory constants in the millimolar range [52]. In this scenario, after an initial burst during the first second, the nucleophilic attack on the lactam ring by Ser-70 represented by rate coefficient k2 likely becomes the rate-limiting process (the E-CFO* formation slows down), and the ES complex accumulates later, as observed in our X-ray data.
Our results depend decisively on the ability of CEF to penetrate the crystals. Although pore sizes for shard and needle crystal forms largely differ (see above), CEF substrate swiftly arrives at BlaC molecules in the crystals. This is primarily due to the large substrate concentrations that facilitate diffusion (see Methods and Table 3). The osmotic pressure π of the outside CEF into the crystals can be estimated as π = MRT, where M is the molarity of the outside CEF concentration, R is the gas constant, and T is the temperature in kelvins. This pressure can be as high as 0.5 MPa (5 bar) with 300 mmol/L CEF, which promotes rapid and uniform diffusion, even in crystals with tight cavities such as those in our needles (Table 3c). Diffusion may also be further enabled, and facilitated, by protein dynamics [53] at ambient temperatures. Although the reaction kinetics in crystals might be different compared to that in solution [54], structures of intermediate states that are occupied along the catalytic pathway are highly relevant as long as the enzyme is active in the crystal. With more conventional X-ray sources, radiation damage might impede the collection of even a single diffraction pattern [55] from these microcrystals. The ultrashort, brilliant hard X-ray pulses available at XFELs circumvent these difficulties. With high X-ray pulse-repetition rates expected at LCLS-II [56] and the European XFEL [57], a large number of finely spaced time delays may be collected rapidly to allow for a comprehensive description of the reaction in terms of structure and kinetics. Then the extraction of a more accurate kinetic mechanism and the analytical separation of mixtures into pure constituents become possible [4, 58].
Conclusions
As we demonstrate here, the structural characterization of enzyme-catalyzed reactions on the millisecond time scale is possible by making use of very small crystals. MISC can be employed to investigate a large number of non-cyclic (single-pass) reactions in proteins and enzymes, some of which are of immense biological significance and might be important targets for structure-based drug design. MISC may become a major tool to address fundamental questions on biomolecular reactions at existing and new pulsed X-ray sources.
Abbreviations
BlaC:

Mycobacterium tuberculosis β-lactamase
CEF:

Ceftriaxone
CFO:

Ceftriaxone with lactam ring open and the leaving group split off
CSPAD:

Cornell SLAC pixel area detector
CXI:

Coherent X-ray imaging
E-CFO*:

CFO species covalently bound to the enzyme
ES:

Enzyme-substrate (complex)
FID:

Free interface diffusion
K m :

Michaelis constant
LCLS:

Linac Coherent Light Source
MISC:

Mix-and-inject serial crystallography
SLAC:

Stanford Linear Accelerator Center
SFX:

Serial femtosecond crystallography
XFEL:

X-ray free-electron laser
Declarations
Funding
This work was supported by the National Science Foundation (NSF)-Science and Technology Center (STC) "BioXFEL" through award STC-1231306, and in part by the US Department of Energy, Office of Science, Basic Energy Sciences under contract DE-SC0002164 (to A.O., algorithm design and development) and by the NSF under contract number 1551489 (to A.O., underlying analytical models). Portions of this research were performed at the Linac Coherent Light Source (LCLS). Use of the LCLS, SLAC National Accelerator Laboratory, is supported by the US Department of Energy, Office of Science, Basic Energy Sciences under contract DE-AC02-76SF00515. This material is based upon work supported by the NSF Graduate Research Fellowship Program to J.L.O. under grant no. 1450681. The work was also supported by funds from the National Institutes of Health grants R01 GM117342-01 and R01 GM095583, by funds from the Biodesign Center for Applied Structural Discovery at Arizona State University, and the US Department of Energy through Lawrence Livermore National Laboratory under contract DE-AC52-07NA27344. Part of this work was also supported by program-oriented funds of the Helmholtz Association.
Availability of data and materials
The structures and diffraction data of BlaC, unmixed and mixed with ceftriaxone at 0 s, 30 ms, 100 ms, 500 ms, and 2 s for shard and needle crystal forms are deposited to the Protein Data Bank (PDB) with the following access codes: Shards 6B5X (unmixed), 6B5Y (30 ms), 6B68 (100 ms), 6B69 (500 ms), 6B6A (2 s); needles 6B6B (unmixed), 6B6C (30 ms), 6B6D (100 ms), 6B6E (500 ms), 6B6F (2 s). None of the authors declare competing interests. Clones and other material such as computer code are available on request from the corresponding author.
Authors' contributions
JLO, JMM-G, CK, DO, MDM, NN, JZ, JV, TN, DX, EB, RF, LT, GNP, MS prepared and crystallized samples. MSH, ML, JaK, M.H.S. operated the CXI beamline. A.K., G.C., Ju.K., D.O., M.W.,JLO, JMM-G, CK, DO, MDM, NN, JZ, JV, TN, DX, EB, RF, LT, GNP, and MS prepared and crystallized the samples. MSH, ML, JaK, and MHS operated the CXI beamline. AK, GC, JuK, DO, MW, MiH, MaH, SS, SR-C, JC, NN, JZ, YZ, GN, SB, UW, HNC, and LP provided the injector systems, and operated injection at the CXI beamline. SP, DO, OY, KP, AB, TN, IP, TG, VM, GS, RaF, PS, MF, TW, and NZ collected and processed the data. JLO, SP, JMM-G, CK, DO, MiH, MDM, TN, IP, DX, RaF, RuF, PF, GNP, and MS analyzed and interpreted the data. LT, AO, and MS conceived the project. JS, PF, AO, GNP, and MS wrote the manuscript with contributions from all authors. All authors read and approved the final manuscript.
Ethics approval and consent to participate
Not applicable.
Competing interests
The authors declare that they have no competing interests.
Publisher's Note
Springer Nature remains neutral with regard to jurisdictional claims in published maps and institutional affiliations.
Open AccessThis article is distributed under the terms of the Creative Commons Attribution 4.0 International License (http://creativecommons.org/licenses/by/4.0/), which permits unrestricted use, distribution, and reproduction in any medium, provided you give appropriate credit to the original author(s) and the source, provide a link to the Creative Commons license, and indicate if changes were made. The Creative Commons Public Domain Dedication waiver (http://creativecommons.org/publicdomain/zero/1.0/) applies to the data made available in this article, unless otherwise stated.
Authors' Affiliations
(1)
Department of BioSciences, Rice University, Houston, USA
(2)
Physics Department, University of Wisconsin-Milwaukee, Milwaukee, USA
(3)
School of Molecular Sciences and Biodesign Center for Applied Structural Discovery, Arizona State University, Tempe, USA
(4)
School of Applied and Engineering Physics, Cornell University, NY, USA
(5)
Center for Free-Electron Laser Science, DESY, Hamburg, Germany
(6)
University of Hamburg, Hamburg, Germany
(7)
Linac Coherent Light Source, Stanford Linear Accelerator Center (SLAC) National, Accelerator Laboratory, CA, USA
(8)
Max Planck Institut fuer Biochemie, Planegg, Germany
(9)
Lawrence Berkeley National Lab, Berkeley, USA
(10)
Milwaukee School of Engineering, Milwaukee, USA
(11)
Photon Science, DESY, Hamburg, Germany
(12)
University of New York Buffalo, Hauptman-Woodward Institute, Buffalo, USA
(13)
Department of Physics, Arizona State University, Tempe, USA
(14)
Department of Agricultural Biotechnology, Seoul National University, Seoul, Korea
(15)
Lawrence Livermore National Laboratory, Livermore, USA
(16)
Centre for Ultrafast Imaging, Hamburg, Germany
(17)
4Marbles Inc., Westfield, USA
(18)
GlaxoSmithKline, Stevenage, UK