Methodology article
Open Access
Light sheet theta microscopy for rapid high-resolution imaging of large biological samples
Received: 17 April 2018
Accepted: 23 April 2018
Published: 29 May 2018
Abstract
Background
Advances in tissue clearing and molecular labeling methods are enabling unprecedented optical access to large intact biological systems. These developments fuel the need for high-speed microscopy approaches to image large samples quantitatively and at high resolution. While light sheet microscopy (LSM), with its high planar imaging speed and low photo-bleaching, can be effective, scaling up to larger imaging volumes has been hindered by the use of orthogonal light sheet illumination.
Results
To address this fundamental limitation, we have developed light sheet theta microscopy (LSTM), which uniformly illuminates samples from the same side as the detection objective, thereby eliminating limits on lateral dimensions without sacrificing the imaging resolution, depth, and speed. We present a detailed characterization of LSTM, and demonstrate its complementary advantages over LSM for rapid high-resolution quantitative imaging of large intact samples with high uniform quality.
Conclusions
The reported LSTM approach is a significant step for the rapid high-resolution quantitative mapping of the structure and function of very large biological systems, such as a clarified thick coronal slab of human brain and uniformly expanded tissues, and also for rapid volumetric calcium imaging of highly motile animals, such as Hydra, undergoing non-isomorphic body shape changes.
Keywords
Light sheet microscopyWhole brain imagingQuantitative imaging Hydra Calcium imagingTissue clearingExpansion microscopy
Background
Advances in tissue clearing methods [1] are enabling unhindered optical access to the structure and function of large intact biological systems such as mouse brain [2–5] and tumor biopsies [6]. Most of these approaches employ a cocktail of chemicals for cellular membrane lipid dissolution and/or refractive index smoothening to render the tissue transparent [1]. Furthermore, the development of physical tissue expansion approaches (expansion microscopy, ExM [7]) is enabling higher (super-resolution) effective imaging resolutions, although at the cost of ever-increasing sample sizes (up to 20-fold expansion demonstrated [8]). These approaches have the potential to accelerate discoveries across multiple domains of life sciences, including an understanding of the mammalian brain architecture, reconstructing tumor microenvironments, and in situ transcriptomics. However, taking full advantage of these techniques requires rapid high-resolution three-dimensional (3D) imaging of very large volumes.
Conventional point-scanning approaches, such as confocal and two-photon microscopy, provide high imaging quality, but their slow imaging speeds and high photo-bleaching rates render them less effective for imaging of large volumes. Variants of confocal microscopy, including line scanning confocal microscopy (LSCM) [
9
,
10
], can provide much higher imaging speeds due to parallel imaging of multiple points. However, these approaches still entail highly redundant illumination of out-of-focus parts of the samples and also reduced axial resolution and imaging depth, thus limiting their utility for high-resolution imaging of large cleared samples such as whole mouse brains (Fig.
1a
). On the other hand, light sheet microscopy (LSM)-based approaches, with their orthogonal single-plane illumination and simultaneous whole-plane detection, are proving to be highly effective due to minimal photo-bleaching and high imaging speeds (2–3 orders of magnitude more than confocal) [
11
–
13
]. However, these advantages of orthogonal illumination-detection geometry also require unhindered optical access from the sides of the samples, thus limiting the lateral dimensions (along the illumination light sheet) of the imaging volumes (Fig.
1a
). For example, we previously reported an optimized implementation of LSM, called CLARITY optimized light sheet microscopy (COLM) [
5
,
14
], which allowed high-resolution imaging of entire intact mouse brains in a few hours imaging time, although with progressively reduced image quality towards the middle of the samples [
5
] due to the scattering of illumination light sheets. Similar attempts of LSM imaging of clarified rat brains resulted in much poorer image quality in large parts of the brain [
15
].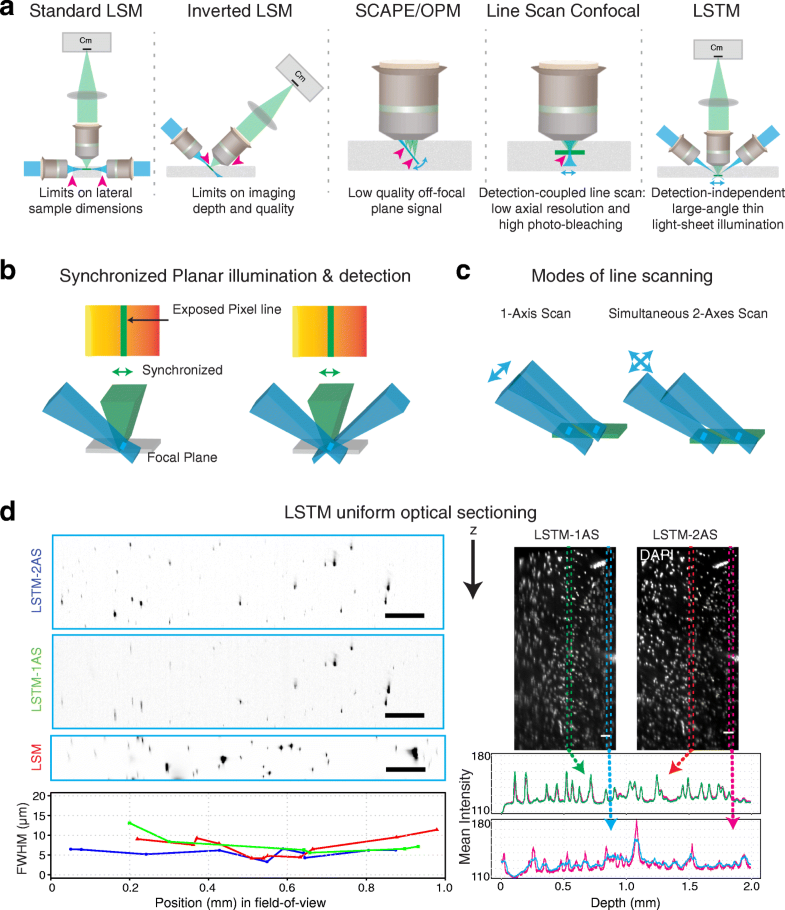 Alternative optical configurations of LSM have been explored to address these limitations, including the rotation of the illumination and the detection axes by 45° relative to the sample surface normal in objective-coupled planar illumination (OCPI) microscopy, inverted selective plane illumination microscopy (iSPIM), dual view iSPIM (diSPIM), and triple-view implementations [16–21], and the generation of illumination light sheets through the detection objectives themselves in swept confocally aligned planar excitation (SCAPE)/oblique plane microscopy (OPM) [22, 23]. The iSPIM/diSPIM approach does alleviate the limits on the lateral dimensions of imaging volumes, although at the cost of significant reduction in the usable working distance of the detection objective (Fig. 1a); therefore, it remains restricted to relatively low-numerical aperture (NA)/long-working distance (WD) detection objectives for imaging of large samples. The triple-view approach [21] incorporated an additional objective in the diSPIM implementation for simultaneously detecting the obliquely illuminated plane from the opposite side by rapid scanning with the piezo motors, resulting in enhanced spatial resolution for small samples (such as single cells). The SCAPE/OPM implementations use rotation optics to image an oblique plane illuminated using an oblique light sheet generated through the detection objective itself (Fig. 1a). The use of a single objective for detection as well as illumination is effective for fast volumetric imaging of small samples such as developing embryos. However, the imaging of an oblique (relative to the native detection focal plane) plane provides less-than-optimal image uniformity (across the imaged plane) and resolution. In summary, the scaling up of LSM imaging volumes, while maintaining uniform high imaging quality and speed, faces steep challenges. Here we address some of these challenges by developing a conceptually distinct microscopy framework, termed light sheet theta microscopy (LSTM), which builds upon the principles of LSM to allow high-speed quantitative imaging of large intact tissues with uniform high resolution. The LSTM uses two symmetrically arranged oblique light sheets, generated using independent illumination objectives, for rapid high-resolution imaging of large samples (Fig. 1). The oblique optical arrangement eliminates the restrictions on the sample lateral dimensions while ensuring high imaging speed and resolution and utilization of the entire available WD of high-NA detection objectives (Fig. 1a). We present a detailed characterization of the LSTM approach and demonstrate several real-world high-resolution imaging examples of very large samples including mouse and rat brain tissues, a large section of human brain, and a highly expanded ExM sample. The new capabilities of LSTM for high-speed quantitative imaging of larger samples at high resolution with low photo-bleaching may facilitate mapping of an entire post-mortem human brain (thick slab-by-slab) in a practical time-frame.
Discussion
We reported the development of LSTM, which addresses the lateral size limitation of state-of-the-art LSM approaches. LSTM employs two symmetrically arranged oblique static light sheets generated using independent illumination objectives, and their scanning using simultaneous two-dimensional (2D) translation along (using an electrically tunable lens (ETL)) and perpendicular (using galvo scanners) to their propagation directions, resulting in uniform illumination and detection (using synchronized rolling shutter detection of sCMOS cameras) of thin optical sections. This optical configuration eliminates the fundamental restrictions of LSM on the lateral dimensions of the imaging volumes while ensuring high imaging speed and resolution and the utilization of the entire available WD of high-NA detection objectives. The use of two light sheets (as opposed to one) ensures better quality (e.g., if one of the sheets is obstructed by opaque objects) but is not necessary. To minimize optical aberrations, we used refractive index optimized detection objectives and used 3D-printed caps (with quartz coverslips) for illumination objectives (air, low NA, and long WD) to ensure a perpendicular incidence of light sheets to the mounting media.
The enhanced performance of LSTM entails an increased overall energy load for imaging of smaller samples, such as embryos, but remains comparably as low as LSM for high-resolution imaging of large samples, as supported by the simulations (Fig. 3d, e) and empirical calculations (Fig. 3f). Moreover, the use of only the thinnest part of the light sheets enables quantitatively uniform illumination of the entire detection plane, which is a foremost requirement for 3D quantitative imaging. Therefore, LSTM is most suitable for rapid high-resolution imaging of very large samples, whereas LSM provides better performance for smaller samples.
The use of ETLs in the illumination arm for translating light sheets along their propagation direction introduces an additional component which needs to match the camera acquisition speed. The high-resolution imaging of large samples essentially requires full camera frame acquisition (i.e., 20 ms or 50 Hz for current state-of-the-art sCMOS cameras in one-direction rolling shutter mode) and the use of long travel-range motorized sample stages for step-wise z-plane acquisition (typically > 50 ms motion and settling time, in addition to the camera exposure) which is generally the rate-limiting step. This results in a typical acquisition rate of 10–15 z-planes per second as reported previously [5]. ETLs are shown to easily achieve [33] > 30 Hz for the full-range coverage without any distortions, and they can achieve even higher speeds if run continuously using sinusoidal waveforms (given that the light sheets in LSTM have a significant confocal parameter, the synchronization of sinusoidal ETL waveforms with linear row-by-row detection is feasible). The ETLs can also be easily replaced with faster acoustic tunable lenses (e.g., TAG lenses from TAG Optics) for applications requiring much higher volumetric imaging speed (e.g., for the calcium imaging of functioning nervous systems). Hence, the introduction of ETLs in the LSTM imaging procedure has no consequences for the overall imaging speed vis-à-vis LSM for high-resolution imaging of large samples. We also found that, unlike LSM, LSTM does not require a pre-imaging calibration step for the estimation of sample-position-dependent alignment parameters, resulting in overall faster imaging speeds.
We demonstrated the LSTM performance by rapid high-resolution imaging of large samples of various sizes and shapes, including the entire intact mouse central nervous system, thick coronal sections of mouse and rat brains, a large chunk of human brain, uniformly expanded brain tissue, and a highly motile Hydra. Also, due to geometric advantage, LSTM is expected to enable volumetric calcium imaging in live rodent brains, similar to SCAPE [22], especially by combining with rapid de-focusing/focusing (e.g., using ETLs in the detection arm). We also performed direct comparative imaging of the same thick rat brain coronal section using LSTM and LSM (Fig. 6) to demonstrate that LSTM indeed eliminates the limit on lateral dimensions of imaging volumes while providing high imaging speed and uniform imaging resolution. Therefore, LSTM provides complementary advantages over LSM for rapid high-resolution imaging of very large samples. These capabilities of LSTM are expected to significantly accelerate our understanding of healthy and diseased tissue architectures. Future work will include integration of super-resolution approaches (such as structured illumination) and simultaneous multi-view imaging.
Conclusions
We report the development of a distinct light sheet microscopy (LSM) approach, termed light sheet theta microscopy (LSTM), which addresses the fundamental limitation of LSM on the lateral dimensions of imaging volumes due to the orthogonal illumination-detection geometry. We have presented extensive characterization of the LSTM system properties and performed several real-world high-resolution imaging experiments of very large samples, including mouse and rat brains, a large section of human brain, a highly expanded expansion microscopy sample, and rapid volumetric calcium imaging of a highly motile Hydra. These new imaging capabilities will enable numerous novel applications, including imaging of an entire post-mortem human brain (thick slab-by-slab) in a practical time-frame and direct in situ transcriptomics of whole rodent brains.
Declarations
Acknowledgements
We thank all the members of the Tomer Laboratory for helpful discussions and inputs. We are grateful to Darcy Kelley and Oliver Hobert for general advice and reading of the manuscript draft. We would like to thank Serge Przedborski for providing rat brain tissue and Peter Canoll for the human brain tissue.
Funding
This work is mainly supported by a Columbia University Arts and Sciences startup grant to RT. BM and OH were supported by the Swedish Research Council (VR-2015-02675) and the Swedish Childhood Cancer Foundation (BCF-PR2016-0129). RY and CD were supported by the National Eye Institute (NEI, grant DP1EY024503), and the reported Hydra material is based upon the work supported by the Defense Advanced Research Projects Agency (DARPA) under Contract No. HR0011-17-C-0026. In addition, the Hydra research was supported in part by competitive fellowship funds from the H. Keffer Hartline, Edward F. MacNichol, Jr. Fellowship Fund, the E. E. Just Endowed Research Fellowship Fund, the Lucy B. Lemann Fellowship Fund, and the Frank R. Lillie Fellowship Fund Fellowship Fund of the Marine Biological Laboratory in Woods Hole, MA, USA.
Availability of data and materials
A complete computer-aided design (CAD) model of LSTM and other related resources are detailed in the additional files. A complete parts list is included as Table 1. High-resolution movies and figures will also be shared at the resource webpage: http://tomerlab.org/lstm/. The datasets generated and/or analyzed during the current study are available in the figshare repository (https://doi.org/10.6084/m9.figshare.c.4072160).
Authors' contributions
RT conceived the project and designed the microscopes. BM, MSD, and RT built the microscopes. MSD, BM, and RT performed the imaging experiments. MCA assisted with the experiments. CD prepared the Hydra samples for the live imaging experiments. RY conceived of the Hydra project in general, and supervised the Hydra sample preparations used in this work. SA, RG, and ESB generated the expanded tissue. OH supported BM. RT, BM, and MSD analyzed the data and wrote the paper with inputs from all authors. RT supervised all aspects of the work. All authors read and approved the final manuscript.
Ethics approval and consent to participate
Not applicable.
Competing interests
Columbia University has filed a patent application for LSTM.
Publisher's Note
Springer Nature remains neutral with regard to jurisdictional claims in published maps and institutional affiliations.
Open AccessThis article is distributed under the terms of the Creative Commons Attribution 4.0 International License (http://creativecommons.org/licenses/by/4.0/), which permits unrestricted use, distribution, and reproduction in any medium, provided you give appropriate credit to the original author(s) and the source, provide a link to the Creative Commons license, and indicate if changes were made. The Creative Commons Public Domain Dedication waiver (http://creativecommons.org/publicdomain/zero/1.0/) applies to the data made available in this article, unless otherwise stated.
Authors' Affiliations
(1)
Department of Biological Sciences, Columbia University, New York, USA
(2)
NeuroTechnology Center, Columbia University, New York, USA
(3)
Data Science Institute, Columbia University, New York, USA
(4)
Department of Neuroscience, Karolinska Institutet, Stockholm,, Sweden
(5)
MIT Media Lab and McGovern Institute, Departments of Biological Engineering and Brain and Cognitive Sciences, MIT, Cambridge, USA
(6)
Pfizer Internal Medicine Research Unit, Cambridge, USA